As cleanup efforts are ongoing from the tornado outbreak March 20 - 22, another round of severe and inclement weather hit in many of the same areas this week. Multiple tornadoes were reported across the Plains and Southeast from this storm system over the past few days.
Arkansas
Storms began early Wednesday morning - An EF-3 tornado moved through Springdale, Arkansas before sunrise on Wednesday leaving extensive damage to the area. There were reported injuries with this storm system.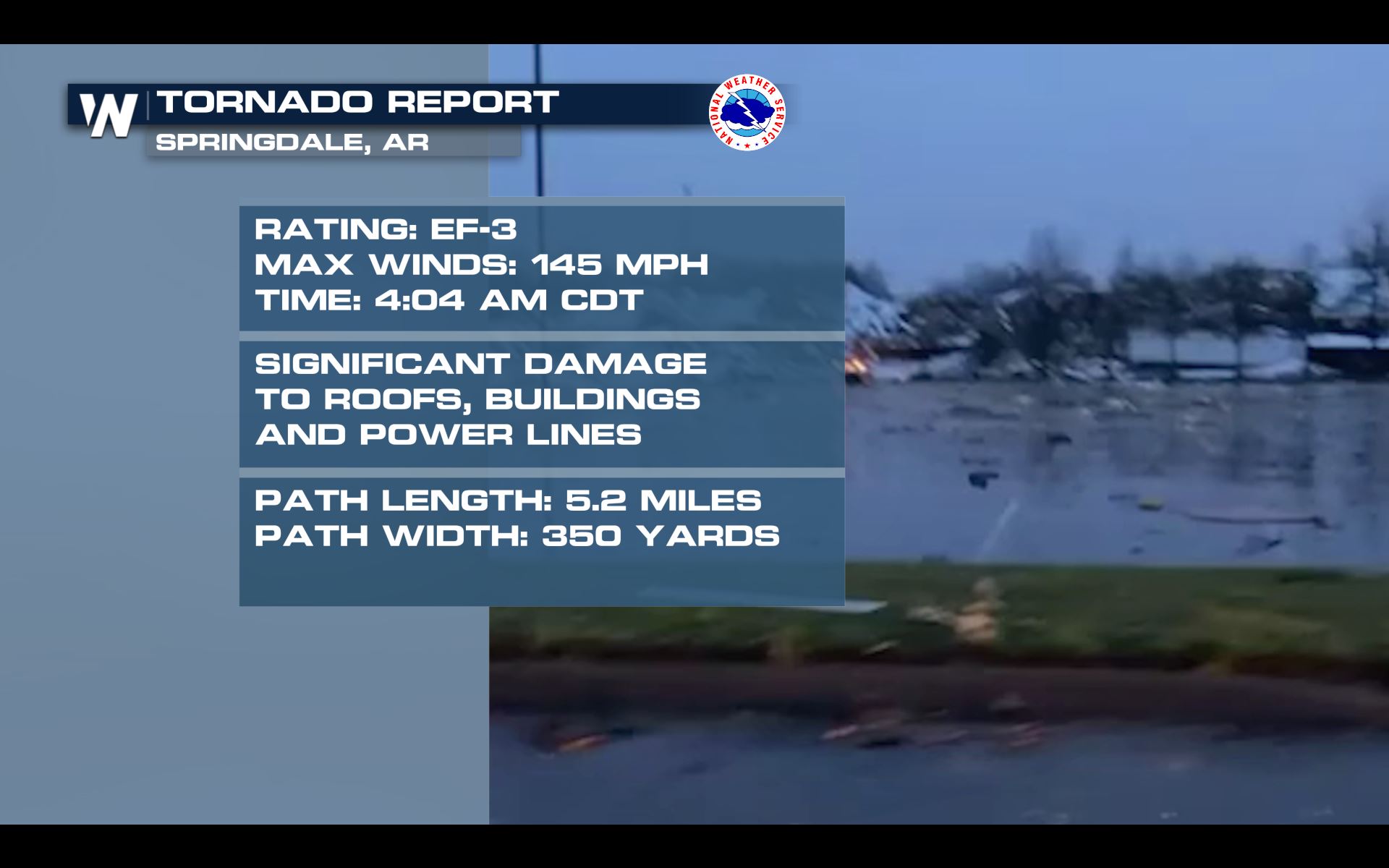 Deep South
Storms then pushed east into Mississippi and Alabama. There were widespread tornado warnings in these states with many communities seeing damage. https://twitter.com/WeatherNation/status/1509334662262439937 In all, the National Weather Service office in Jackson Mississippi confirmed 6 tornadoes on Wednesday, with more storm surveys being conducted.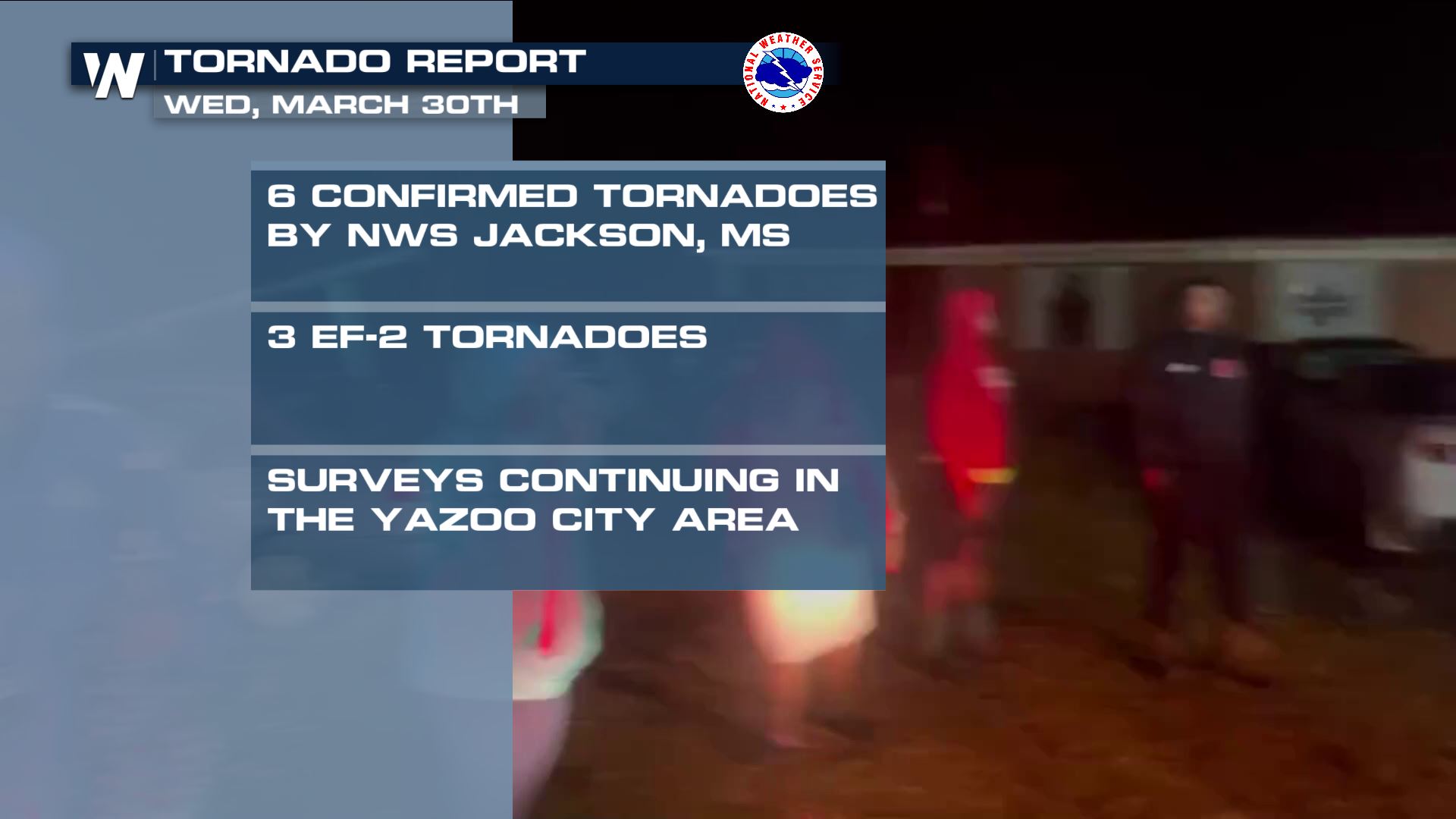 One of the hardest hit towns in Mississippi was Jackson, where an EF-1 tornado tore through on Wednesday.
In neighboring communities, there were 4 tornadoes in Mobile county alone. NWS Mobile/Pensacola confirmed 6 tornadoes in their area from Thursday.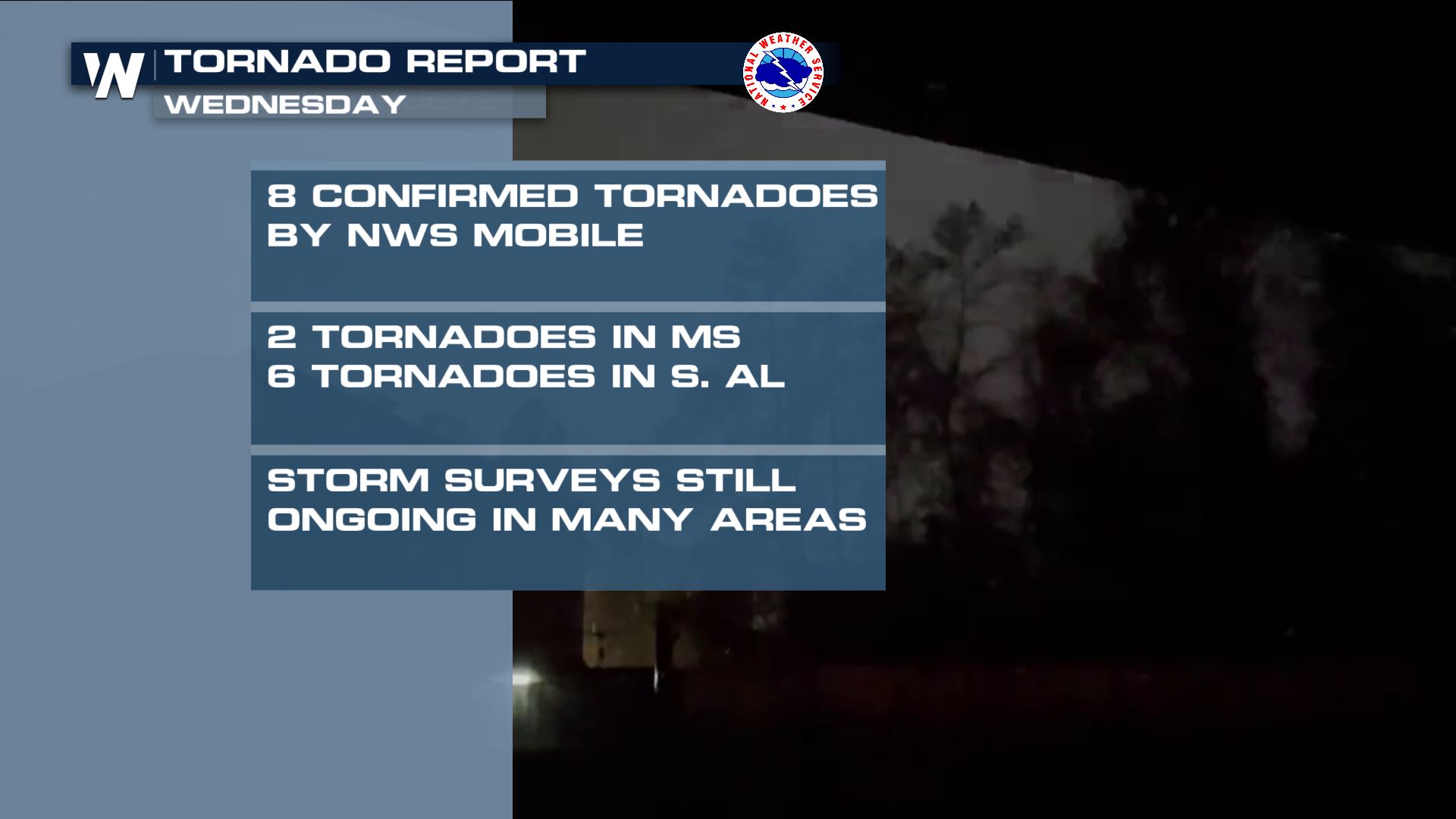 Meanwhile, in northern Alabama, there were multiple tornadoes with extensive damage along the I-65 corridor. NWS Birmingham has confirmed 2 EF-2 tornadoes through Marion and Bibb counties. Our field correspondents were able to get an aerial view of the damage in Faunsdale, AL where a tornado tore through the tiny town on Wednesday. The official damage report is not yet been conducted. https://twitter.com/WeatherNation/status/1509832958672318467 Unfortunately, the storms kept going Wednesday night into Thursday morning. Widespread tornado damage was seen across the Panhandle as storms moved through on Thursday.
Sadly, as storms progressed east into the Florida panhandle early Thursday morning, they turned deadly. 2 people died when a mobile home overturned in Alford, FL, just south of the I-10 corridor.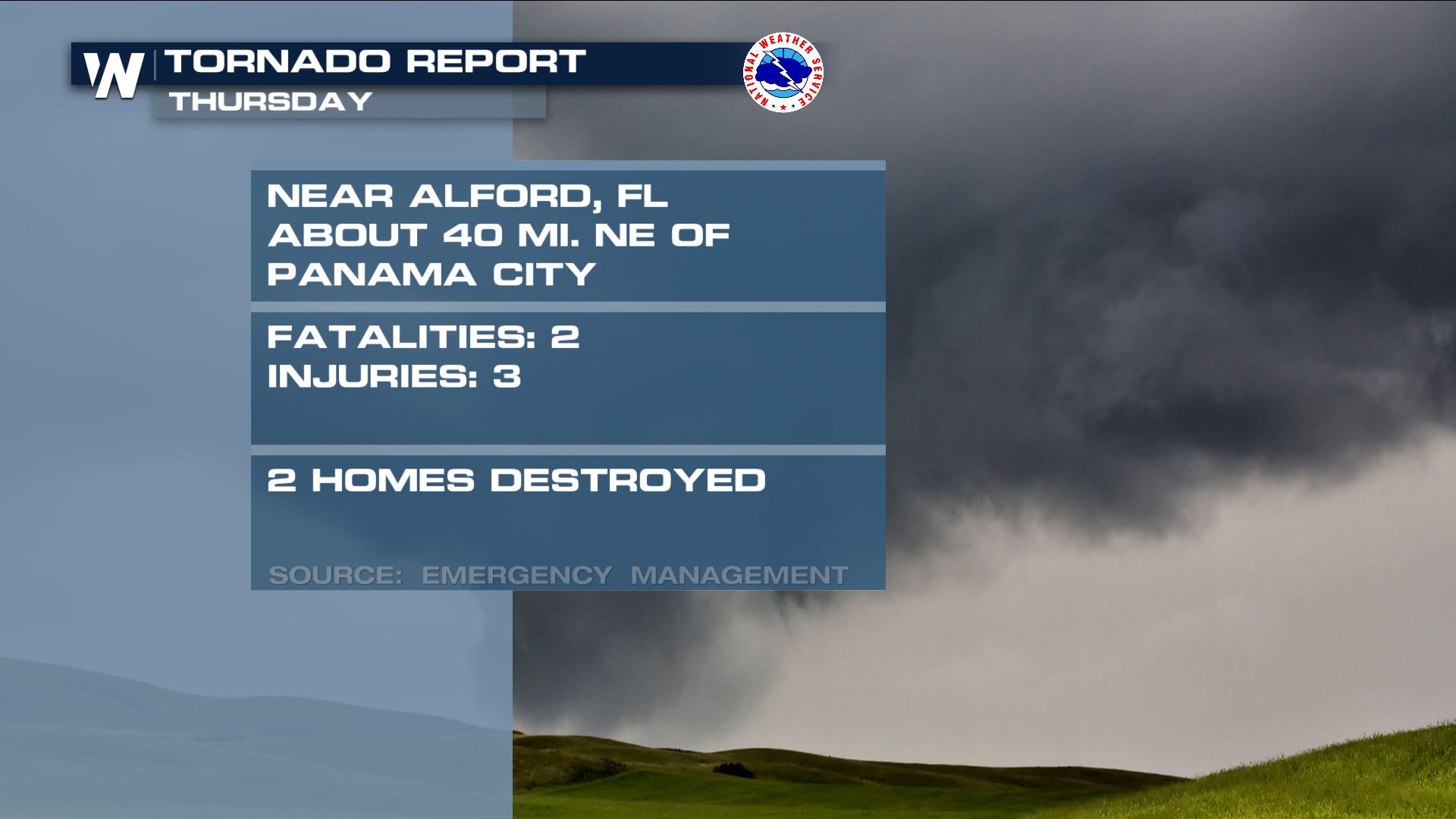 Mid-Atlantic
The energy from this system then turned towards the Mid-Atlantic Thursday afternoon and evening. Tornado sirens went off in the capitol of Virginia, with multiple tornado warnings in Richmond. https://twitter.com/WeatherNation/status/1509614003705765888 Our field correspondents were able to look at the damage first hand in North Carolina where an EF-1 tornado ripped through SW Durham on Thursday, March 31st.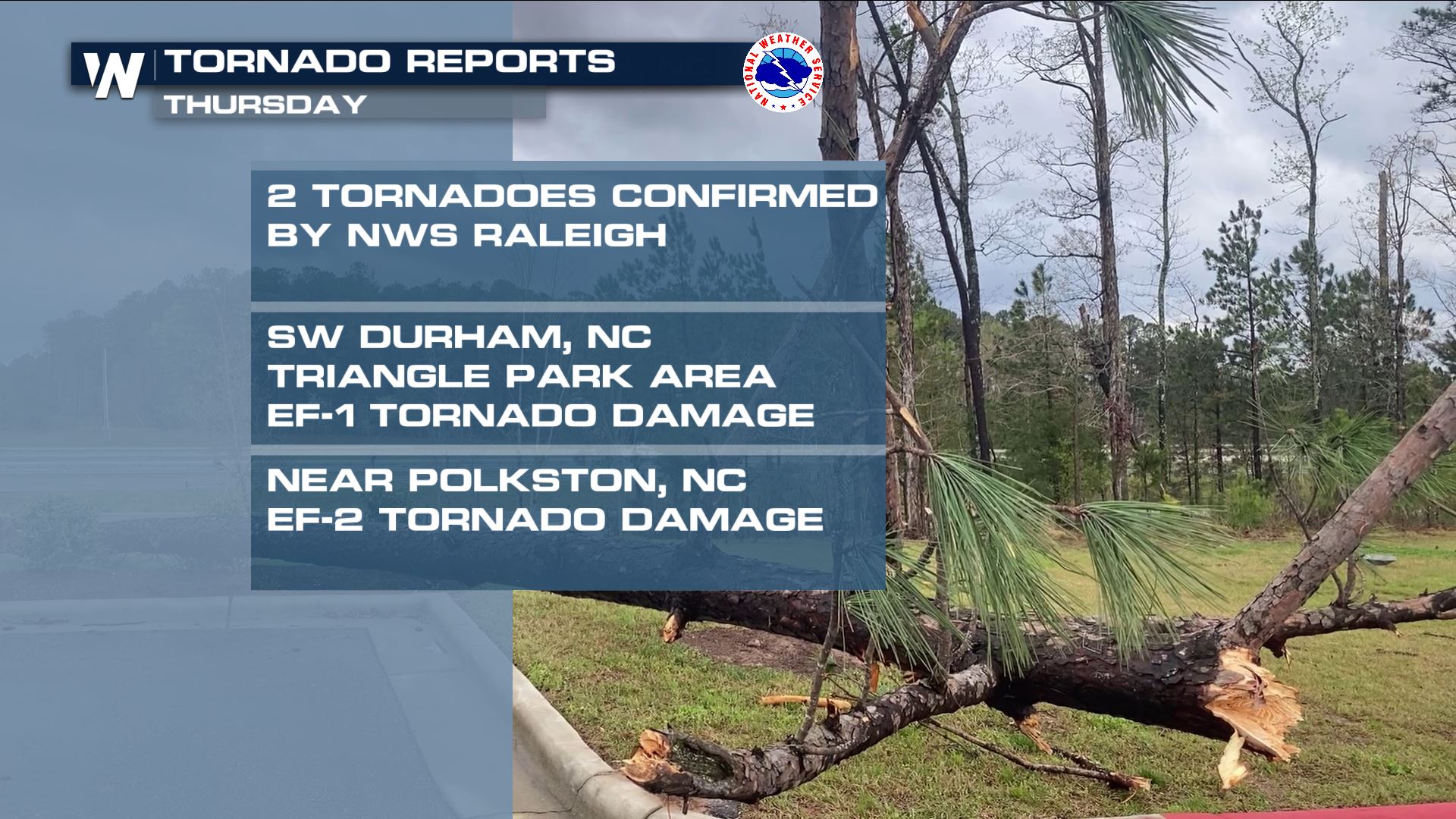 The National Weather Service will be out over the next few days conducting storm surveys. For more information on this weekend's severe weather potential, click here or tune-in to WeatherNation.