Saturday has already been a rough day for parts of Texas.  There have been numerous severe thunderstorm warnings and tornado warnings Saturday morning.  And heavy rain has already caused flooding in Odessa, Texas.  Conditions could get even worse during the afternoon and early evening hours in the Lone Star state. There several reasons for the turbulent weather.  First, a frontal system moving through Texas.  This provides the lift and energy needed for thunderstorms.  Second, there's a lot of  moisture in the mid-levels of the atmosphere from the remnants of Tropical Storm Sergio.  The front, combined with all of the moisture, creates the potential for prolonged periods of heavy rain.  And finally, the lower levels of the atmosphere have "vertical shear" in place.  This is a change of direction of winds with height.  This vertical shear creates the threat for rotating supercell thunderstorms.  These storms can produce large hail and tornadoes.
Future Radar View 3pm:
Notice the heavy bands of showers and storms up and down the I-35 corridor between Waco and Dallas.  Severe storms will be possible at this time.  Heavy rain will also spread into eastern Oklahoma and western Arkansas.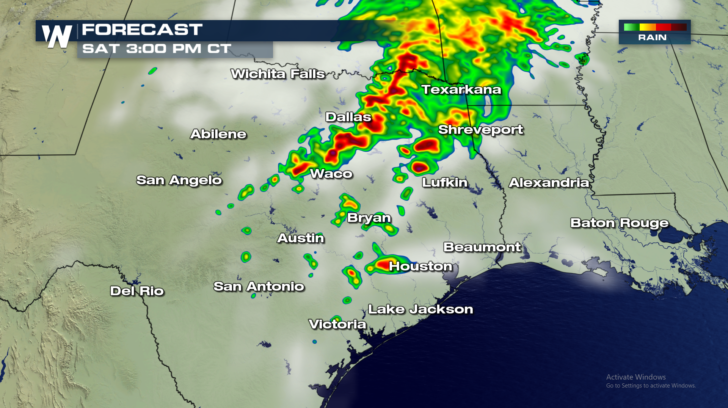 Future Radar View 7pm:
Showers and storms move to the east of Dallas and Waco.  A few severe storms will still be possible.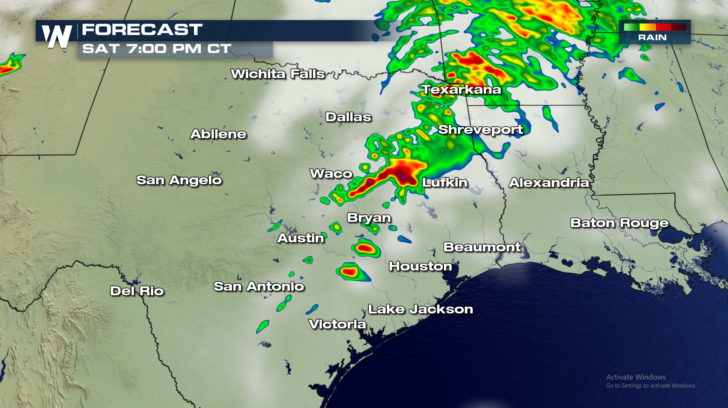 Future Radar View 11pm:
Thunderstorms are fading in coverage and intensity.  A few strong storms will still be possible between Bryan and Lufkin.  Severe storms are much less likely at this point.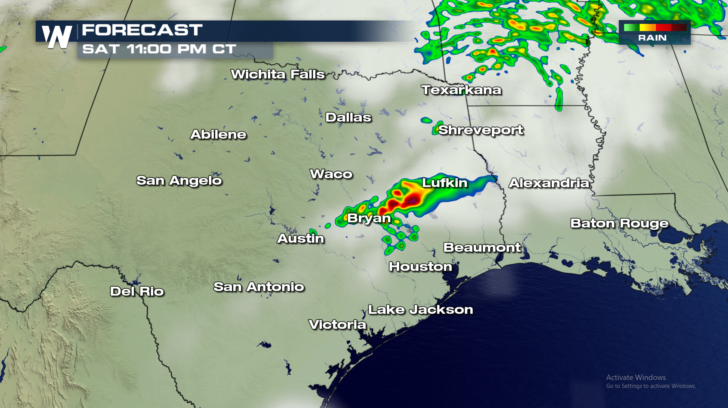 WATCHES AND WARNINGS:
A Tornado Watch is in effect until 6pm CT.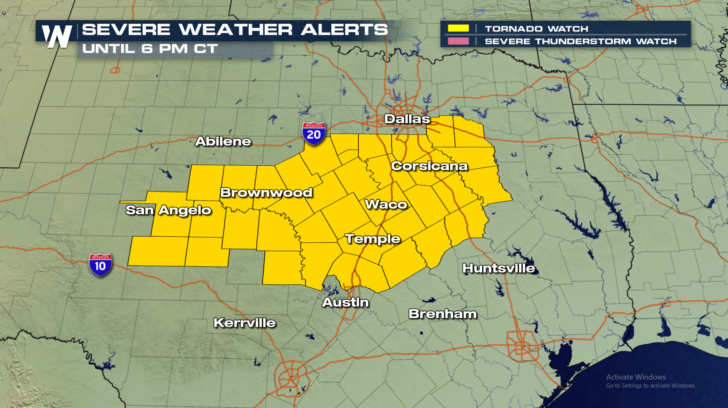 Flash Flood Watches are in effect for portions of Oklahoma and Texas into Sunday.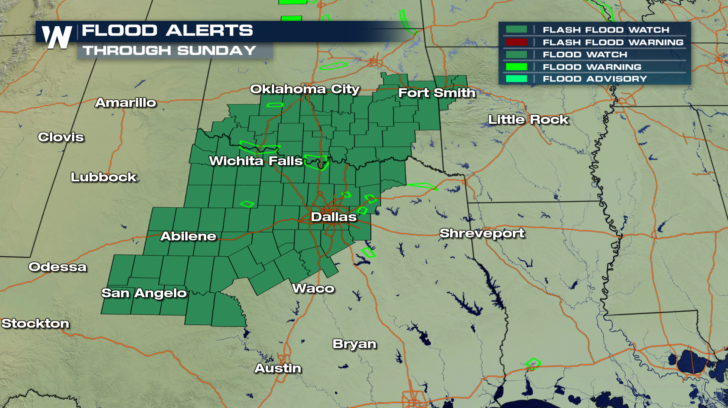 Severe weather threats will continue for central and eastern Texas the rest of Saturday.  A "Marginal" risk exists in the green shaded area.  There's a 5 percent chance of seeing severe storms anywhere in the Marginal area.  A "Slight" risk exists in the yellow area.  There's a 15 percent chance of seeing severe storms anywhere in the Slight area.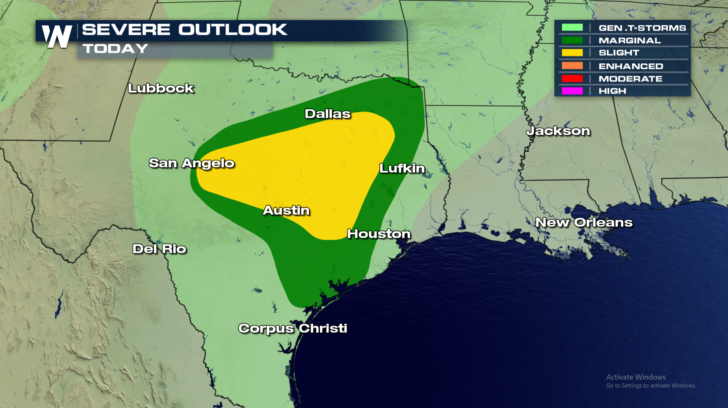 Tornadoes will certainly be possible this afternoon and early this evening, especially between San Angelo and Waco.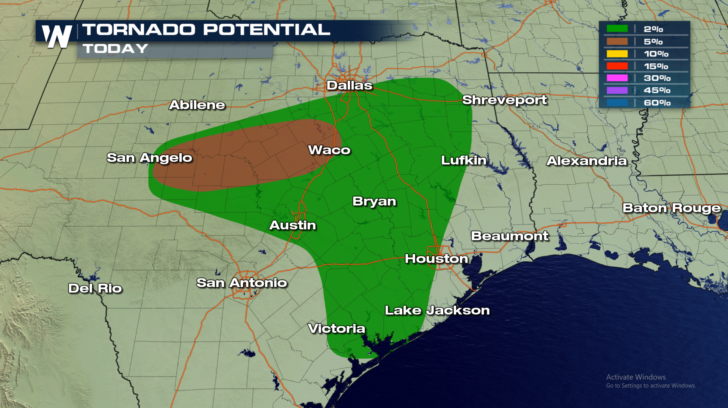 Thunderstorms could also produce damaging straight line winds of at least 58 miles per hour.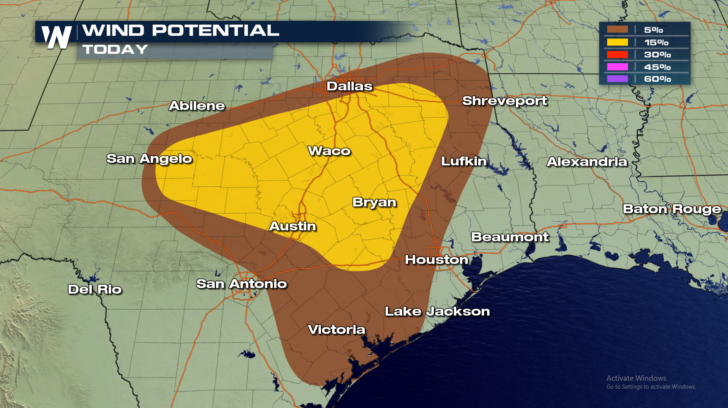 Damaging hail is also possible.  This would include quarter-sized hail and larger.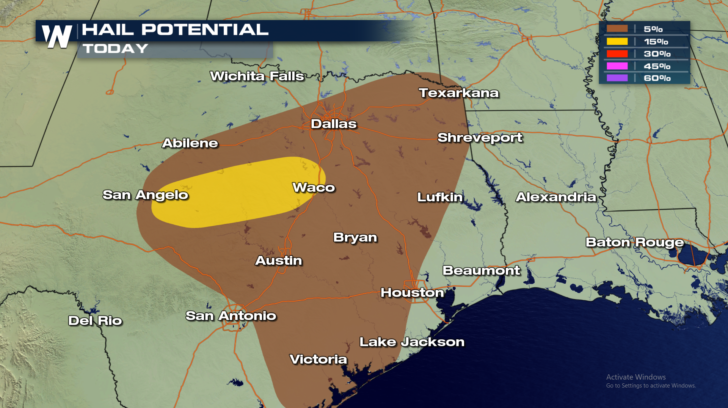 The severe threat continues on Sunday.  Severe weather will be possible from the Del Rio area, to the northeast, all the way into southeastern Oklahoma and southwestern Arkansas.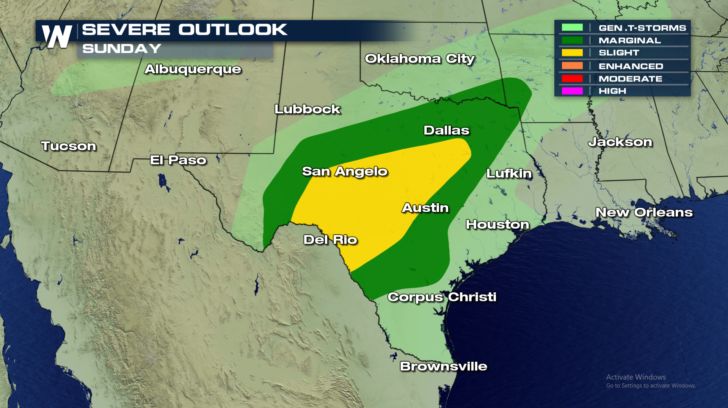 And the potential for flooding and/or heavy rain will continue through Sunday morning.  Rain totals could be particularly high from the Oklahoma/Texas boarder, through Dallas, and down into the Waco area.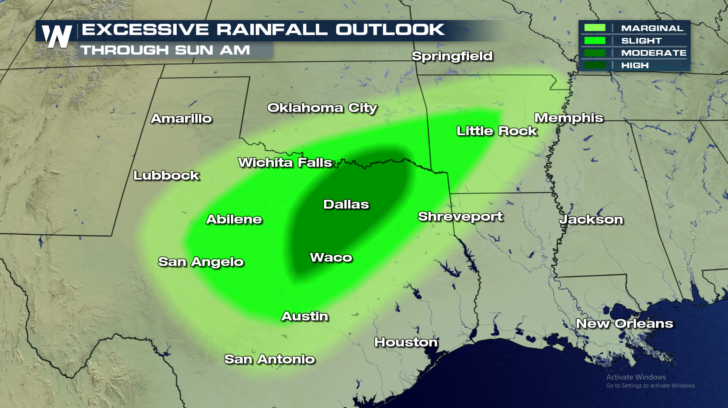 For Dallas, temperatures will cool down considerably behind the front.  Highs on Sunday will reach the upper 70's, then a BIG drop in temps arrive on Monday.  Upper 40's are on the way to start the week.  And the rain will stick around until Tuesday.  Hang in there Dallas, much better arrives by mid-week.  Sunshine and 60's are back by Wednesday and Thursday.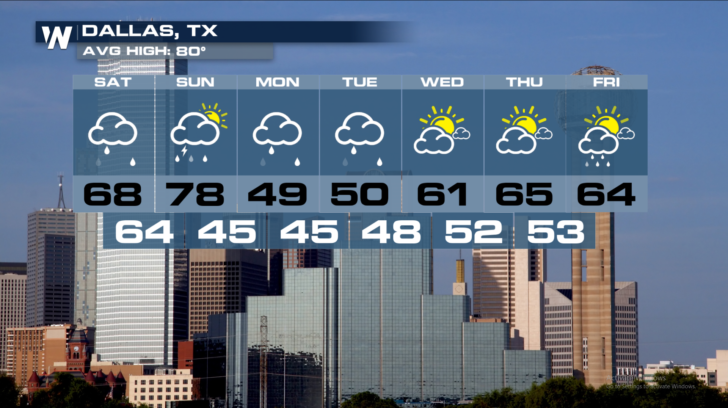 For the very latest weather information, including severe weather updates, stay tuned to WeatherNationTV. For WeatherNation:  Meteorologist Matt Monroe