NEW: A
TORNADO WATCH
has been issued for portions of Connecticut, western Massachusetts, northern New Jersey, eastern New York, northeast Pennsylvania, and western Vermont. This is in effect until
10 PM ET Sunday
. A few tornadoes will be possible as well as scattered damaging wind gusts up to 70 mph, and isolated large hail up to 1.5" in diameter.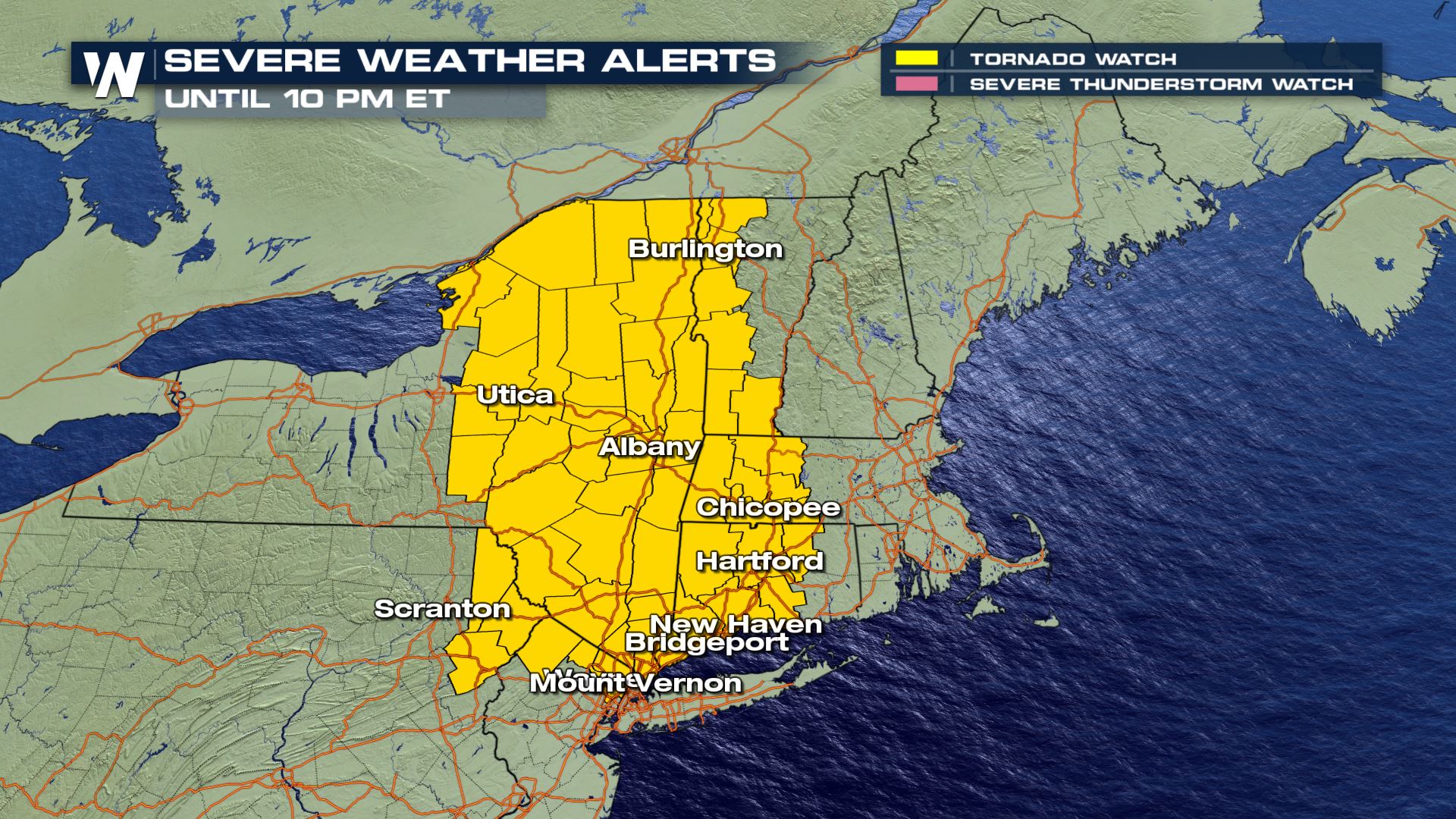 Outlook
A cold front and Tropical Storm Isaias will keep the weather pattern along the East Coast active through Tuesday. Strong winds, heavy rain, hail, and even a few tornadoes will be possible. A cold front and trough moving through the Great Lakes will create the potential for scattered severe storms across the Northeast, with more of an isolated chance into the Southern Appalachians.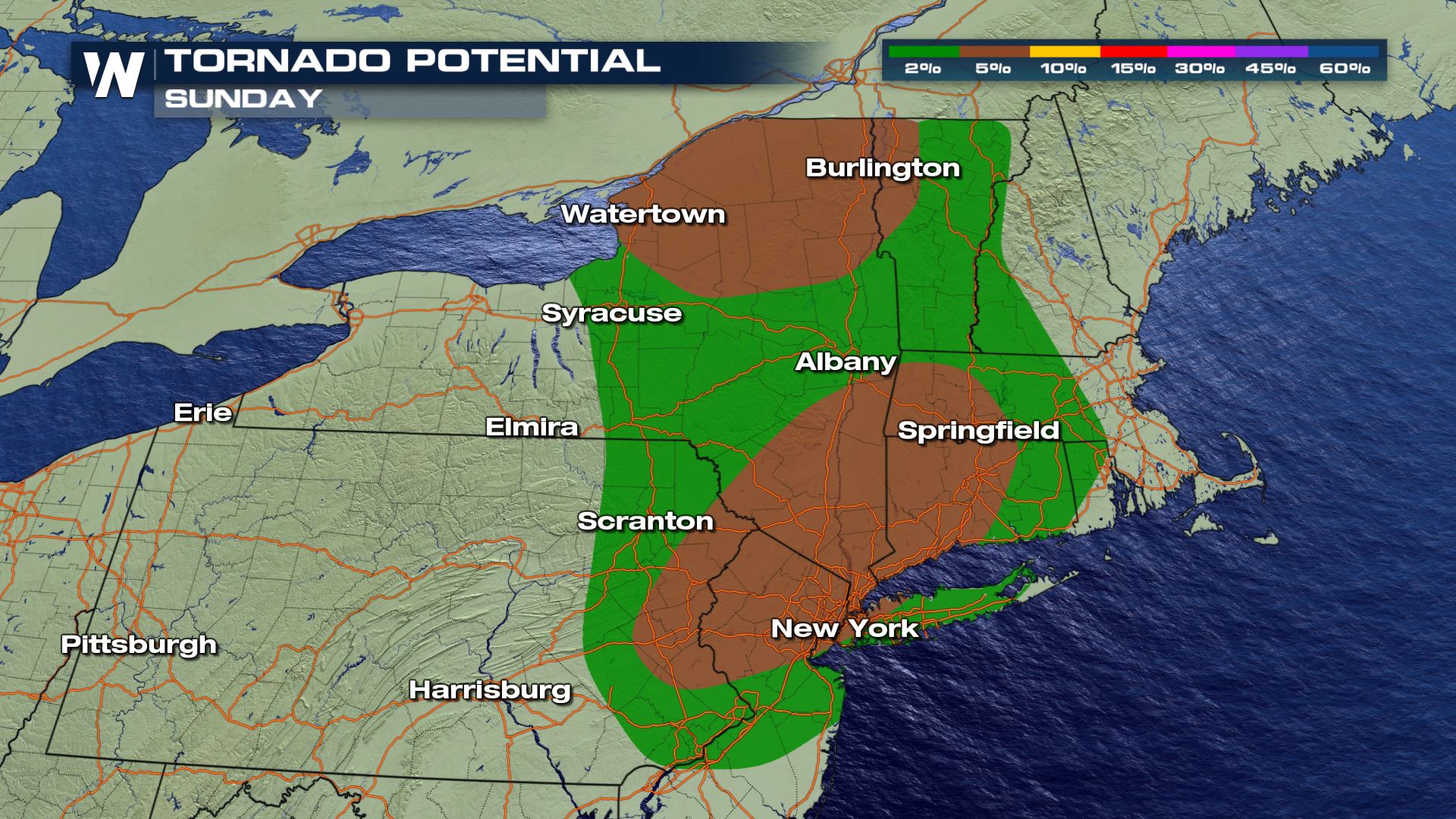 The main threat from Sunday's storms will be strong straight-line winds, according to the Storm Prediction Center, but isolated large hail and a few tornadoes will be possible. The areas in brown above will have a slightly higher risk for an isolated tornado or two.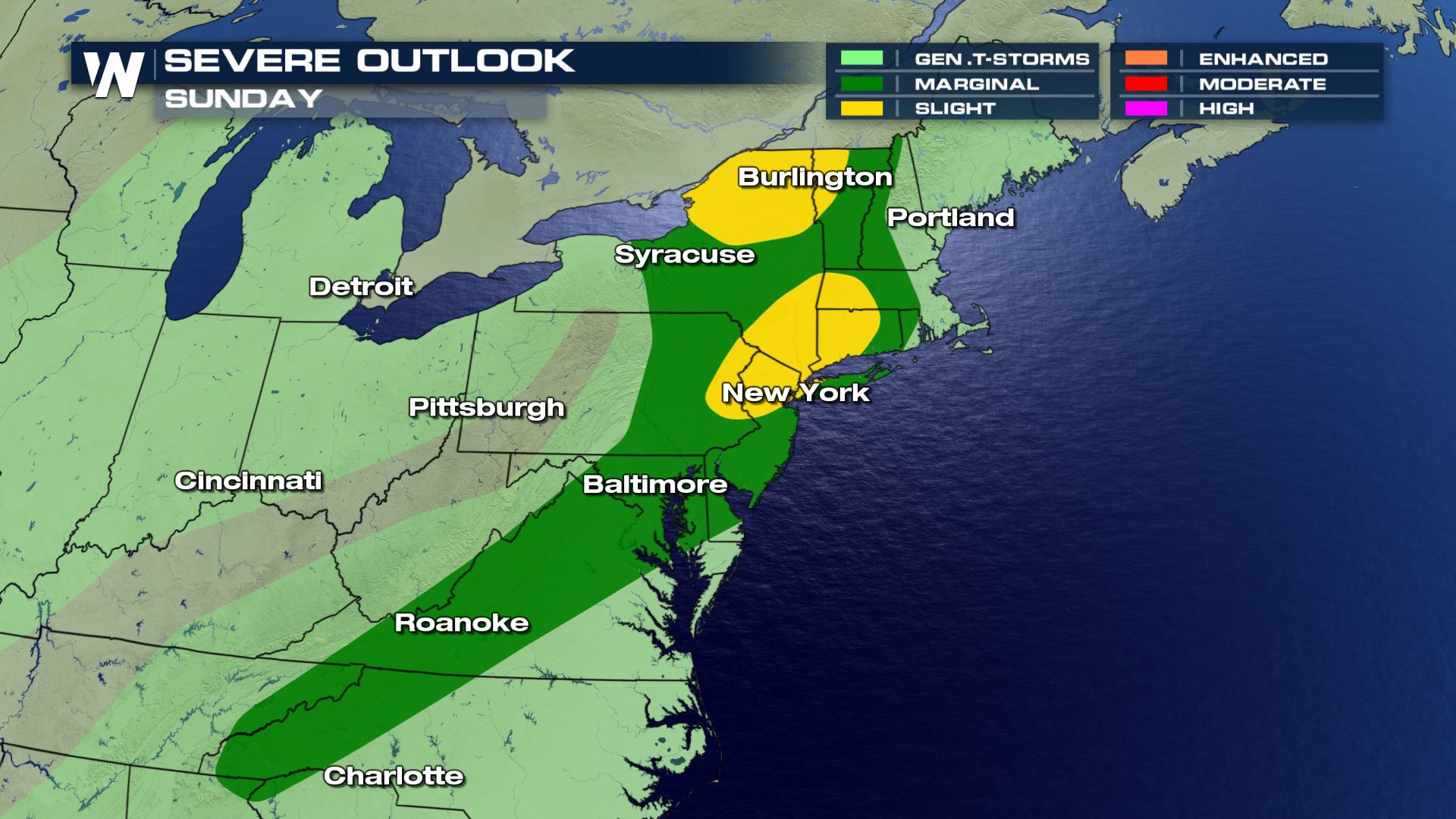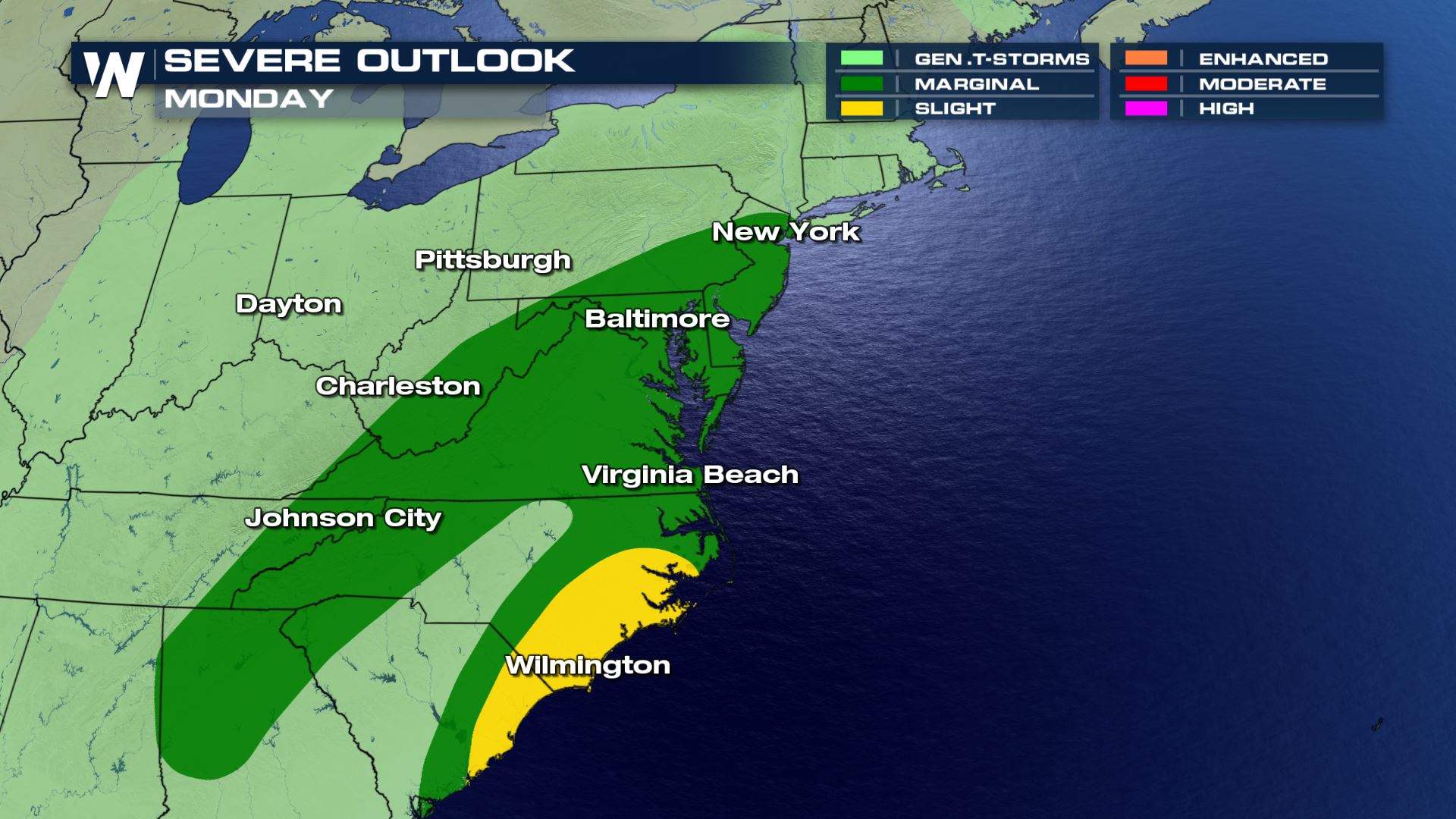 On Monday, the energy from the trough continues the severe weather potential from West Virginia to New York, while Tropical Storm Isaias will bring a tornado threat to the coasts of South Carolina, North Carolina, and Southern Virginia. The primary threat across the northern risk area will be damaging straight-line winds.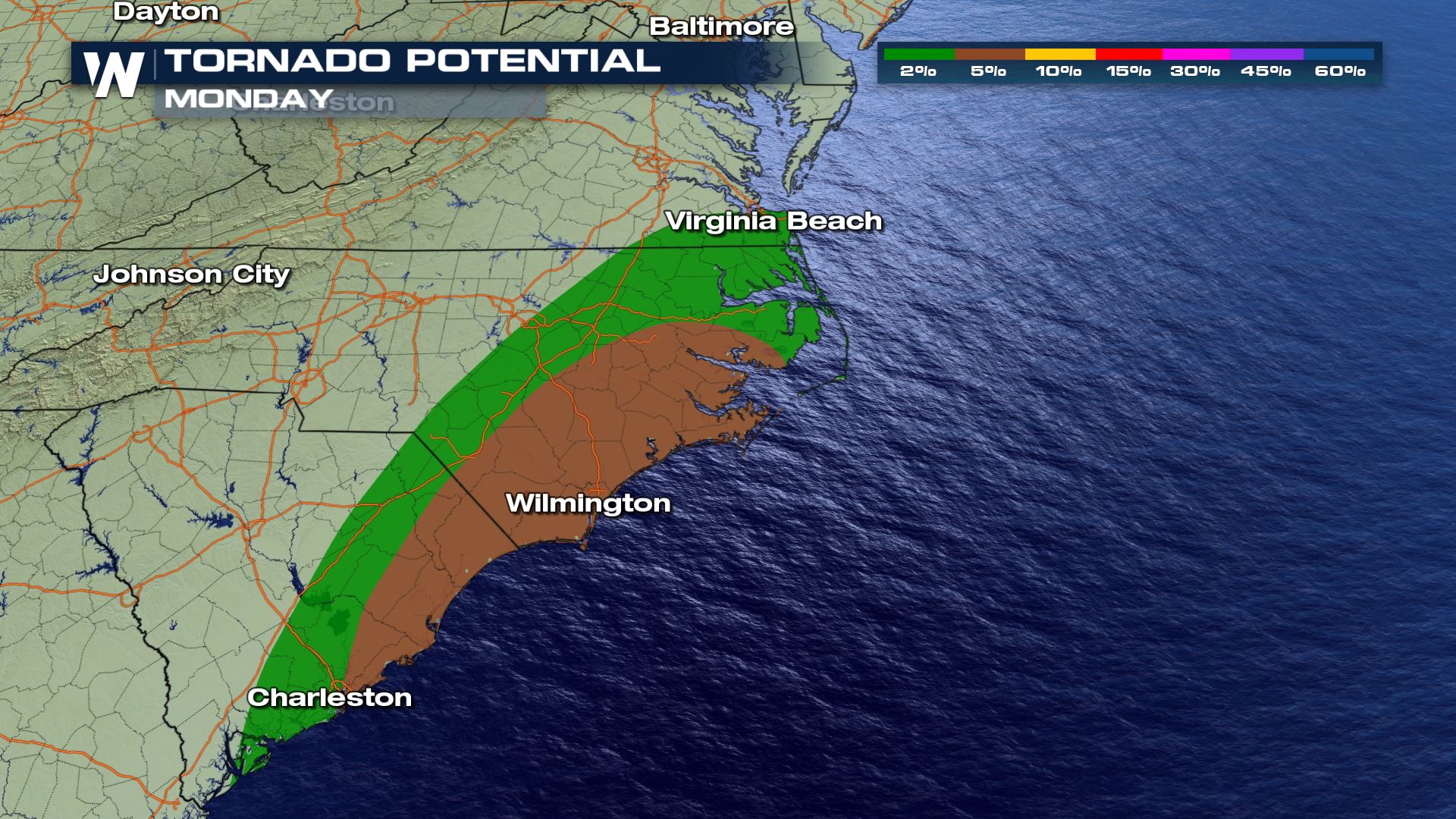 On Tuesday, energy from Isaias is expected to move north, with the eastern quadrant of the storm potentially moving up the coast. The Storm Prediction Center is already highlighting these areas for potential severe storms, with isolated tornadoes the most likely hazard.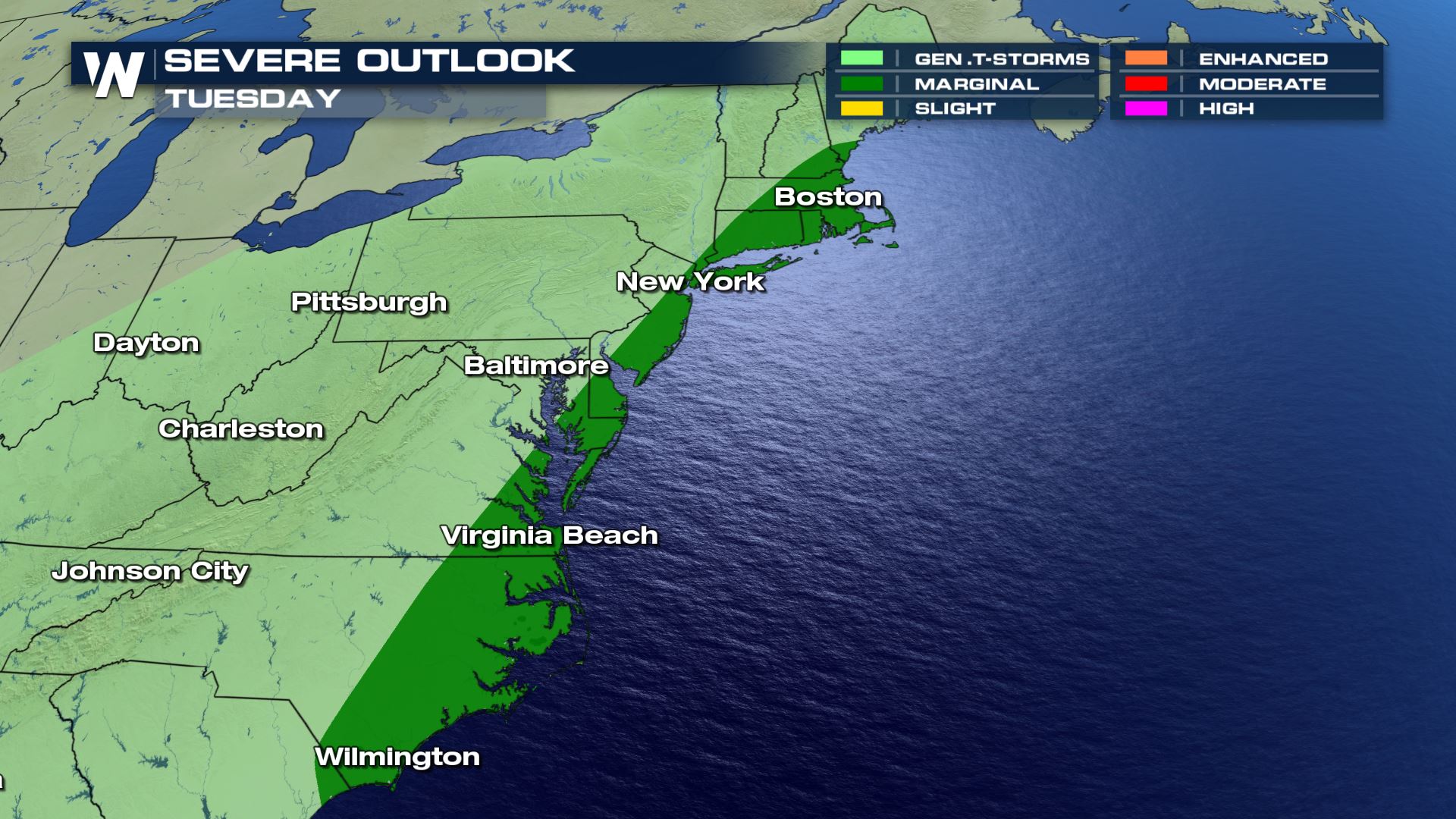 Forecast
Two rounds of severe storms will be possible in the Northeast on Sunday. The first will lift north with the warm front early Sunday morning. The second is expected to develop in the afternoon as energy from the trough and cold front move into the region. The simulated radar images below have been added to help illustrate when and where storms are possible.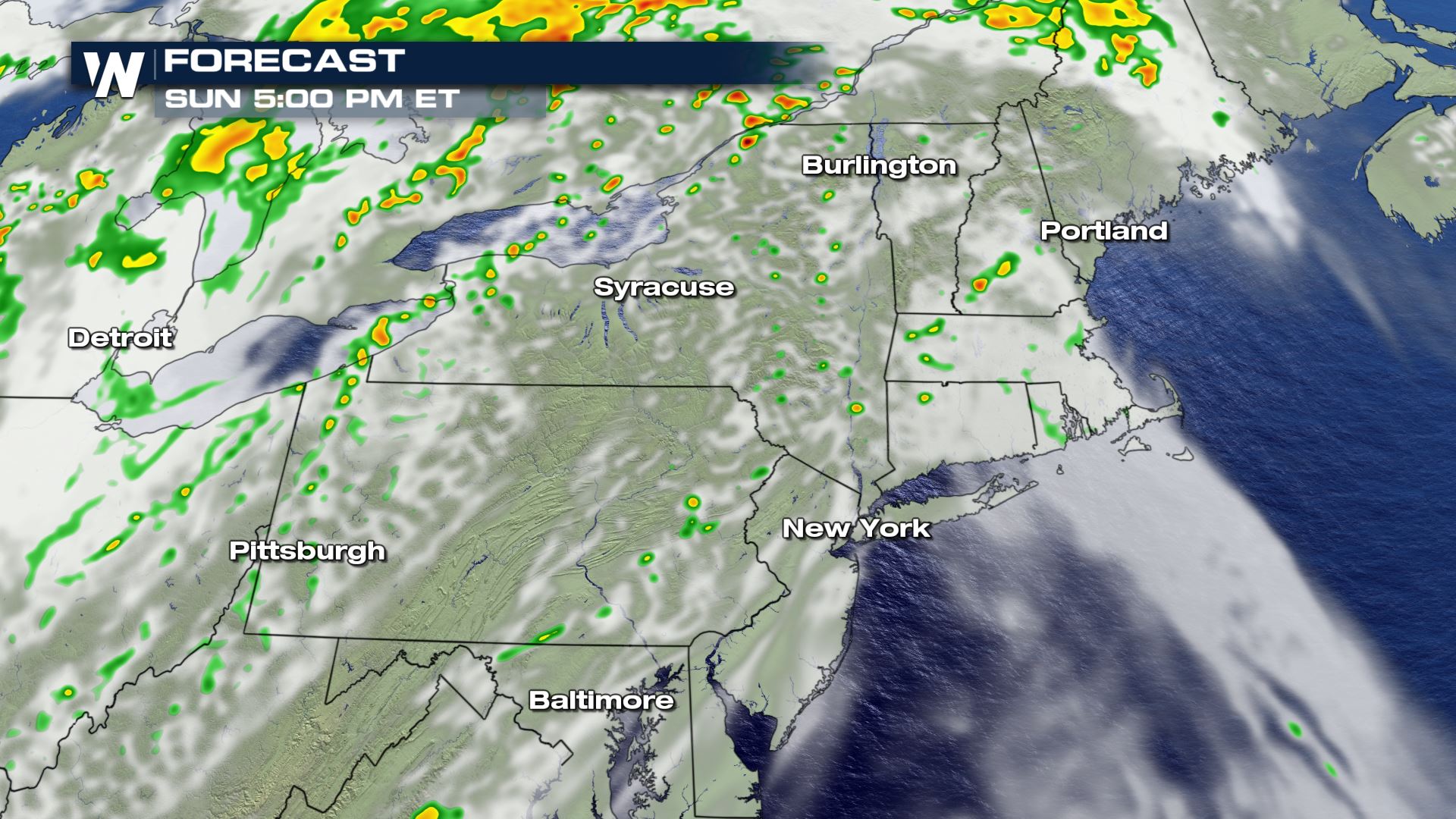 On Monday and Tuesday, Tropical Storm Isaias is expected to impact the Carolinas, with the threat pushing north into Tuesday. Isolated tornadoes will be possible, along with a few storms that may produce strong straight-line winds.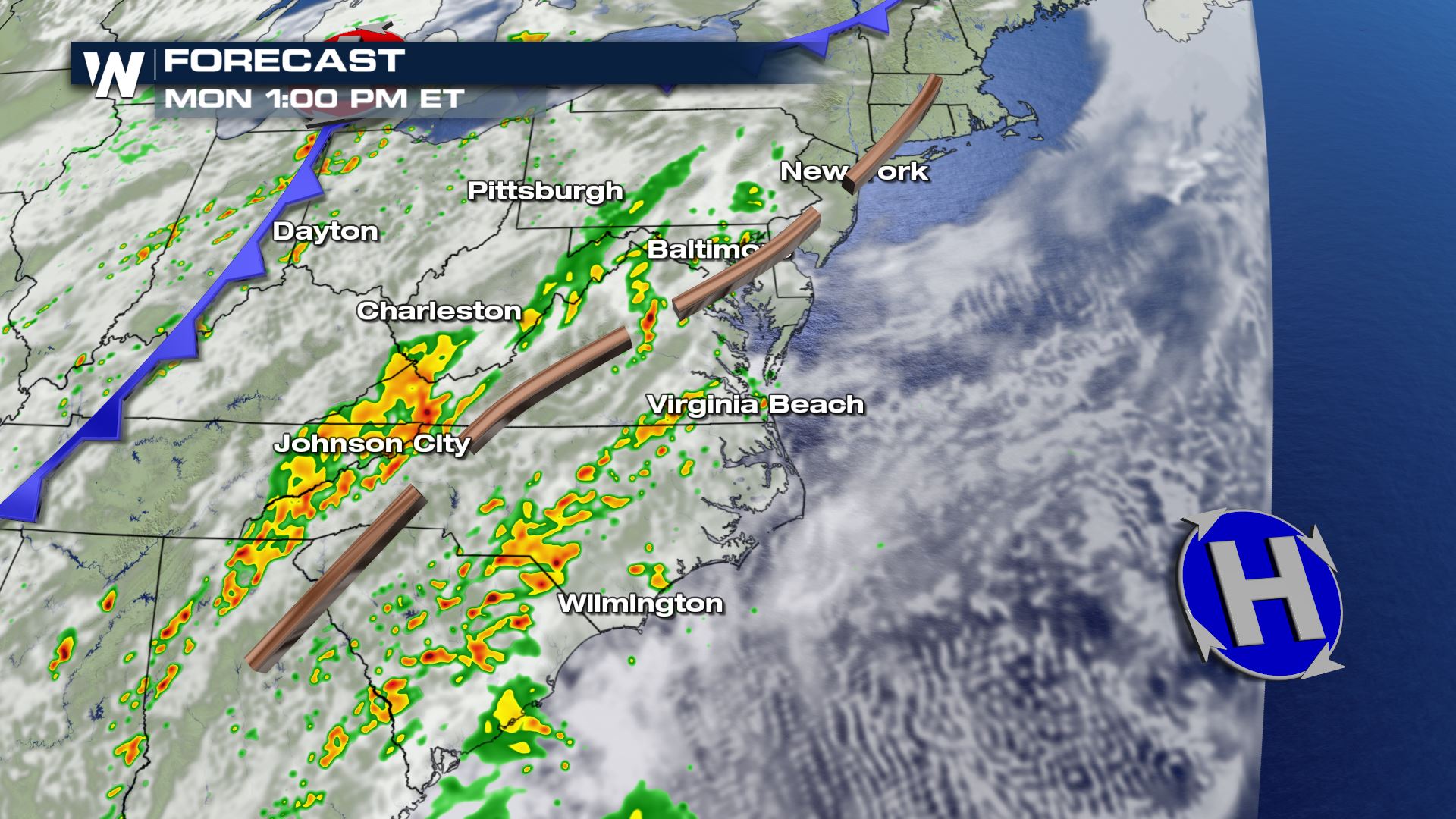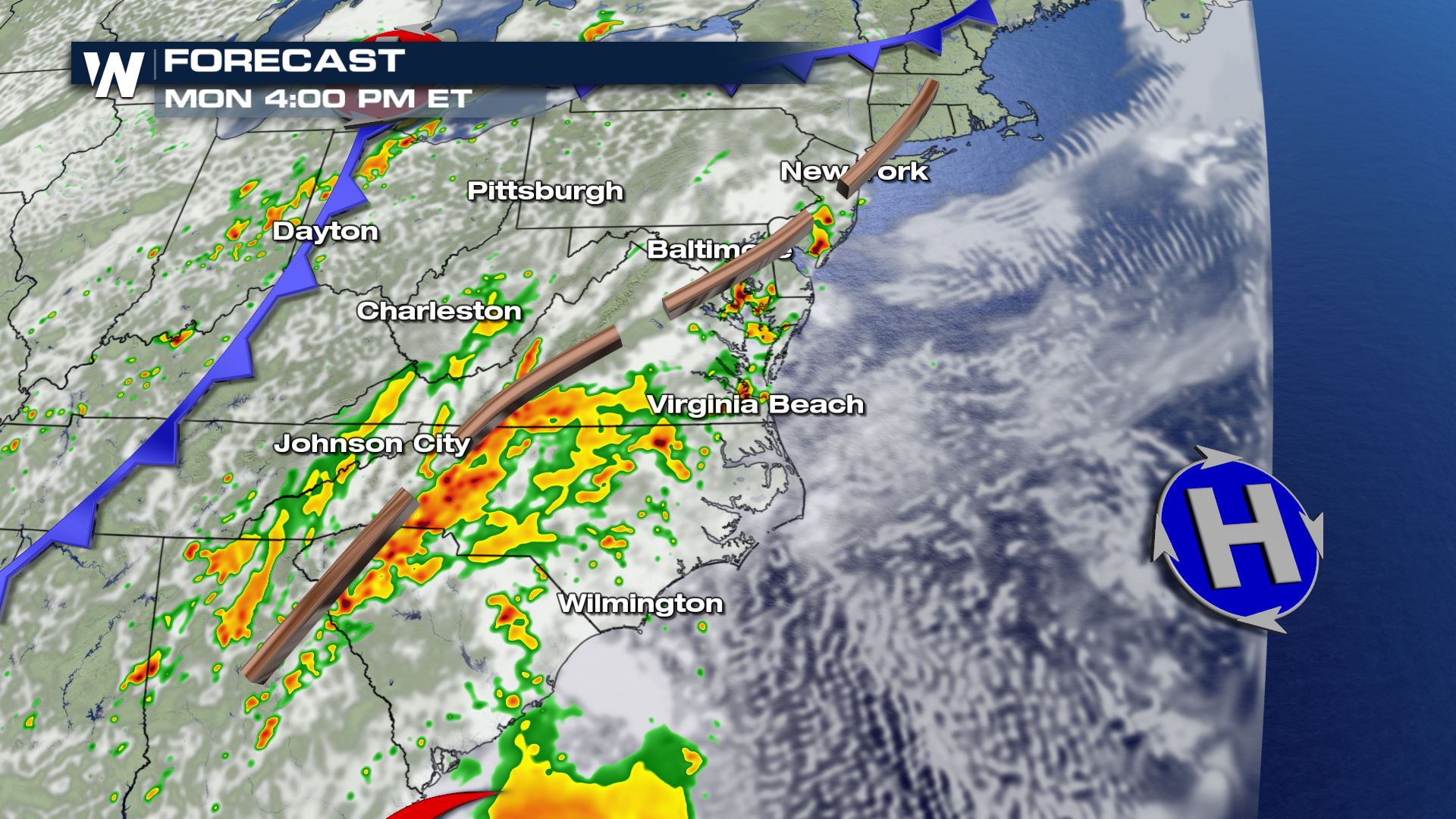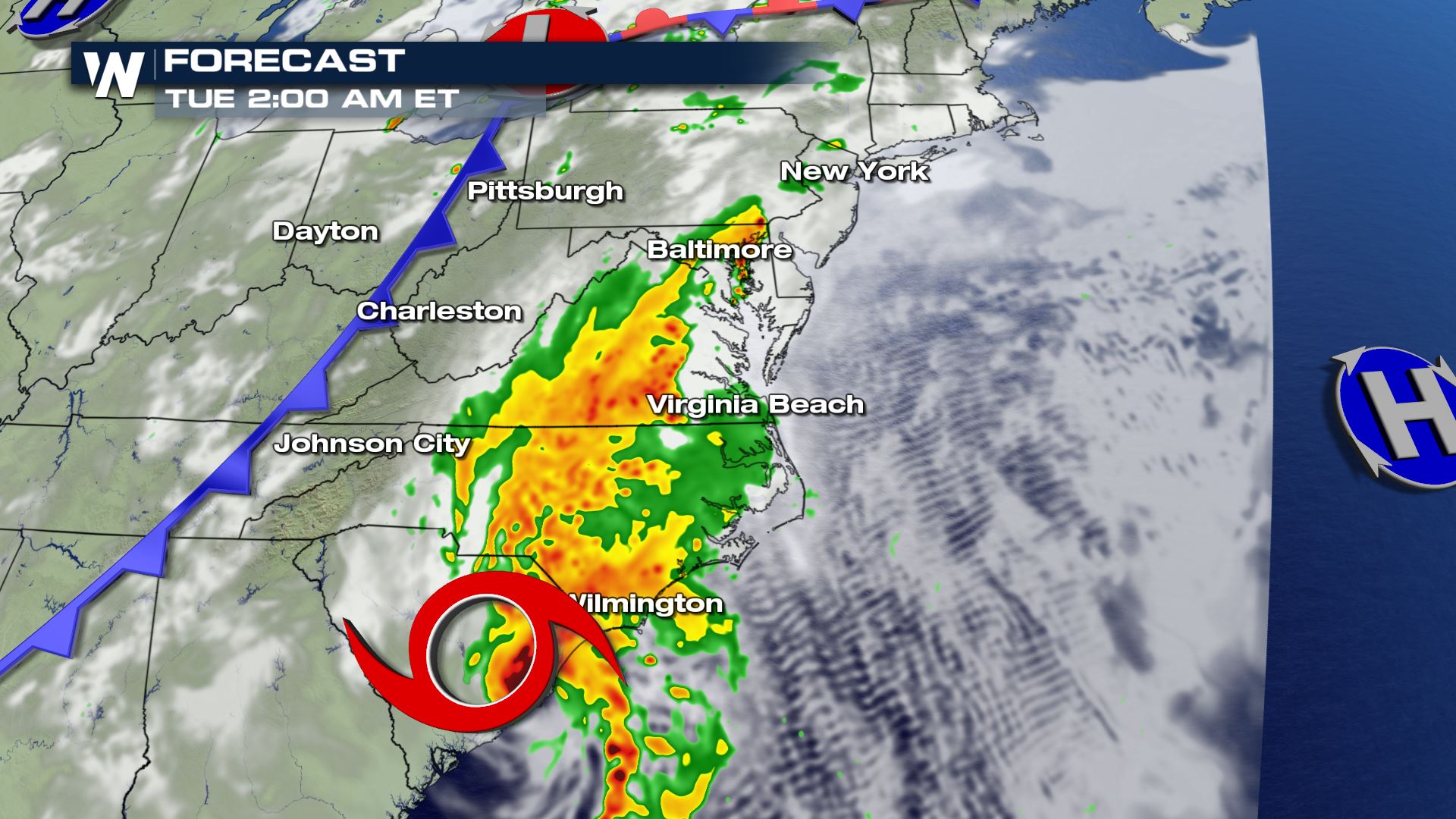 Watches and warnings are always scrolling across the bottom of our broadcasts and live-streams. Plus, the latest information on Isaias can be found on the side bar. This article and its contents will be updated as additional forecast data becomes available.