A powerful cold front has been tracking across the eastern half of the U.S. for the past two days.  Heavy rain and severe weather have been the result.  Friday will be no exception.  The cold front is approaching the east coast today.  Along and ahead of the front will be prime real estate for heavy rain and strong thunderstorms.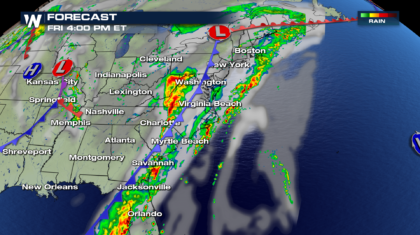 In-between the front and the east coast, a Marginal Risk for severe storms exists.  This threat area extends from southern New England, all the way down to central Florida.  There is a 5 percent chance of severe thunderstorms at any given point within the risk area.  It involves almost the entire eastern seaboard!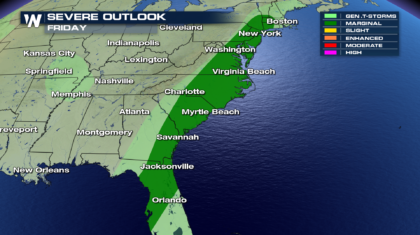 The most prominent threat will be damaging straight-line winds.  These are winds over 58 mph.  However, there is also a risk for tornadoes.  The tornado threat in previous days has been confined to the southeastern states.  But today, the risk extends from southeast Georgia, all the way into southern New York State and southern Vermont.  Storms along the entire cold front will have to be watched very carefully.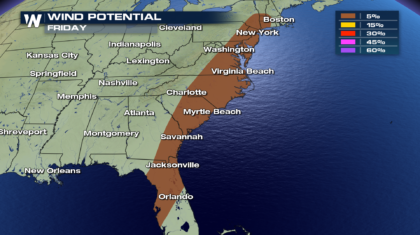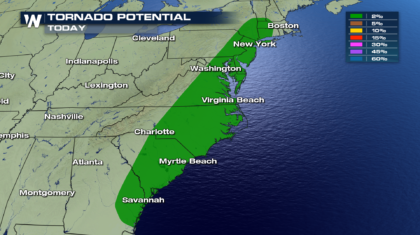 In addition to severe weather, very heavy rain is also possible.  Soaking showers could continue to fall over the same areas for several hours, leading to isolated flooding.  Excessive Rainfall could occur anywhere from Bangor Maine, down to eastern Virginia.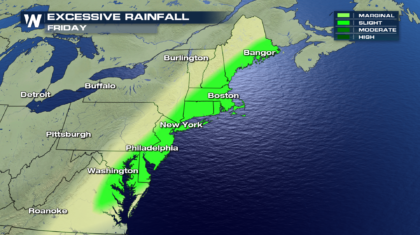 By late Friday night, the front will begin to push off the coast, ending the threat of severe weather and heavy rain in many locations.  However, the northern section of the storm system will likely still bring heavy rains to the northeast overnight, into the early morning hours before pushing out to sea.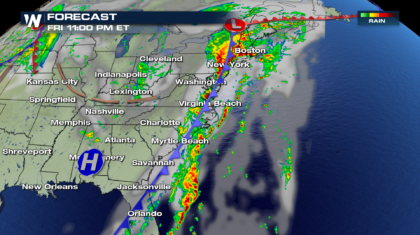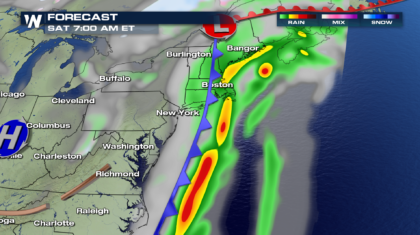 Severe weather will once again be possible, mainly Saturday morning, from eastern Long Island, to eastern Massachusetts.  It's a Marginal Risk, primarily for straight-line winds of at least 58 mph.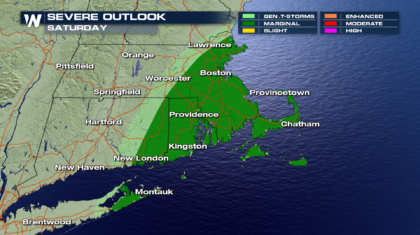 And finally, as the frontal system moves through, very strong winds will rush in behind it.  Sustained winds will be from the west, up to 25 mph.  And wind gusts could reach 60 mph!!  A High Wind Watch is in effect until 8pm Saturday night from Long Island to southern Maine.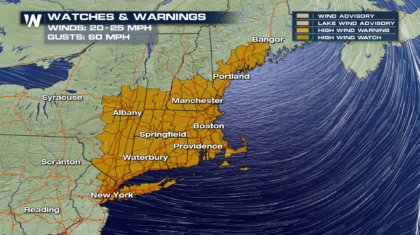 Stay weather aware as this system moves through.  And stay tuned to WeatherNation for the very latest weather information. For WeatherNation:  Meteorologist Matt Monroe