Winter may be officially over, but it's certainly hanging around in the central U.S. for a little bit longer.  A fairly strong cold front is pushing through Nebraska today.  The system will bring gusty northwest winds today, between 25 and 45 mph, to Nebraska and Iowa.  Much colder air will plunge south, combined with a storm system emerging from the Rockies.  This combination of cold air and moisture will produce a swath of snow from eastern Wyoming into northern Missouri on Sunday.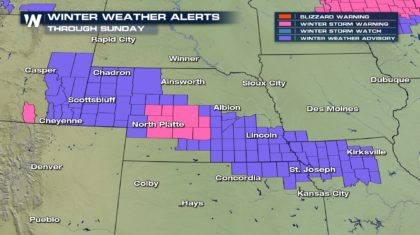 Expect accumulating snow to begin around midnight and continue through early Sunday afternoon.  Snow totals, while not huge, will be significant.  2 to 4 inches are expected in the Winter Weather Advisory area, (purple shaded areas).  However, 5 to 9 inches are expected in the Winter Storm Warning area, (pink shaded area).  This includes North Platte, Nebraska.  Cities just to the north and south of the Winter Alert areas could also see an inch or two of snow.  This includes Omaha to the north, and Kansas City to the south.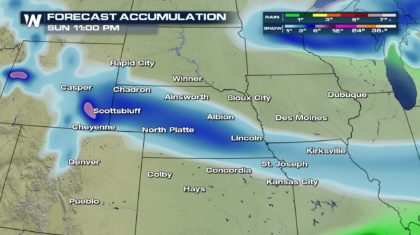 To the south of Kansas City, there's a chance for a little freezing rain as the system moves through.  It won't be a major icing event, and widespread power outages are not expected.  However,  black ice could form on roads, making travel dangerous.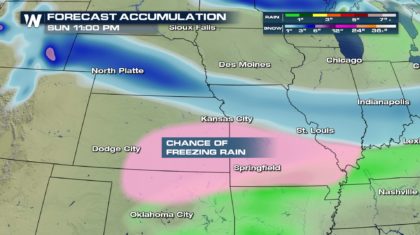 After the storm moves to the east, a big push of polar air will rush in behind the system.  It will be a very chilly start to April in the north central part of the country.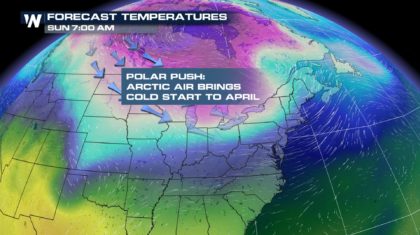 Check out high temperatures on Sunday circled in red.  35  degrees in Omaha!  Just 39 for a high in St. Louis, and 38 degrees in Chicago.  That's cold for April 1st.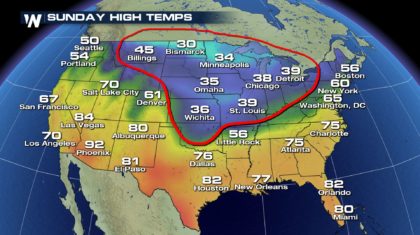 On Monday, temperatures in that region will remain unseasonably chilly.  Minneapolis will have a high temp of just 35 degrees.  Chicago will remain below average, near 45 degrees.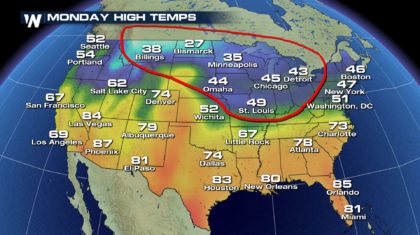 So if you live in Omaha, Nebraska, bundle up, stay warm, and get ready for a winter-like Easter Sunday.  And don't fret, spring will eventually take hold.  Sunny and 52 degrees on Thursday!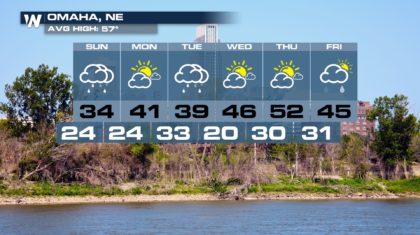 For WeatherNation:  Meteorologist Matt Monroe