A powerful spring storm will bring moderate snow to the Colorado Rockies, and soaking rain and storms to locations in eastern Colorado.  The moisture is actually very welcome in Colorado.  Overall, it was a below average winter for snow, and the state could use some more moisture.  Looking at the current Drought Monitor, the entire Four Corners Region needs moisture.  Some areas are experiencing "Exceptional" drought conditions.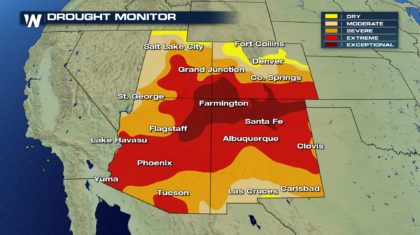 At elevations over 9,000 feet in the Rockies, the moisture could add up to between 6 and 12 inches of snow!  Winter Weather Advisories have been posted, and travel could become quite hazardous, including possible road closures.  Anyone traveling in this area over the weekend should be mindful of the changing conditions and accumulating winter precipitation.  Expect slippery road conditions and reduced visibility at times.  And hikers should be aware that mountain trails and older snow tracks will become snow covered and hard to find in the back-country.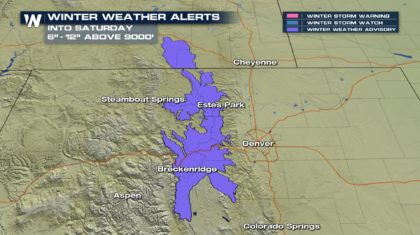 At lower elevations, it will be a little too warm for snow.  The precipitation will be rain there, but in some cases, too much rain.  Flood Watches are up for portions of northeastern Colorado, including Denver.  Rainfall totals could range from 2 to 6 inches in the watch area.  When that much rain falls over mountainous and hilly terrain, flash flooding can occur very quickly.  Water levels in streams and rivers can rise quickly, creating dangerous conditions.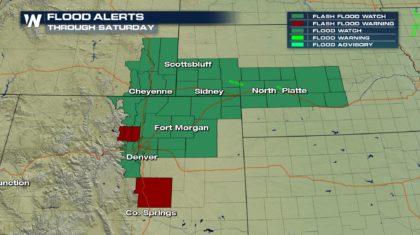 The weather set-up that's responsible for all of this wild weather is two-fold.  There's a cold front to the north of Colorado, and a Low pressure cell in southwestern Kansas.  The Low is pulling up moisture, which is then being lifted by the dynamic cold front.  The result is very active weather.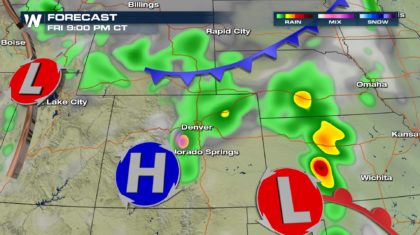 This weather set-up is also in place on Saturday, which is why the snow and rain chances will continue through the first half of the weekend.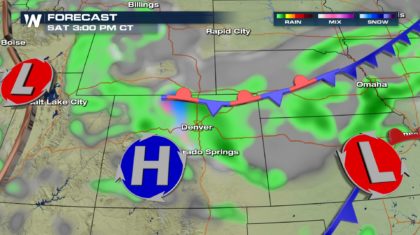 In addition to the snow and heavy rain, southeastern Colorado is also under a risk for severe storms.  A severe thunderstorm watch is in effect through 10pm Friday night.  Damaging winds and hail are the primary threats with these severe storms.  The watch also includes portions of Kansas, Oklahoma, and Texas.  As the powerful cold front stalls out across the region on Saturday, it will lose the ability to fire up severe storms, and the severe weather threat will end in Colorado.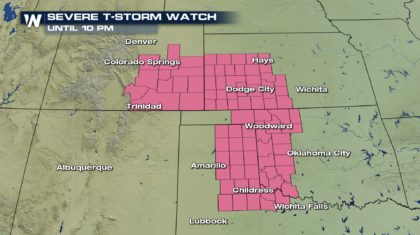 So stay weather aware, and stay tuned to WeatherNation TV for the very latest weather information. For WeatherNation:  Meteorologist Matt Monroe