What a difference a day makes!  On Wednesday, the weather was incredibly warm in the northeast.  New York City had a record high temperature of 78 degrees, shattering the old record of 68 set back in 1930.  Record Highs were also set in many other cities, such as Washington D.C. and Hartford, Connecticut.  Washington D.C. hit 81 degrees, while Hartford reached 77 degrees.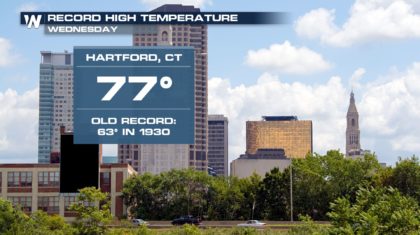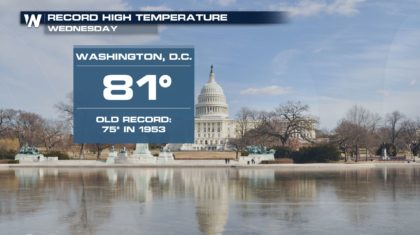 But temperatures that warm aren't meant to last very long this time of year.  Today, February returned, as a cold front brought in much colder weather.  On Wednesday, Syracuse N.Y. had a high of 74 degrees.  Today, temperatures returned to the lower 30's, with snow showers blanketing the city.  It was a harsh return to reality for many residents. But Syracuse isn't alone.  Most cities in the northeast had similar temperature drops on Thursday.  Check out the graphic below.  It compares temperature differences over a 24 hour period, from Wednesday afternoon to Thursday afternoon.  The temperature drops are substantial.  Hartford, Connecticut had a temperature drop of 40 degrees!  Boston, New York, and Philadelphia all saw similar temperature plunges on Thursday.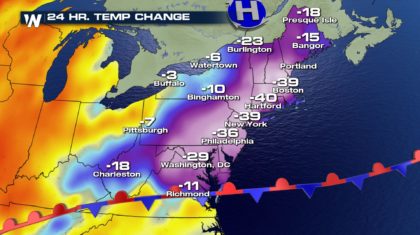 That's the kind of change a strong cold front can bring during February.  Syracuse N.Y. actually dropped 20 degrees in one hour on Wednesday as the front passed through. But where do the temperatures go from here?  Great question.  Let's take a look. On Friday, temperatures will be very close to average for the northeast.  Low to mid 40's are expected for the I-95 corridor from Boston to New York, and upper 40's from Philadelphia to Washington D.C.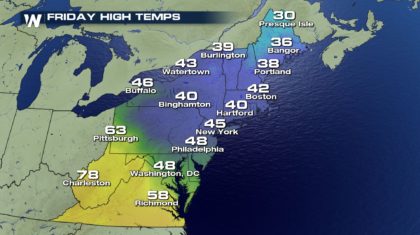 On Saturday, a little warming trend will take the temps into the upper 50's for cities like Boston, Hartford, New York, Philadelphia, and Washington D.C.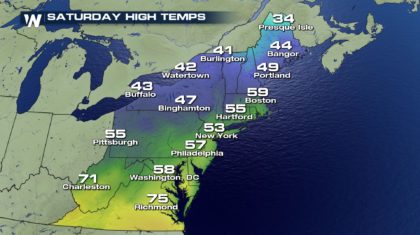 And on Sunday, temps will take a little downturn as rain and a touch of winter weather move back into the region.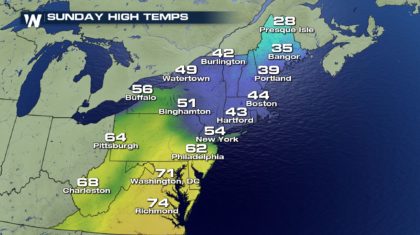 For WeatherNation:  Meteorologist Matt Monroe