There are four big games this weekend in the NFL.  And three of them will be played in outdoor stadiums.  Sometimes weather can have a huge impact on the outcome of the game.  Will that be the case this weekend?  Let's check out the forecasts for each game and find out. First game up, the Indianapolis Colts visit the Kansas City Chiefs.  Kickoff is set for 2:35 CT on Saturday.  If you're heading to this gridiron battle in the Midwest, you'll need to bundle up!  Temps will be in the low to mid 30's throughout the game.  Light snow will be falling.  About the only consolation will be light winds.  So blowing snow and wind chill should not be issues.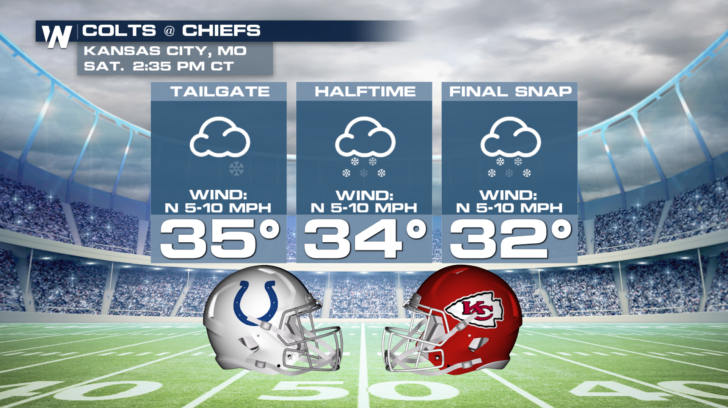 The second game on Saturday will be the Dallas Cowboys visiting the Los Angeles Rams.  Kickoff is set for 4:15 PT.  The weather in southern California promises to be much more pleasant.  Partly cloudy skies with temps in the lower 60's at the start of the game, dropping into the mid 50's by the final snap.  Only a light jacket will be needed to enjoy this exciting match-up.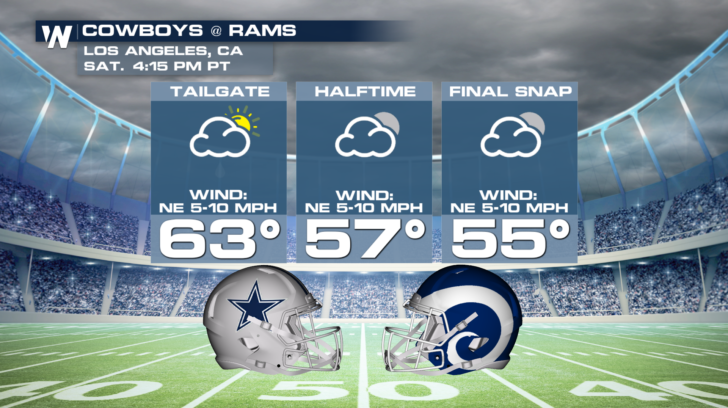 The first game on Sunday will be in Foxboro, Massachusetts.  The Los Angeles Chargers will be visiting the New England Patriots.  Kickoff is set for 1:05 ET.  Winds will be light, under plenty of sunshine.  But the temps will be cold!  Low to mid 20's will be the trend right through the game.  New England fans will feel right at home in these conditions.  But visiting Charger fans may not be accustomed to such frigid temps.  Lots of warm weather gear will be needed to stay comfortable in such cold conditions.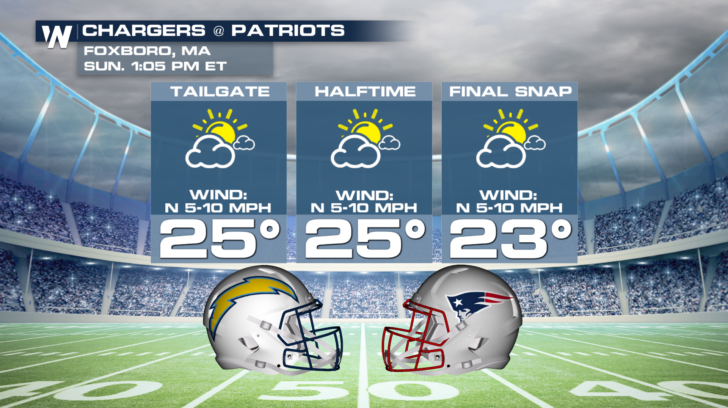 And the final game of the weekend will be indoors in New Orleans.  Kickoff is set for 2:40 CT between the Philadelphia Eagles and the New Orleans Saints.  Plenty of fans will be tailgating and celebrating outside during the game.  It will be a little cool, but overall, fairly comfortable.  Just a light jacket or sweater may be needed.  The weather should be pleasant with temps in the mid 50's, partly cloudy skies, and light winds from the north.  Or course, inside the dome, the weather will be perfect!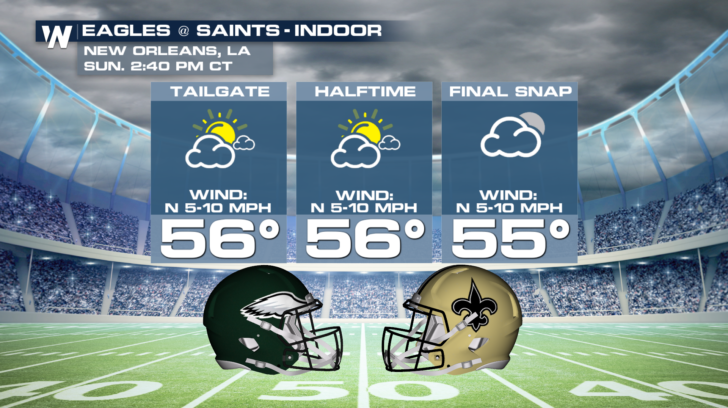 Enjoy the games!  And for the latest forecast, tune in to WeatherNation on the Dish Network, Roku, Fire TV, Apple TV, and Pluto TV. For WeatherNation:  Meteorologist Matt Monroe