A destructive day of severe weather unfolded Thursday across Iowa. Severe thunderstorms fired up midday Thursday, with some storms producing damaging tornadoes. By Thursday evening, there were nearly 30 tornado reports across the state of Iowa. There are no known fatalities, but more than a dozen people were injured, the AP reports.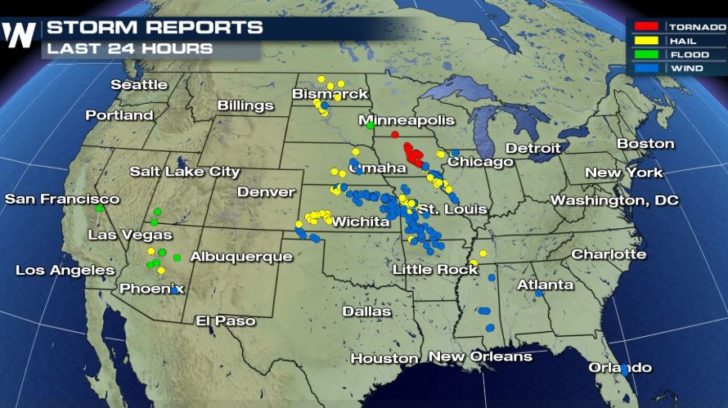 [
LIVE RADAR
] The National Weather Service issues a 'Tornado Emergency' for one tornadic storm, with the city of Marshalltown, IA in the cross hairs. A violent tornado ripped through town, with "catastrophic damage" reported by the local weather service. The damage information included vehicle missing and overturned, tops of building ripped off, trees and power lines down, and gas lines damaged. https://twitter.com/NWSDesMoines/status/1020060123597860864 https://twitter.com/WeatherNation/status/1020090900356128774 https://twitter.com/WeatherNation/status/1020073297667477504 Reports of major damage also have been reported in the cities of Pella and Bondurant, IA as separate tornadoes tore through Thursday. The
National Weather Service
is expected to conduct several storm surveys on Friday to determine the strength and estimated wind speeds of the tornadoes. WeatherNation spoke with one Iowa resident who witnessed one of the tornadoes. https://twitter.com/WeatherNation/status/1020138184879902720 https://twitter.com/WeatherNation/status/1020066620440395776 There is a risk of more severe storms on Friday as the threat shifts eastward. Some major cities in the enhanced risk region include Louisville, Nashville, and Bowling Green, KY, among many other areas nearby.