It was an eerie day on April 3, 2018 as severe weather and tornadoes roared through the Central Region of the United States. https://twitter.com/twitter/statuses/981514743037874177 It falls 44 years after the historic tornado Super Outbreak on April 3-4, 1974, which spanned across 13 states from the Great Lakes region to the Deep South. According to the Storm Prediction Center, there were preliminary reports from Tuesday of
eight tornadoes across Ohio, Illinois, Missouri and Kentucky
. The National Weather Service in Wilmington, Ohio,
confirms there were four tornadoes
within the state, in and around cities and communities impacted by the Super Outbreak of 1974. https://www.facebook.com/WeatherNation/videos/10156399962494874/ The 1974 Super Outbreak had 148 tornadoes documented from the event, of which 95 were rated F2 or stronger on the
previous Fujita scale
and 30 were F4 or F5. Aside from all the catastrophic damage they left behind, the tornadoes resulted in 335 deaths and more than 6000 injuries.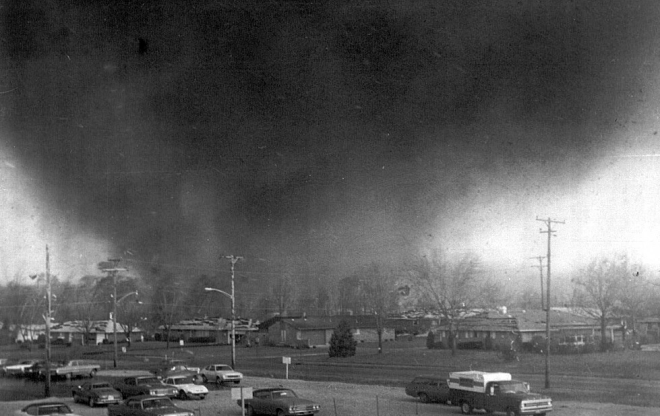 A massive F5 tornado bears down on Xenia, OH.  Photo taken from the Greene Memorial Hospital by Fred Stewart
According to the National Weather Service in Wilmington, some of the strongest tornadoes from this outbreak occurred in the Ohio Valley. Dozens of tornadoes struck Ohio, Indiana, and Kentucky, resulting in 159 deaths, over 4000 injuries, and hundreds of millions of dollars in property damage. Two violent F5 tornadoes destroyed much of Xenia and Sayler Park (a western suburb of Cincinnati) in Ohio. Resulting in 34 deaths, the Xenia tornado was the deadliest of all tornadoes from this outbreak and remains among the top 10 costliest U.S. tornadoes on record (approximately $250 million in 1974). Several other strong F2 to F4 tornadoes also touched down during the Super Outbreak across southeast Indiana, northern Kentucky, and southwest Ohio, an area that today encompasses NWS Wilmington, Ohio's warning area.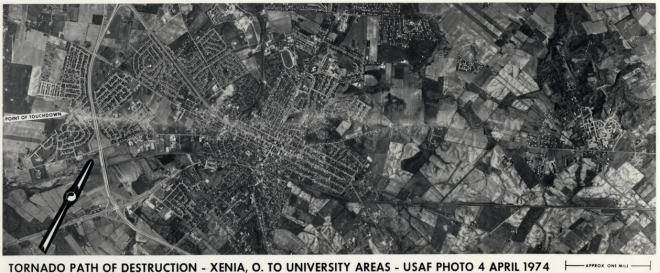 Courtesy of the Ohio Historical Society, from their Ohio Memory collection
About an hour after the Xenia tornado, another violent F5 tornado took aim at the western suburbs of Cincinnati. The only tri-state twister of the Super Outbreak, this tornado originated near Rising Sun in Indiana around 5:30 PM, passed through Kentucky, and then crossed the Ohio River to inflict severe damage in Sayler Park and other neighborhoods west of Cincinnati. This tornado was witnessed by many, including by those at the Greater Cincinnati International Airport and WSO Cincinnati, which had issued a tornado warning at 4:45 PM (in effect until 5:45 PM). Then at 5:40 PM, the power went out at WSO Cincinnati, resulting in a loss of radar, teletype, and most means of communication. While the power was out for the next three hours, the NWS in Cincinnati had some backup radar imagery available from the Air Force and FAA and had the NWS in Cleveland issue warnings for them. Fortunately, most of the worst tornadoes had already occurred before the power went down, but the need for emergency power backup at National Weather Service offices was recognized following this event.
Video: A 1978 documentary of the Super Outbreak, showing actual footage of tornadoes as they struck Xenia, Cincinnati, and Louisville, causing massive damage and numerous deaths. Includes discussion of advance tornado preparation and emergency coordination. Courtesy of the National Archives
Information within this story is courtesy of the National Weather Service in Wilmington, OH.
You can find more information and photos here from the Super Outbreak of 1974.