Invest 96-L, a tropical wave centered in the western Bahamas, is showing better signs of organization as of mid-morning Friday. It now has a high chance to strengthen into a tropical depression over the next five days as it moves across south Florida and into the open Gulf of Mexico.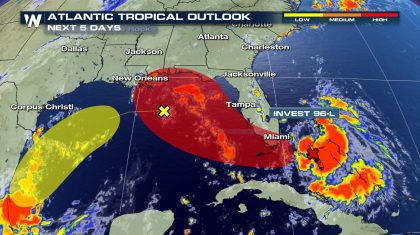 If this system strengthens into a tropical depression, it would be named Sally. The National Hurricane Center said Friday that pressures are falling around the wave and winds are increasing, indicating the wave is strengthening. Water temperatures in the eastern Carribean Sea and Gulf of Mexico are in the middle and upper 80s. Warmer water contains more avaialable energy for systems to use and strengthen than cooler water. This wave of low pressure will bring heavy rain to the Bahamas and Florida through the next few days regardless of tropical development. A Flood Watch has been issued for parts of Florida's west coast through Sunday morning in anticipation of rounds of heavy rain through the weekend. Upwards of 3-4" of rain is possible. Heavy rain is likely outside the watch and may be extended later.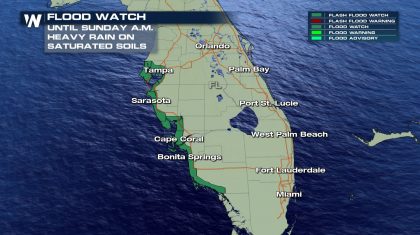 Regardless of where this system goes once it enters the Gulf, the main US impact at this time will be heavy rain and potential flooding. Forecast rain totals through midday Tuesday show pockets of more than 3" of rain in spots along the coast of Florida and south Louisiana.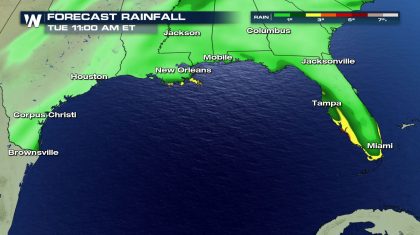 There is uncertainty in the track forecast of this wave, with computer models disagreeing where it will go beyond the weekend. The important thing is for residents along the Gulf Coast from Texas to Florida to stay aware. Mid-September is the climatological peak of Atlantic hurricane season and conditions are favorable for tropical development in much of the Atlantic basin.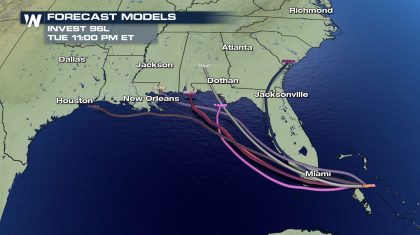 WeatherNation will keep you up to date on all changes as they happen with this system!!