Several reports of wind damage and most likely a tornado continue to come out of Russellville, Alabama Monday afternoon. https://twitter.com/WeatherNation/status/975891083543523328 The storm rolled through around 5:30 p.m. central with damage reported along Alabama Route 33. Trees and power lines were reportedly down along Highway 43. The video above, as well as below, is courtesy Brandon Clement. Brandon had the chance to get a brief view of the damage after the storm had fully passed. https://www.facebook.com/WeatherNation/videos/10156353595744874/ As of about 7 p.m. central Monday there were a total of about 50 storm reports across parts of the Southeast, 40 of those being from damaging wind and 10 from damaging hail. The area still has a threat of tornadoes until 11 p.m. central Monday.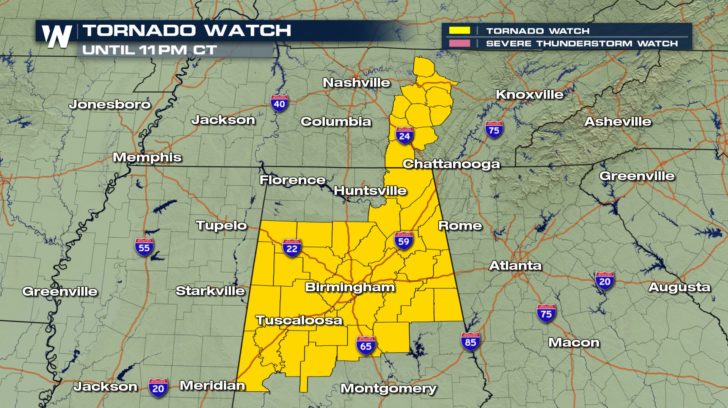 A tornado watch is in effect for the yellow shaded areas until 11 p.m. Monday. You can read much more about the rest of the severe weather forecast, as it will move into Georgia, Florida, and the Carolinas now through Tuesday.
Tap or click here to read more about that.
For WeatherNation, Meteorologist Steve Glazier