It's not unusual for winter to hang on a bit longer in the northern-most regions of the country.  And over the next couple of days, winter-like weather will certainly be making an appearance in the high plains and the upper Midwest.  A weather system is coming in from Canada Friday and Saturday.  It's a text book Alberta Clipper.  And this system is going to bring abrupt weather changes to the region. The first change will be increasing winds, as the system drops in from Canada.  The winds will be particularly strong in northwestern Montana.  High Wind Watches are in effect from Thursday evening to Friday afternoon.  Winds will be from the West between 30 and 40 miles per hour.  Winds could gust over 60 miles per hour.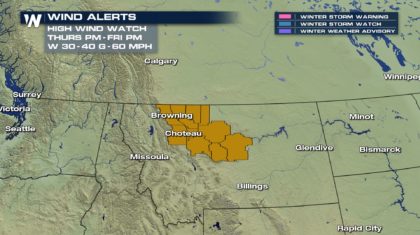 Strong winds may blow down limbs, trees, and power lines.  Strong cross winds will pose a danger for high profile vehicles.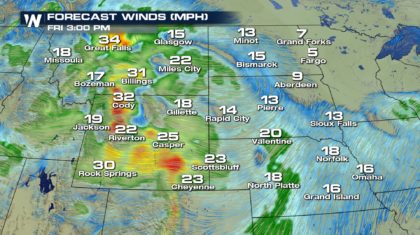 Winds will begin to weaken by Friday evening as the system moves to the east.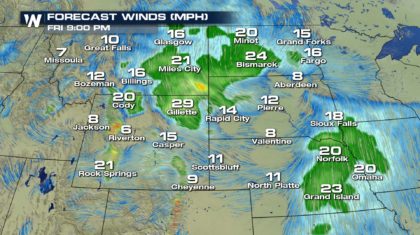 The clipper system will also bring significant snow.  Winter Storm Watches are up for northwestern Montana.  They are in effect Friday afternoon and Friday evening.  Farther to the east, Winter Storm Watches are also up for much of North Dakota, central Minnesota, and northwestern Wisconsin.  They are in effect from Friday morning through Saturday morning.  In all of the watch areas, 3 to 6 inches of snow are expected, with isolated totals up to 9 inches.  Wind combined with fresh snow may cause near white-out conditions from blowing and drifting snow.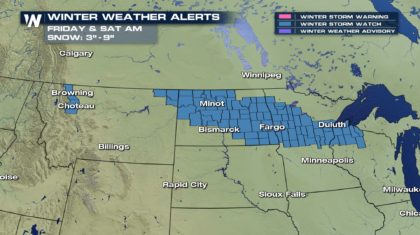 TIMING:
By Friday afternoon, the system will be centered over the Montana and North Dakota boarder.  The heaviest snow by that point will be in western Montana, with lighter snow spreading across North Dakota and Minnesota.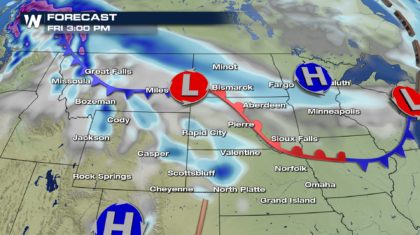 By Saturday morning, there could still be some lingering snow in western Montana.  But the heavier snow will be across Montana, Minnesota, Wisconsin, into the Upper Peninsula of Michigan.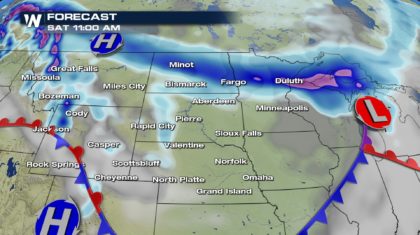 The system will also bring down much colder air from Canada.  Compare temps on Friday and Saturday.  Cities such as Rapid City will drop from 55 degrees on Friday, to 31 degrees on Saturday.  Sioux Falls will drop from 49 degrees to 31 degrees.  And Omaha will drop from 58 on Friday, down to 42 on Saturday.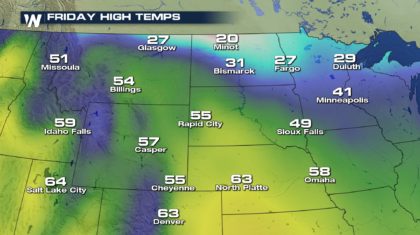 And wind chill values early Saturday morning will be brutal.  Many cities in eastern Montana and North Dakota will be well below zero.  Minot could experience a wind chill of 27 degrees below zero.  At those temperatures, frostbite can form on exposed skin in as little as 30 minutes.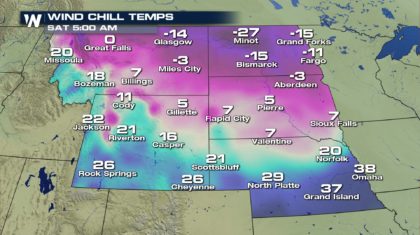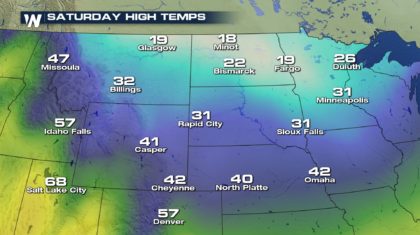 Temperatures will stabilize and slowly start to rise again on Sunday.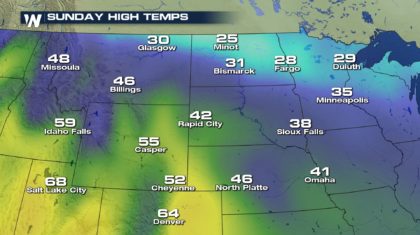 So get ready for cold, windy, and snowy conditions as the latest Alberta Clipper visits the north central U.S. For WeatherNation:  Meteorologist Matt Monroe