It's going to be a windy weekend! Gusty winds not associated with thunderstorms are expected across much of the United States this weekend. As of Saturday morning, 64 million peope are included in wind alerts. In the Western US, these gusty winds are behind a cold front and low pressure system. Wind Advisories in the Eastern US have been issued ahead of the cold front with the expectation that winds will pick up tomorrow after the cold front passes.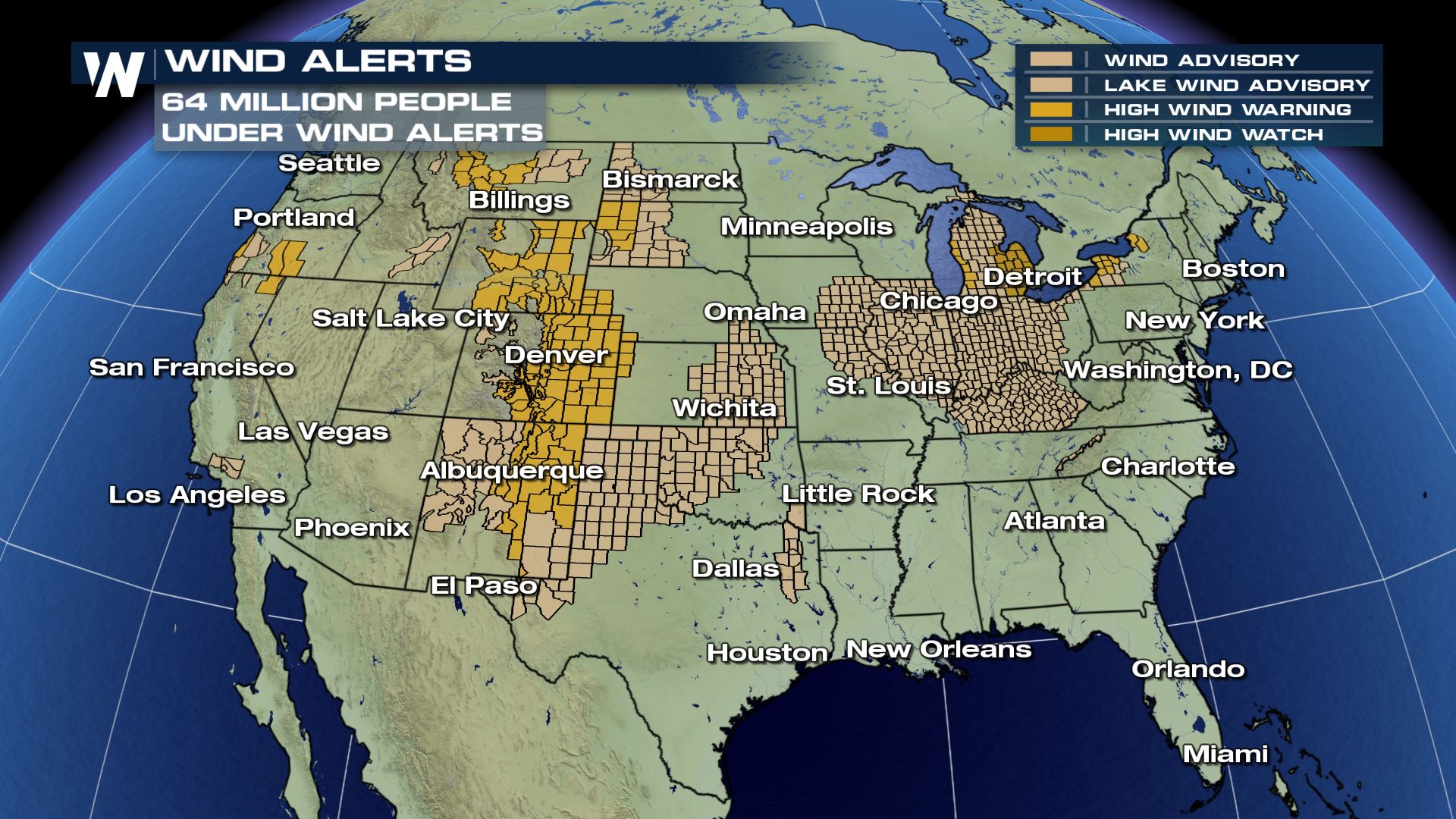 Areas under High Wind Warnings in gold will have winds sustained at 30-45 mph with gusts as high as 60-70 mph. This could make for dangerous traveling especially for high profile vehicles in areas of higher elevation. The winds will create reduced visibility on roads where there is blowing snow, especially in parts of the Western US. Beige areas under Wind Advisories will still be breezy through the rest of Saturday and Sunday, but winds will not be quite as gusty. Most spots will have sustained wind near 20-30 mph wind gusts near 45 mph. Wyoming recorded a wind gust of 119 mph on Friday. While not as high as Friday, some spots recorded winds in excess of 70 mph Saturday morning.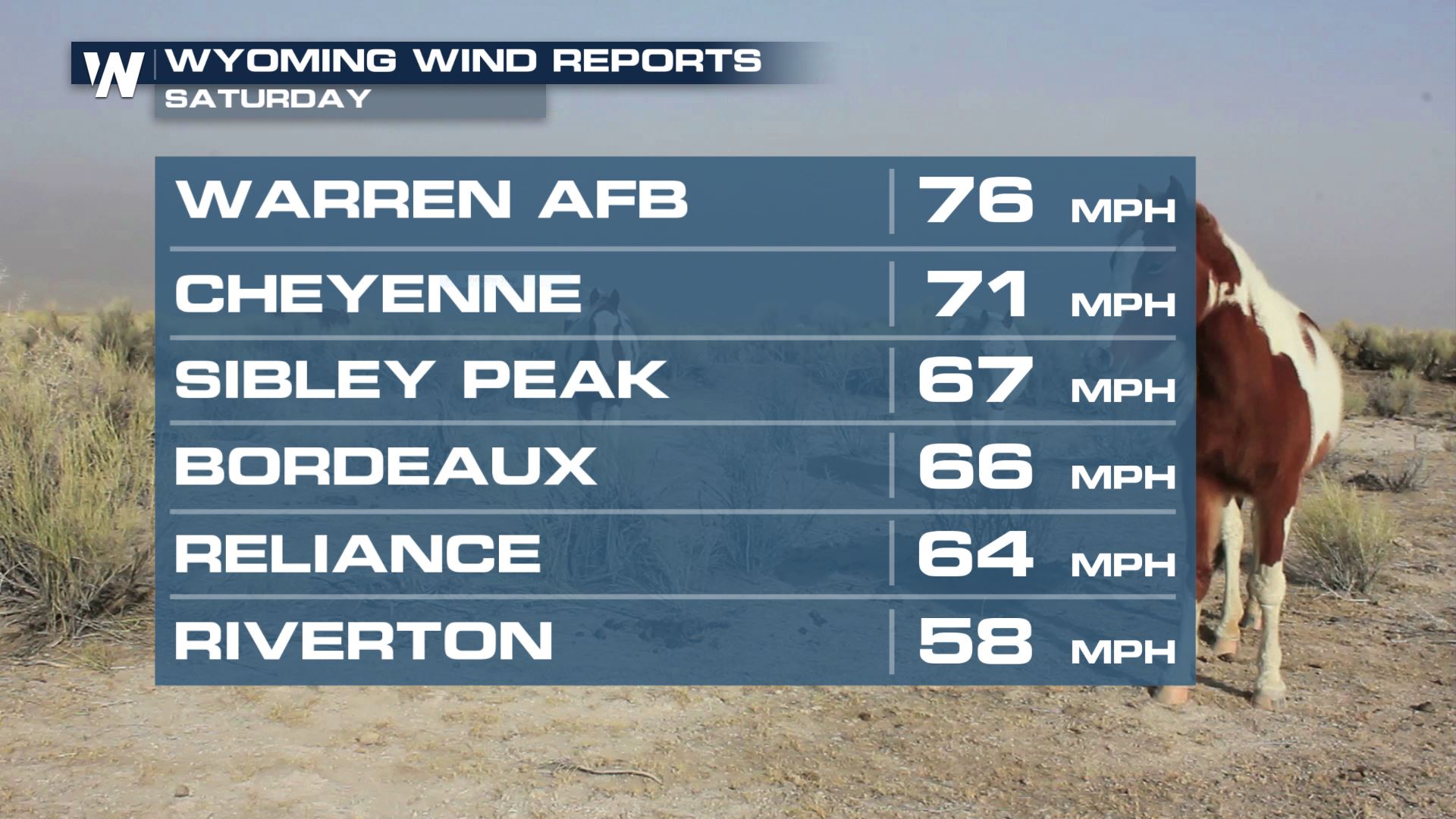 Colorado also recorded wind gusts over 80 mph in spots, including Boulder where a wind gust of 85 mph was reported Saturday morning. As the cold front races across the US Saturday and Sunday the winds will get progressively windier across the country. Forecast winds for the High Plains to Chicago coul dbe in excess of 30-40 mph Saturday afternoon with higher gusts.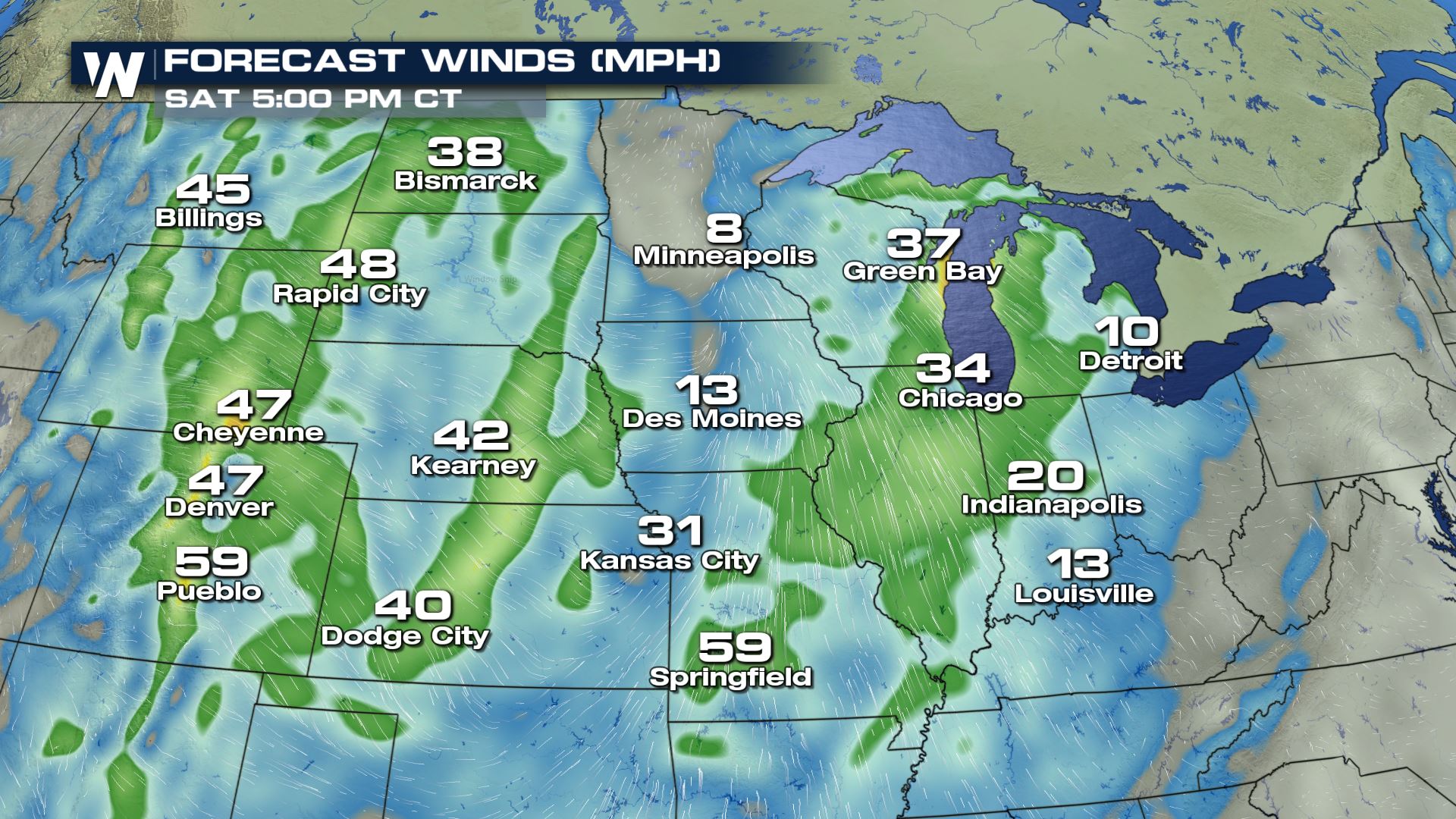 The low pressure center near the Great Lakes will strengthen into Sunday morning as it crosses the lakes, making it an exceptionally windy day across the Great Lakes.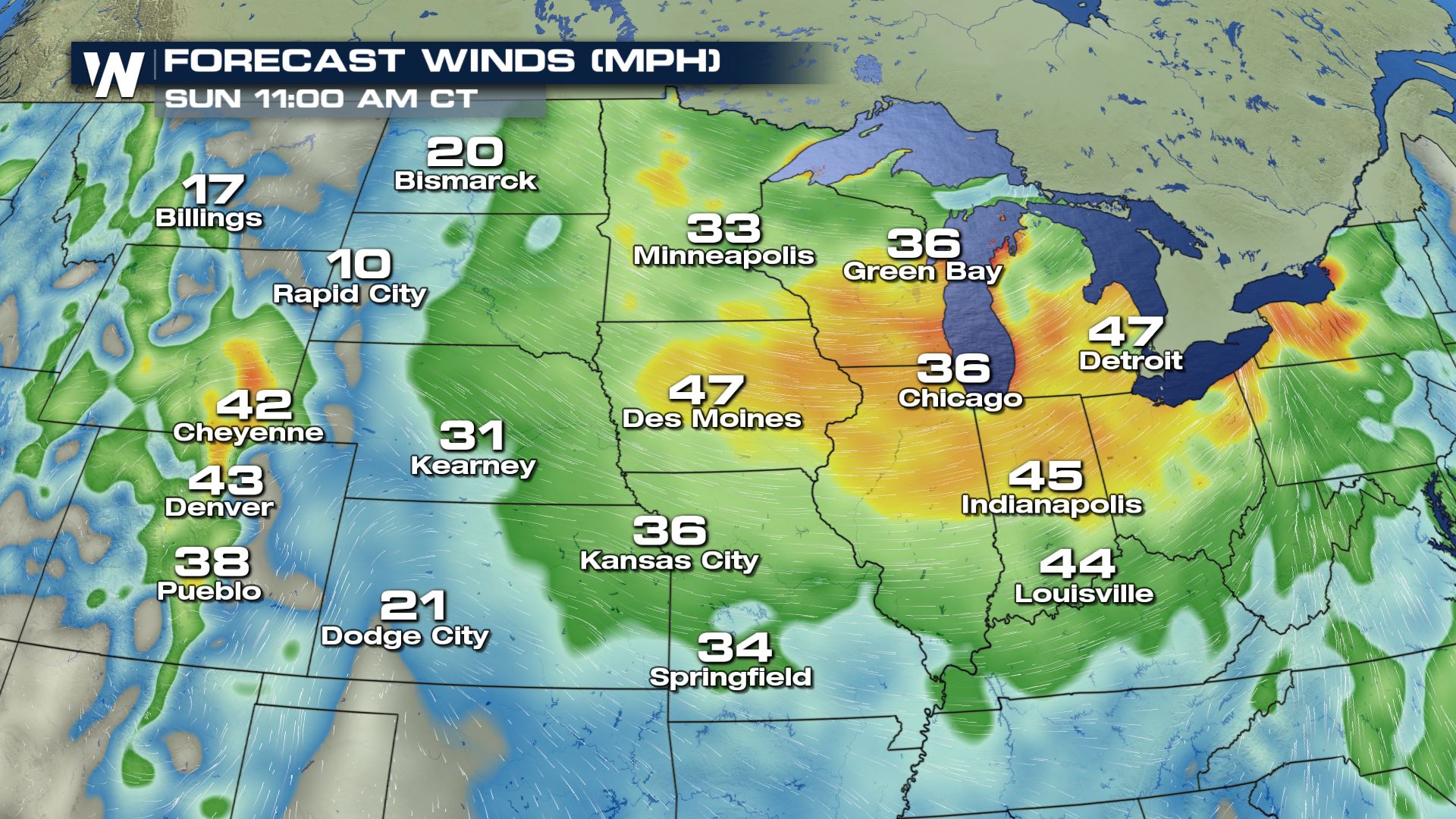 Gale Warnings are in place for most of the Great Lakes through Monday for winds that will be higher than 50 mph. Winds whipping across the lakes will create waves 5-15 feet high and cause hazardous boating conditions. Because of the high waves and gusty winds generated from the low pressure system, coastal flooding and erosion will be likely across the western shores of Lake Michigan, Lake Erie and Lake Ontario on Sunday.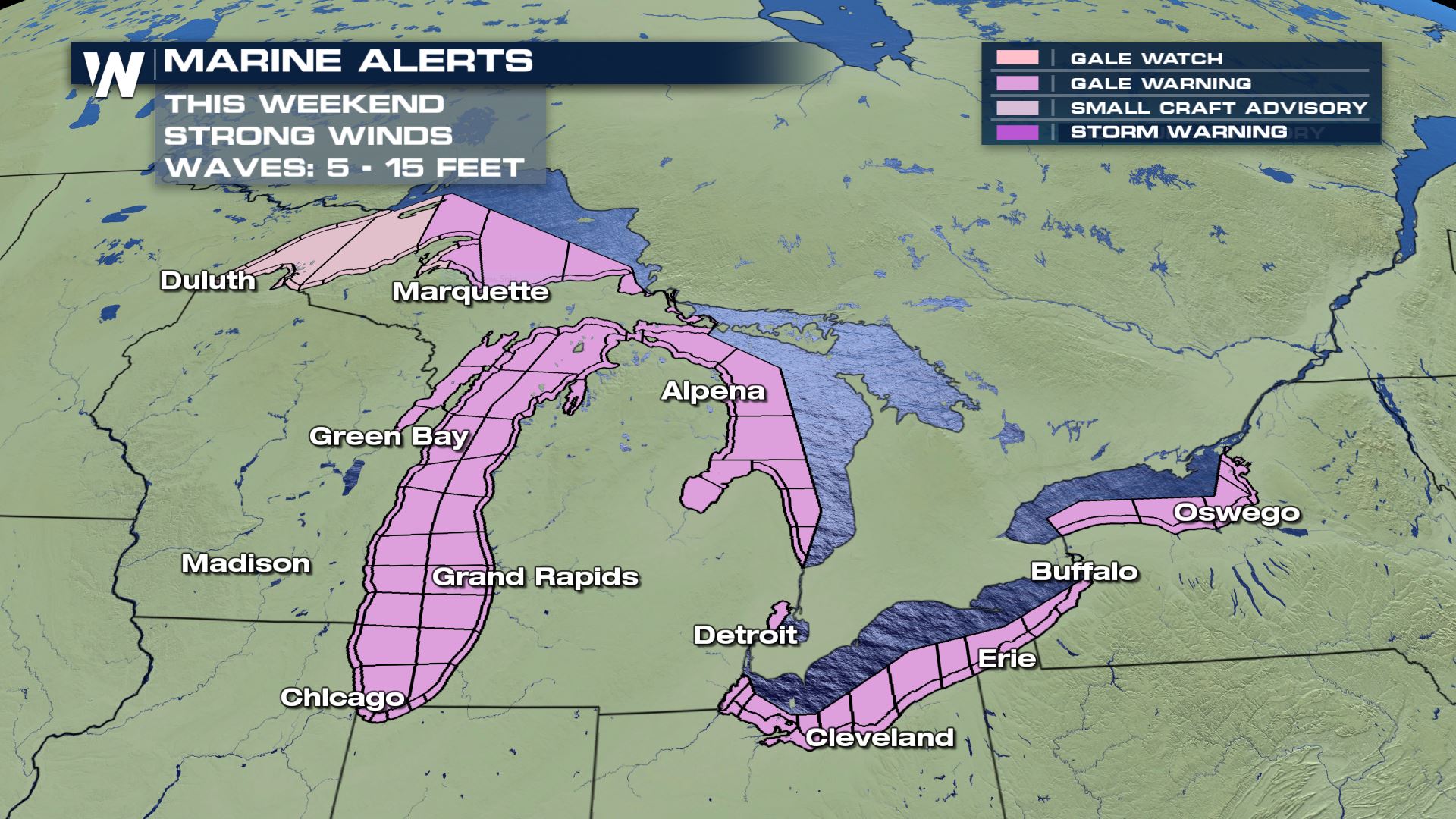 Stay with WeatherNation for all of the information on your top weather headlines this weekend!