Much of the western U.S. enjoyed a fantastic weekend.  Spring-like temperatures and clear blue skies prevailed.  But once again, things are about to change this week, with another system set to push through.  Another storm is approaching from the eastern Pacific.  Monday will stay beautiful, with a big ridge of high pressure keeping the storm offshore.  But this ridge will break down by Tuesday, allowing the next system to bring rain and snow to the region.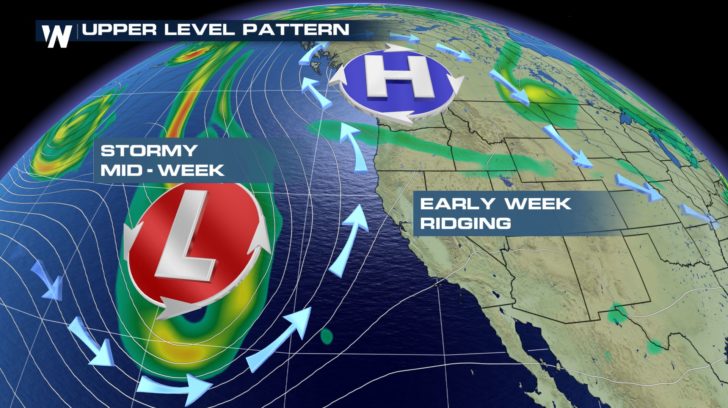 Rain will start moving onshore Tuesday morning.  By the afternoon, rain will stretch up and down the central coastline of California.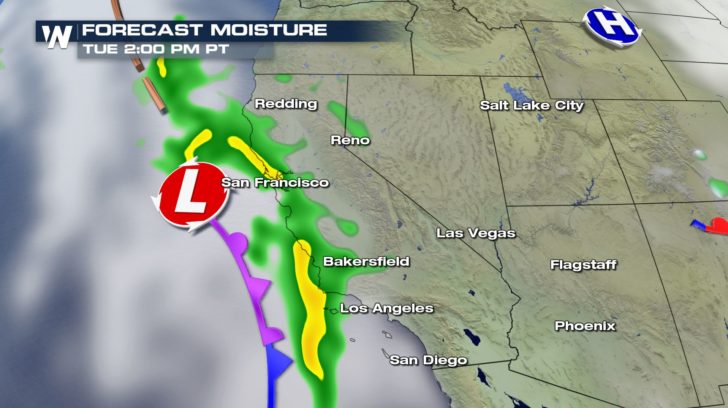 By Tuesday night, the rain will push across the Golden State, into Nevada.  Lower elevations like Reno will see rain.  Higher elevations, like Lake Tahoe and the Sierra Nevada Mountains will see some snow.  At the time this article is being written, no winter alerts have been posted.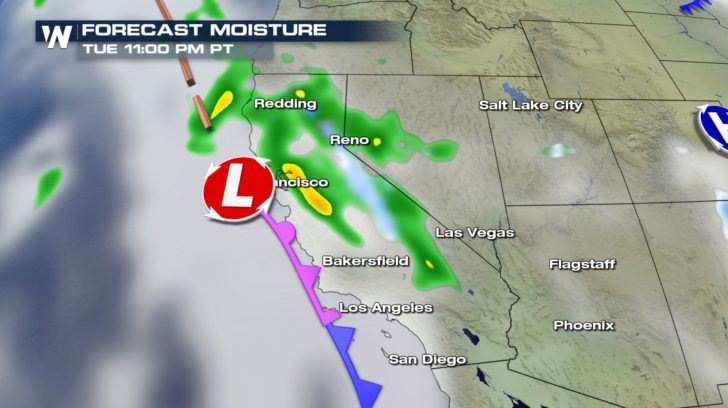 By Wednesday afternoon, most of the moisture will be working across northern California, into western Nevada.  Southern California won't see much moisture this time around, and much of the rain and snow will be over by Wednesday night into Thursday morning.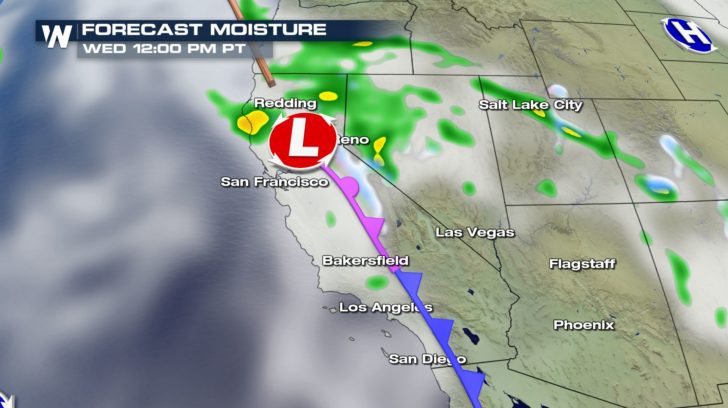 Looking a little further ahead, between March 21st and 25th, the long range precipitation forecast has the southwest "above average".  So beyond this storm, there could be more rain and high elevation snow on the way.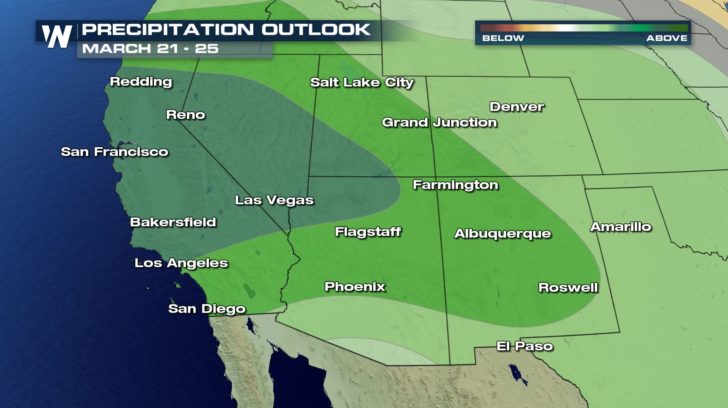 And once the system passes to the east, the spring-like temperatures will cool down quite a bit.  Monday will remain quite warm on the west coast.  Los Angeles will be in the upper 70's.  San Francisco will be in the upper 60's.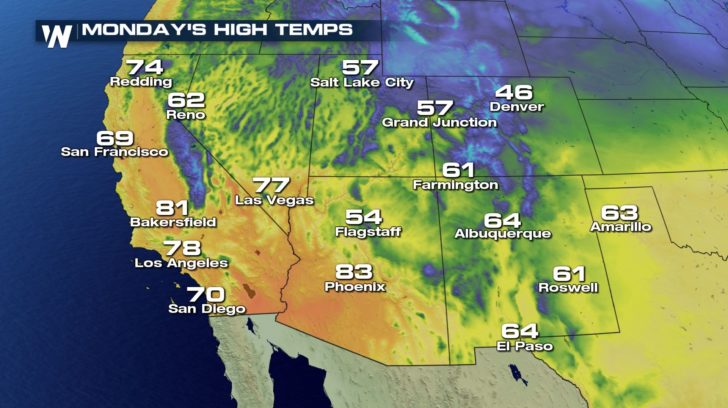 As the front begins to slide through, temps will begin cooling down a bit on Tuesday.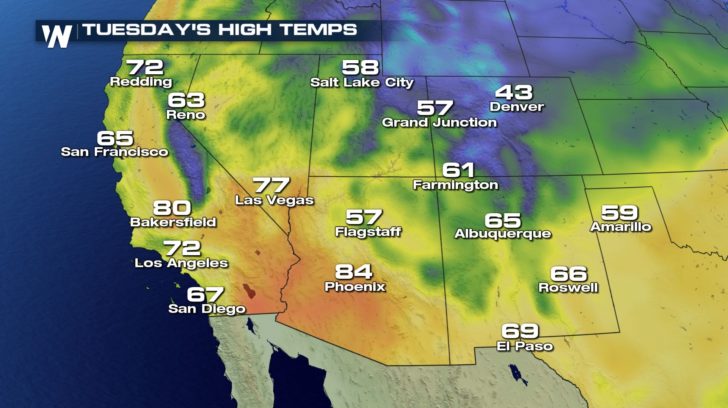 And by Wednesday, temps will be noticeably cooler.  Los Angeles will be in the lower 60's.  And San Francisco will be in the upper 50's.  A very ironic cool down, as Spring officially arrives Wednesday afternoon!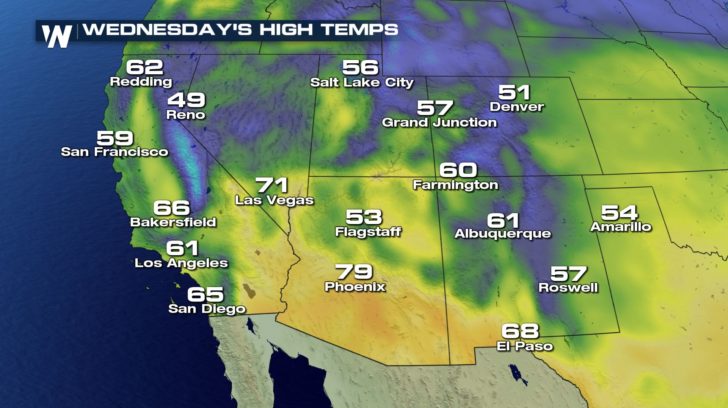 Looking ahead, the temperature forecast for March 21st through March 25th has California and parts of Nevada and Arizona below average.  Just like the long range precipitation forecast is hinting at more storms coming off the Pacific Ocean, so is the long range temperature outlook.  Of course, time will tell, and we'll be tracking things very closely here at WeatherNation.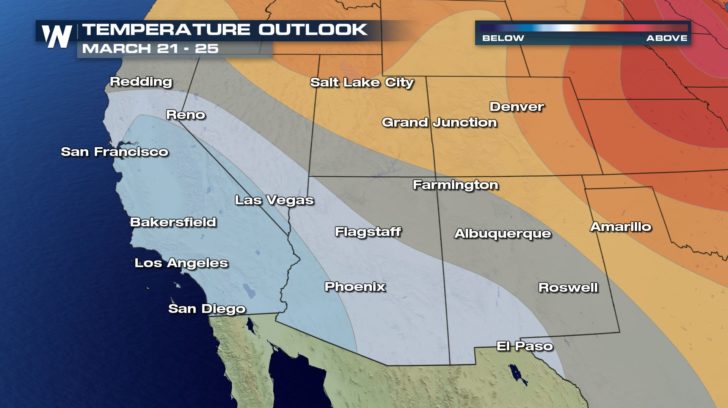 For WeatherNation:  Meteorologist Matt Monroe