Heavy rain, ice, snow, and severe weather...  all part of the latest storm tearing through the southern U.S.  Portions of west Texas have already received 10 inches of snow.  The mountains of North Carolina could see even more!  And the rain has been drenching across almost all of the southeast. Rainfall totals through Monday will reach 3 inches in many areas.  And there could be spots will more than that!  All of this rain has prompted the National Weather Service to issue Flash Flood Watches.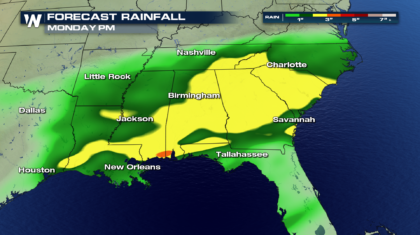 Flash Flood Watches are in effect from Georgia, down to the Gulf Coast, and back into Louisiana.  The eastern portion of these watches are in effect through Sunday.   The western portion will expire on Saturday.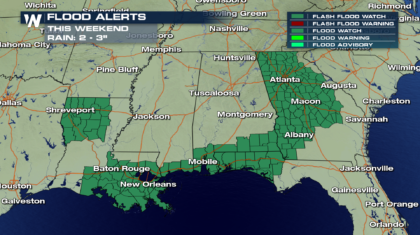 There will also be a severe weather component with the storm along the gulf coast on Saturday.  There could possibly be severe thunderstorms in southern Louisiana, and along the coastline of the Florida panhandle.  Some storms could produce straight line winds over 58 mph.  There will also be a slight risk for a few tornadoes.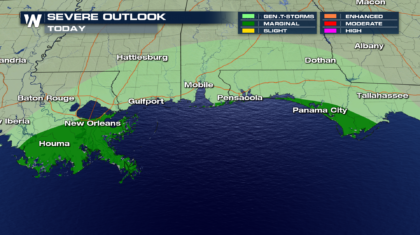 But where the temperatures will be cold enough, ice and snow will be more of an issue than the rain.  Winter Weather Alerts are in effect from southern Virginia and eastern Tennessee, across much of North Carolina, and into Georgia and South Carolina.  This is going to be a big winter storm for many!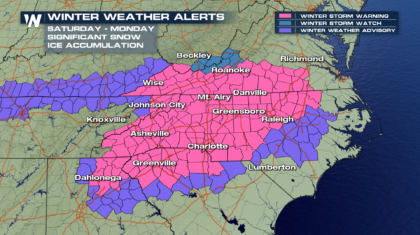 Check out the potential snow totals.  Asheville could easily pick up 12 inches of snow.  Charlotte is expecting 4 to 8 inches of snow.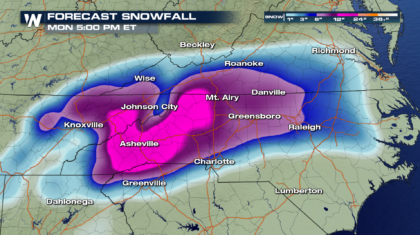 Much of the region will see rain, before everything turns over to snow.  As this transition happens, there may be a period of icing.  This could lead to very dangerous road conditions.  A layer of ice could form, with snow falling on top of it, covering the hazardous conditions beneath the snow.  This could also lead to slip and falls on stoops, parking lots, sidewalks, and driveways.  Please use caution when walking or driving.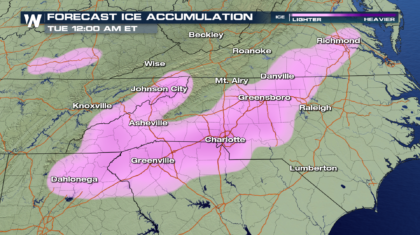 Most locations, except for high elevation areas, will see rain much of Saturday.  But by Saturday night, everything will start turning over to either snow, ice, or a winter mix.  This will begin in western North Carolina.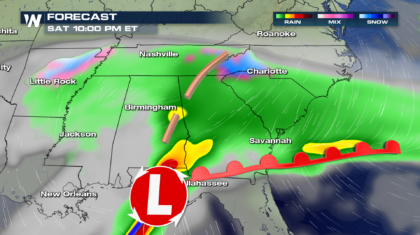 By Sunday morning, the snow will be flying all across the Appalachian Mountains, into eastern North Carolina, western Tennessee, and down into South Carolina and Georgia.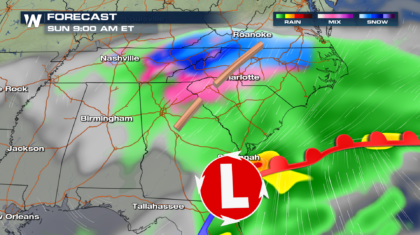 The winter weather event will rage on throughout Sunday, before slowly winding down Sunday night.  There could be some residual precipitation on Monday, but most of the snow and ice will be done.  Road conditions however, may continue to be very poor Monday, and more than likely, on Tuesday as well.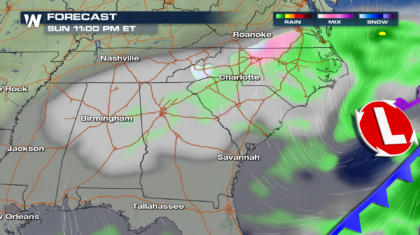 WeatherNation will be tracking this storm right through the weekend.  You can get the very latest information by watching on the Dish Network, Roku, Apple TV, and Amazon Fire TV. For WeatherNation:  Meteorologist Matt Monroe