After a week of flooding rains in the southeast and the Ohio Valley, the weather focus is now shifting to the northeast, and the western U.S.  Two major winter storms will be impacting both sides of the country.  The middle of the country will stay relatively quiet for the weekend. As you can see in the image below, the weather is very active in the eastern and the western U.S.  In between, there's very little action in the center of the country, where areas of high pressure will keep the weather pattern fairly quiet.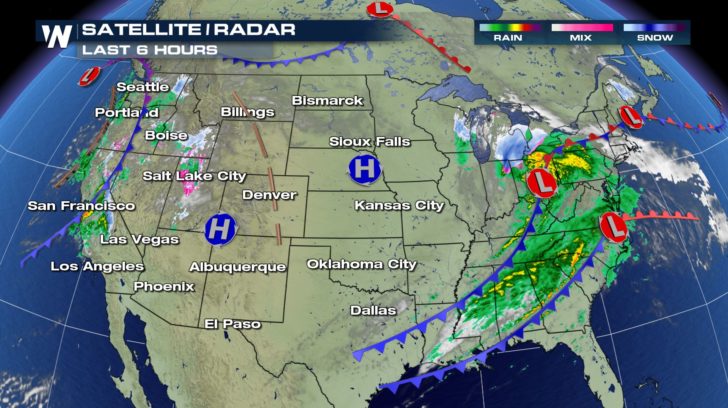 In the western U.S. a major winter storm is underway.  The majority of the west will see significant snow.  Winter Storm Alerts are in effect through Saturday.  There will also be substantial rain along the coast, and at lower elevations in the valleys.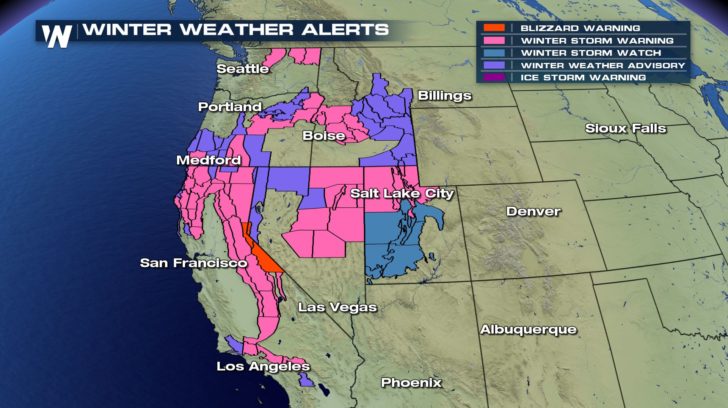 The Sierra Nevada mountains will see three to five feet of snow in elevations above 7,000 feet.  This will include most mountain passes, including Donner Pass in California.  Interstate 80 is already closed in some areas.  Travel will be very hazardous through Saturday.  Please check road conditions before traveling.  Delay traveling altogether in this region if possible.  Blowing and drifting snow will also be a problem, with wind gusts between 30 and 60 mph.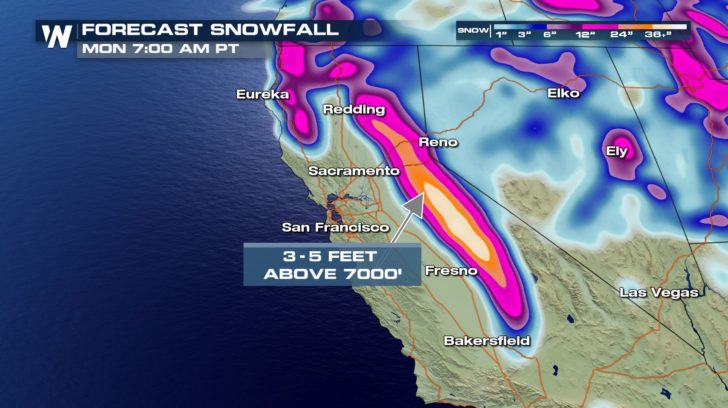 A separate winter storm will be moving into the northeast on Friday and Saturday.  The snowfall will be substantial through upstate New York.  Snow will be heaviest in a line between Buffalo and Albany.  Some spots could see 15 to 20 inches of snow.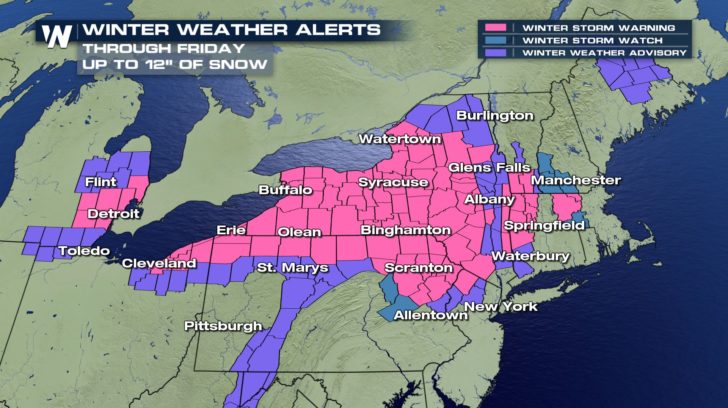 Rainfall will be a major part of this storm.  Some areas could see 2 to 3 inches of rain.  This could lead to flooding.  Flood Watches are in effect from Philadelphia, to New York, all the way to Boston.  The I-95 corridor is going to be impacted by heavy rain, wind, and possibly a couple inches of snow after the rain ends.  In short, it's going to be a mess.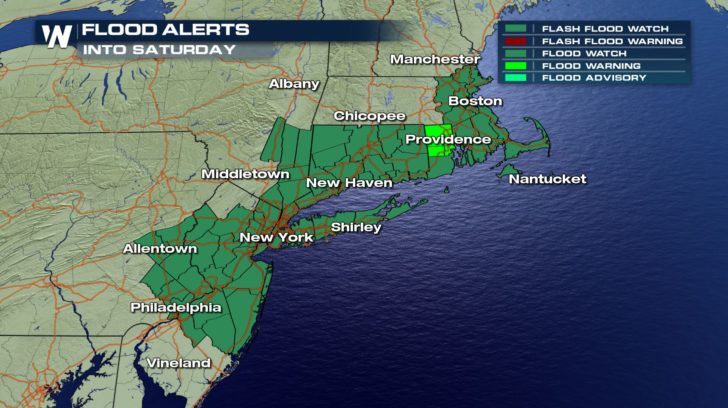 Coastal flooding is also possible from the Delaware and Chesapeake Bays, up the Jersey shore, to Long Island and Connecticut.  Coastal flooding is also possible from Rhode Island, all the way up the coastline to Maine, including Cape Cod.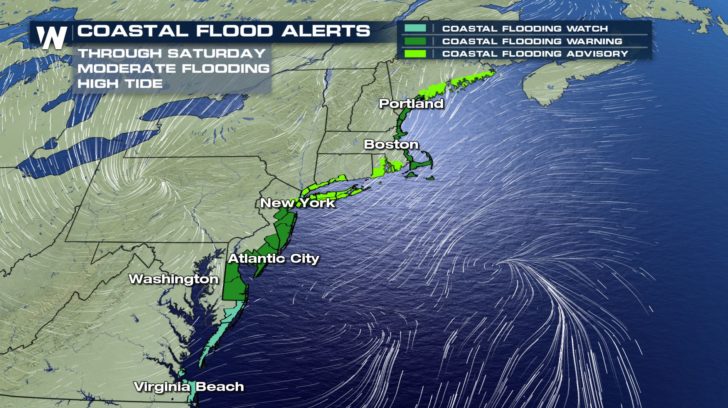 Wind will also be a major player with this storm system.  Wind gusts in some locations will reach 70 mph.  Widespread power outages are possible.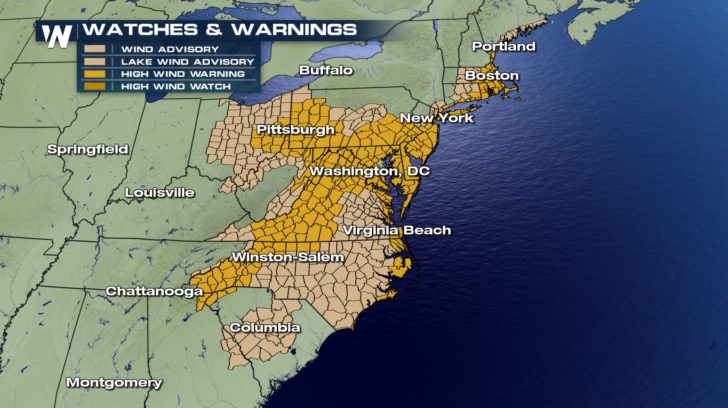 Looking ahead, the eastern and western U.S. may stay active for the next couple of weeks.  Long range forecasts are calling for above average precipitation through March 11th.  The forecasts are also calling for below average moisture in the center two-thirds of the country.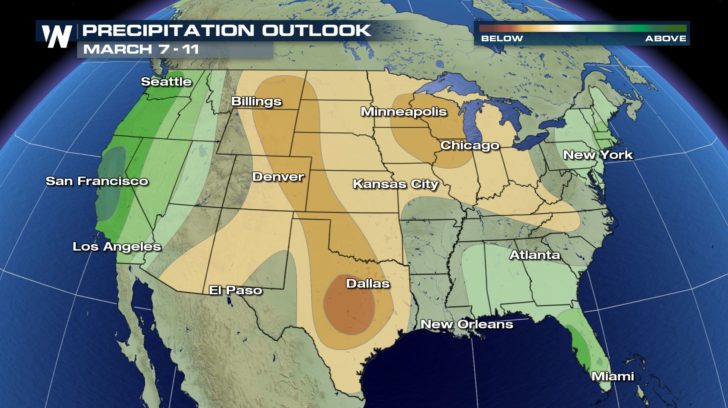 And while we are looking at long range forecasts, lets check out temperatures.  The majority of the country is expected to have below average temps through March 11th.  However, the northeast, and the southwest are expected to experience warmer than average temperatures.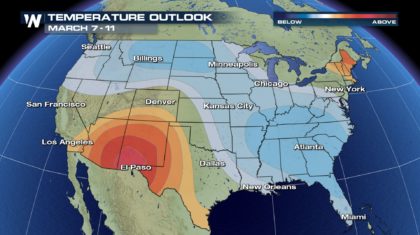 So if you're looking for a place to spend Spring Break, perhaps a trip to Arizona, New Mexico, or Texas is in order.  The forecasts there are calling for warmer and drier than average conditions.  Of course, forecasts can always change.  So stay tuned to WeatherNation for the very latest weather information. For WeatherNation:  Meteorologist Matt Monroe