It appears that the weather in California will stay very active for at least the next several days.  There are a series of atmospheric waves coming off the Pacific Ocean.  These waves contain plenty of moisture in the mid to upper levels of the atmosphere.  This moisture will become rain and snow for California.  You can see two of these waves on the Water Vapor image below.  They are circled in pink.  The dark blue shaded areas represent high water vapor content.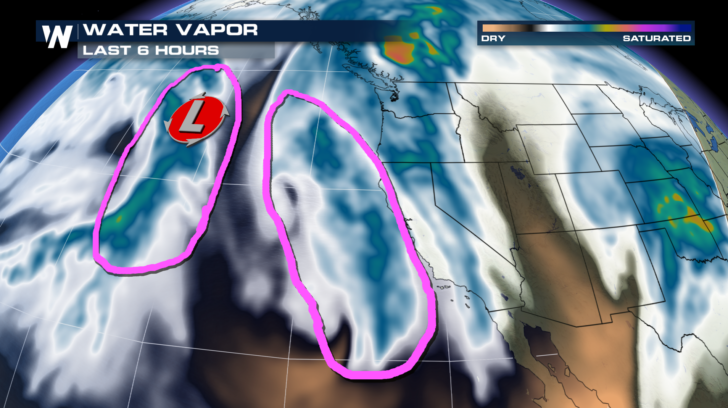 And right on cue, here comes the rain into coastal sections of California Friday afternoon and evening.  San Francisco will see the rain today.  Not much mountain snow is expected from this system.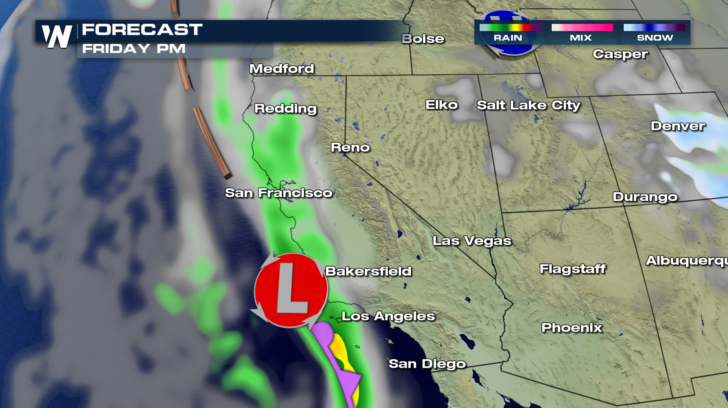 Much of Saturday will be dry, as the first system travels to the east.  But southern California, including Los Angeles, could see some rain as the low pressure center passes overhead, and works to the east.  But the next storm system is already on the way.  It can be seen entering the region from the west.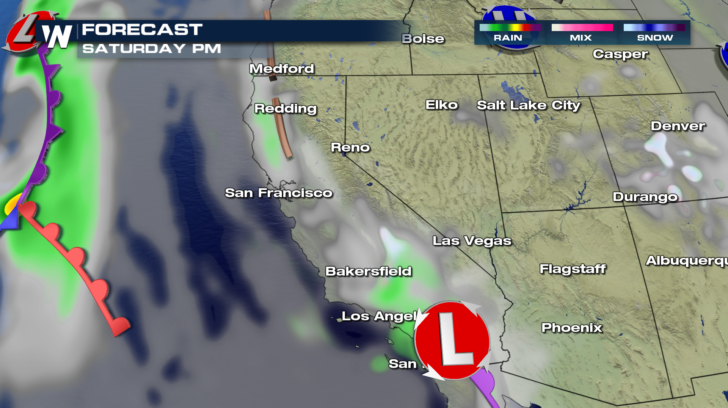 Sunday morning should also be dry across California.  The next system won't reach the coast until later in the day.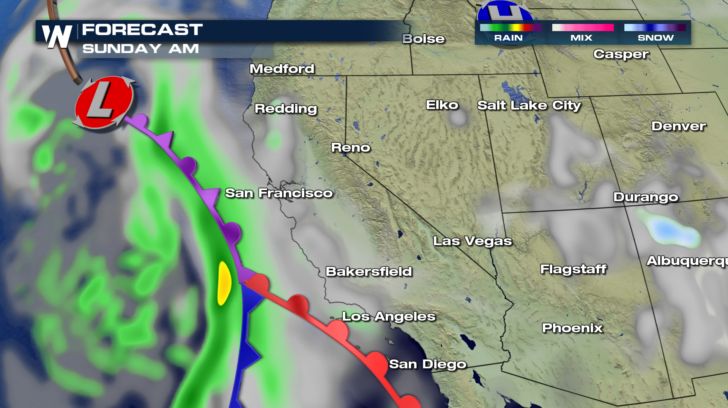 By Sunday afternoon and evening, the rain will be back!  San Francisco will once again receive soaking rain.  The rain will eventually come through Los Angeles overnight Sunday, and into Monday morning.  Snow will also begin to fall in the Sierra Nevada mountains.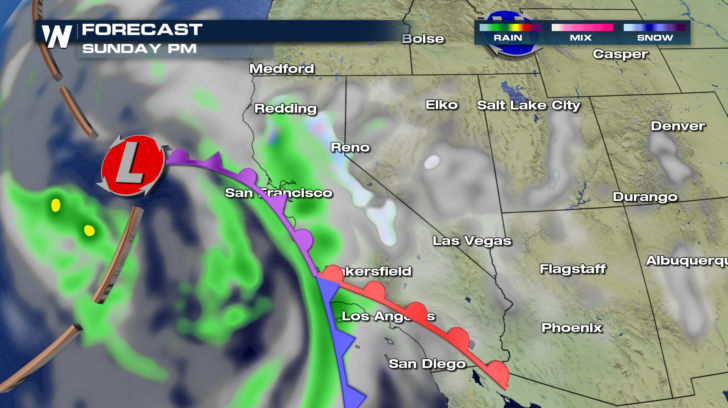 By Monday afternoon and evening, the system will be pushing rain into northern and southern California, and snow into the Sierra Nevada.  And as this is happening, more moisture will be just offshore.  This additional rain and snow will arrive Tuesday into Wednesday.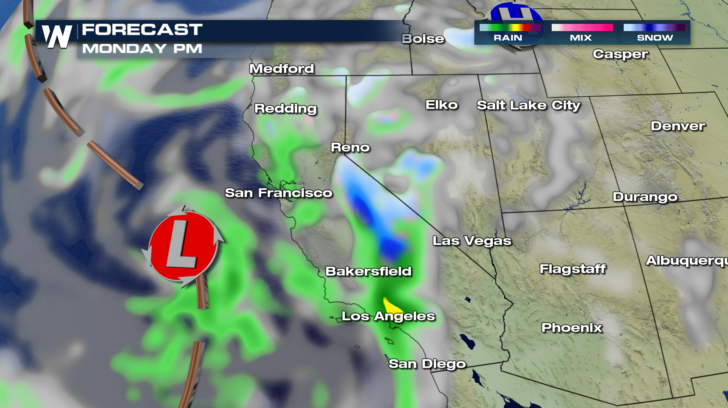 By Wednesday morning, rain and snow totals will be piling up.  Parts of the California coast could easily pick up 3 or 4 inches of rain between Friday and Wednesday.  And snow totals in the Sierra Nevada could easily reach 12 inches or more in many spots.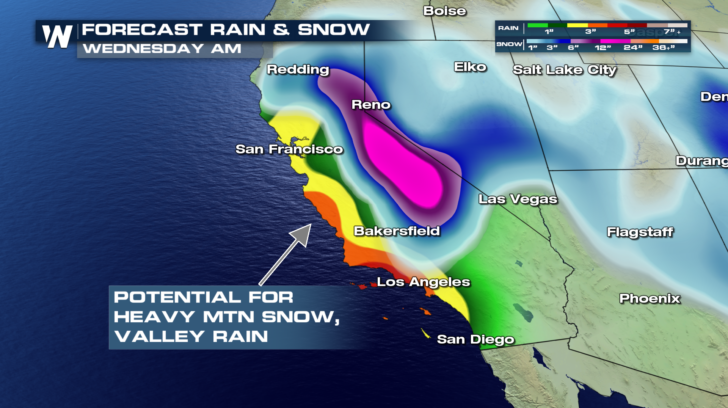 Check out the long range forecasts for Los Angeles and San Francisco. Los Angeles will be dry today.  Rain will be moving in Saturday.  Sunshine returns on Sunday.  Then rain chances continue Monday through Thursday.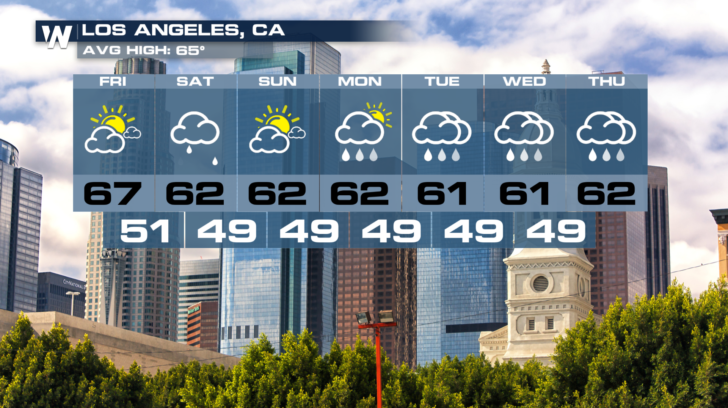 San Francisco will see rain today.  Sunshine returns for one day on Saturday, before rain builds back in through at least Thursday. So if you live in California, make sure to have the umbrellas handy.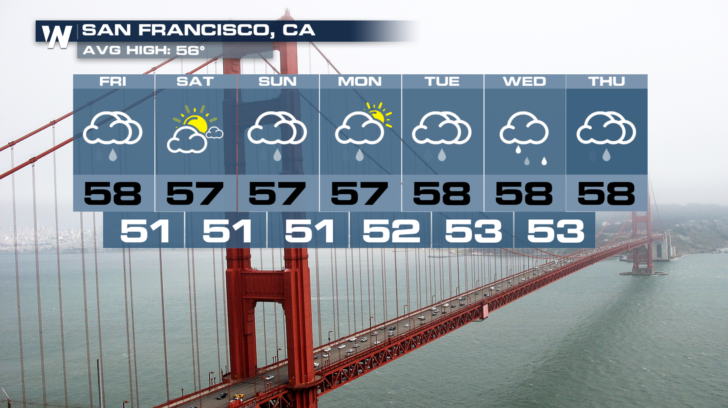 For WeatherNation:  Meteorologist Matt Monroe