Nearly six months later, the National Hurricane Center has finally gathered a complete picture on the power and destruction of Hurricane Harvey. Thursday, they released their
full Tropical Cyclone Report
detailing the meteorological and human impacts as it hit the US. It initially began as a typical August Tropical Storm. After moving through the Lesser Antilles, it dissipated in the central Caribbean Sea. Unfortunately, it re-formed in the Bay of Campeche and rapidly intensified to a Category 4 hurricane as it approached the Texas Gulf Coast. As if the storm surge and battering winds weren't enough, the storm stalled over Texas for four days, bringing unprecedented rainfall totals. Here are a few of the highlights from the report:
Harvey became the most prolific tropical cyclone rainfall event in U.S. history. The highest report came from Nederland, TX at 60.58".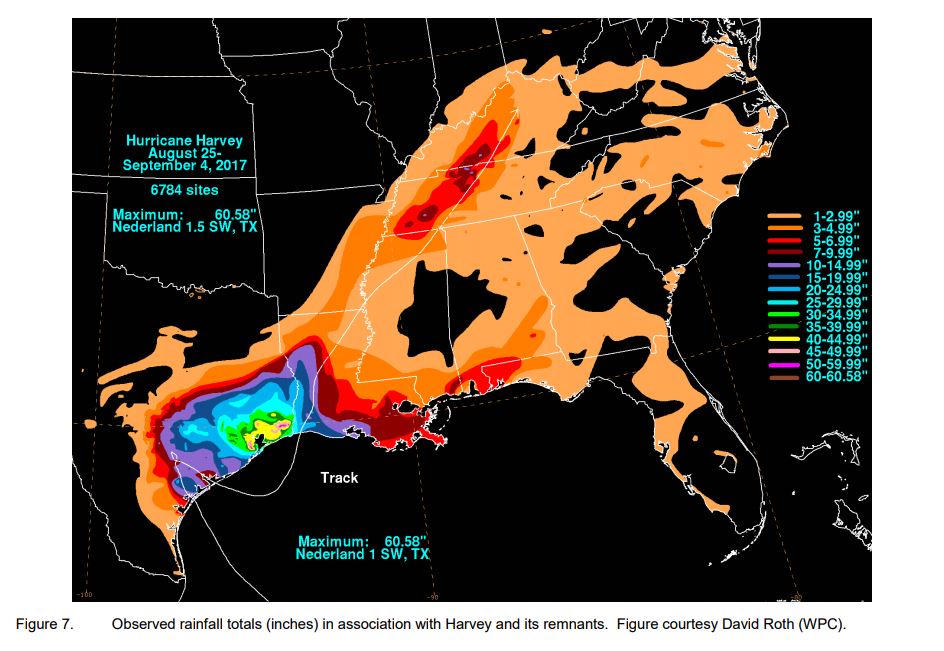 The catastrophic flooding helped Harvey become the second-most costly hurricane in U.S. history (accounting for inflation), with an estimated $125 billion in damage. Number one on the list, Hurricane Katrina.
The 68 lives lost directly related to Harvey make this the deadliest hurricane in Texas since 1919. About 35 additional deaths are ascribed to indirect causes (i.e. electrocution, motor-vehicle crashes and isolation from necessary medical services)
Harvey's maximum estimated winds of 115 kt (about 132 mph) occurred as it was making its first Texas landfall. The highest observed sustained winds on land were 96 kt (about 110 mph) near Aransas Pass, with the highest observed gust being 126 kt (about 145 mph) near Rockport, Texas.
The estimated central minimum pressure of Harvey was 937 mb. The lowest observed pressure on land was 940.8 mb in Rockport, TX.
Storm surge and high tide combined for maximum inundation levels of 6 to 10 ft above ground level to the north and east of Harvey's center landfalls in Texas.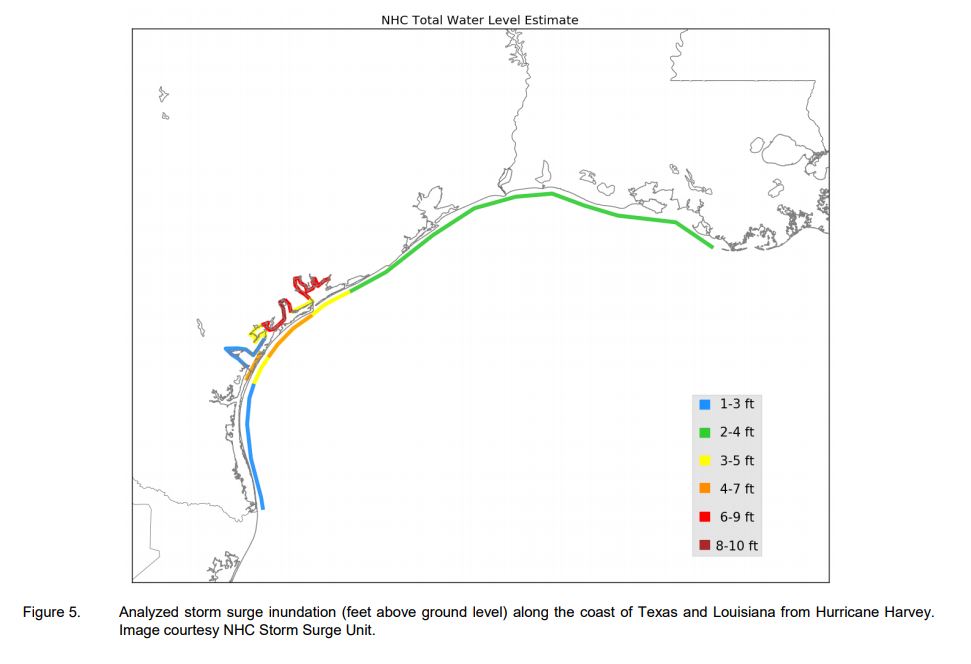 https://twitter.com/NHC_Surge/status/956550262226935815
57 tornadoes were reported during Harvey, about half of which occurred near the Houston metro area. Over 150 tornado warnings were issued during the event. Most were of EF-0 and EF-1 intensity, with no deaths and few injuries reported.
Over 300,000 structures in that region were flooded, in addition to up to 500,000 cars.
FEMA reported that about 30,000 water rescues were conducted during Harvey.
To see the full report, check out the NHC's PDF version here:  https://www.nhc.noaa.gov/data/tcr/AL092017_Harvey.pdf For WeatherNation, Meteorologist Karissa Klos