First of all, Happy February 1st!  We have officially started the last month of meteorological winter.  Of course, winter can last right through March and April for many parts of the country.  But we are definitely inching closer to spring.  That said, winter is still in full swing, and cold fronts this time of year often bring snow.  That will be the case with our latest system pushing through the eastern U.S. By Thursday evening, we'll see snow develop in West Virginia, eastern Kentucky, and eastern Tennessee.  Snow will also by flying in upstate New York.  Rain will be found along the front from Connecticut, all the way south into Louisiana and Mississippi.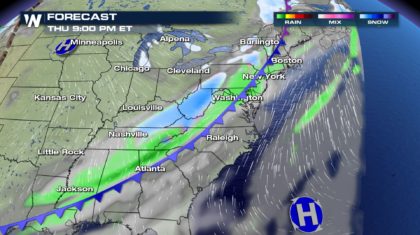 Early Friday morning, there could be a little burst of snow between New York and Boston.  Totals will be very light.  Generally around an inch of snow is expected in New York.  Two or three inches are expected in Boston by Friday morning.  Snowfall totals could be a little higher in the more mountainous areas of New England.  Three to six inches are possible in some areas.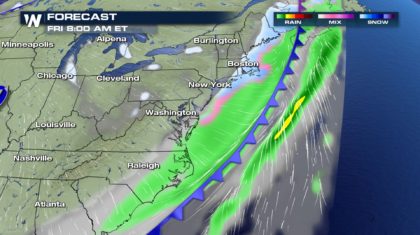 By Friday afternoon, the front will be pushing out to sea, and high pressure will roll in behind the system.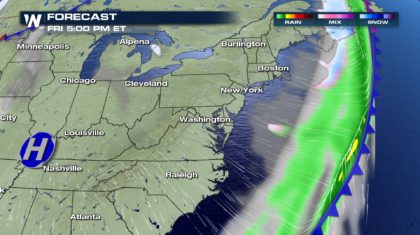 Winter Weather Advisories are in effect for portions of eastern Tennessee and Kentucky, West Virginia, and extreme western Virginia.  One to three inches of snow are expected.  Driving conditions could be hazardous, particularly on mountain roads.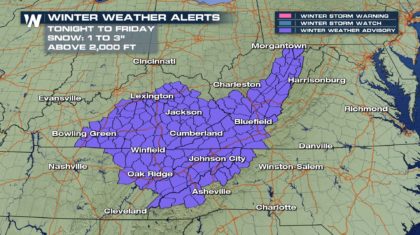 Winter Weather Advisories are also in effect in western New York through Saturday for lake effect snow.  Three to six inches of snow are possible here.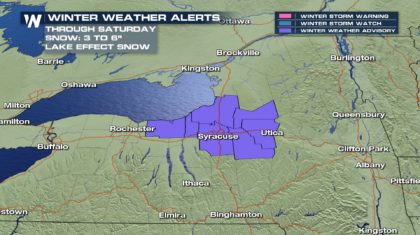 South of New York city, towns like Washington D.C., Richmond, Charlotte, and Atlanta, will all see rain.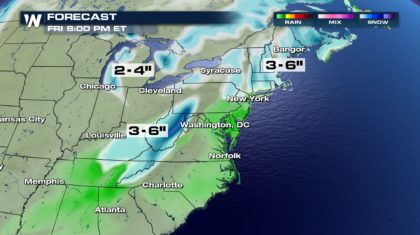 Temperatures will drop considerably behind the cold front.  For example, New York City and Washington D.C.  will drop from the 40's and 50's, into the lower 30's.  It will certainly feel like winter in those towns.  And cites in the southeast will also be much cooler.  Atlanta will drop over twenty degrees into the lower 40's on Friday.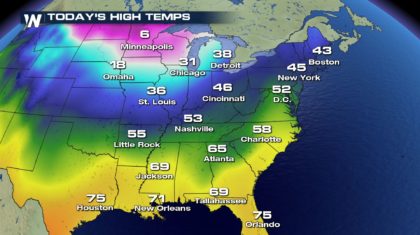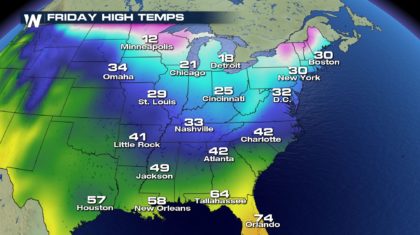 It will stay relatively chilly on Saturday as well.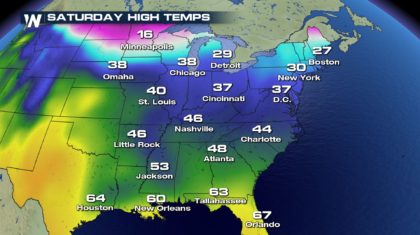 So keep the winter jackets and snow shovels handy.  Winter is certainly not over yet.  But will there be six more weeks of winter?  Or will spring come early this year.  That's the big question.  Tune in to WeatherNation starting at 7am EST Friday morning to find out if the groundhog, Punxsutawney Phil, sees his shadow.  We'll also be streaming the event on the WeatherNation Facebook page. For WeatherNation:  Meteorologist Matt Monroe