Back on July 30, 2020, the journey began for
NASA's Perseverance Rover
to the Red Planet. https://twitter.com/i/status/1288804582143987712 Now, almost six months after
a successful launch from Cape Canaveral, FL
, the final countdown is on until Perseverance makes it's landing on the Jezero Crater on Mars, currently slated for Feb. 18, 2021. https://twitter.com/i/status/1354520800779526144 According to NASA, the spacecraft has about 25.6 million miles (41.2 million kilometers) remaining in its 292.5-million-mile (470.8-million-kilometer) journey and is currently closing that distance at 1.6 miles per second (2.5 kilometers per second).  Once at the top of the Red Planet's atmosphere, an action-packed seven minutes of descent awaits – complete with temperatures equivalent to the surface of the Sun, a supersonic parachute inflation, and the first ever autonomous guided landing on Mars.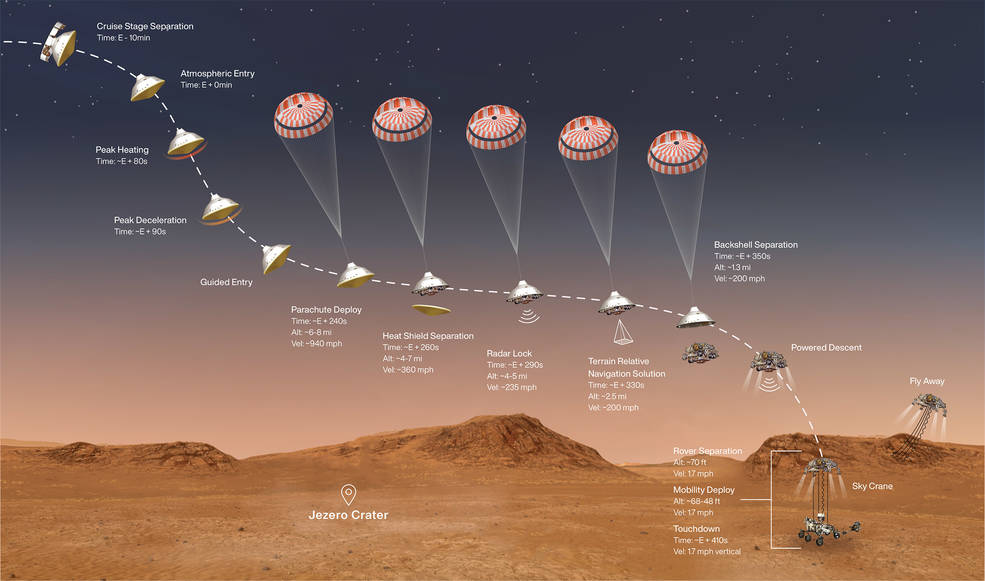 This illustration shows the events that occur in the final minutes of the nearly seven-month journey that NASA's Perseverance rover takes to Mars. Hundreds of critical events must execute perfectly and exactly on time for the rover to land on Mars safely on Feb. 18, 2021.  Credits: NASA/JPL-Caltech
"NASA has been exploring Mars since Mariner 4 performed a flyby in July of 1965, with two more flybys, seven successful orbiters, and eight landers since then," said Thomas Zurbuchen, associate administrator for
NASA's Science Mission Directorate
at the agency's headquarters in Washington.  "Perseverance, which was built from the collective knowledge gleaned from such trailblazers, has the opportunity to not only expand our knowledge of the Red Planet, but to investigate one of the most important and exciting questions of humanity about the origin of life both on Earth and also on other planets."
7 Things to Know About the NASA Rover About to Land on Mars
https://youtu.be/lswy52CK9RA After landing, this "six-wheeled robotic geologist" will begin exploring, roaming around taking samples that will help us learn more about the planet and help us answer questions about the existence of life beyond ours. https://twitter.com/i/status/1354546326139265030 "Perseverance's sophisticated science instruments will not only help in the hunt for fossilized microbial life, but also expand our knowledge of Martian geology and its past, present, and future," said Ken Farley, project scientist for Mars 2020, from
Caltech in Pasadena, California
. "Our science team has been busy planning how best to work with what we anticipate will be a firehose of cutting-edge data. That's the kind of 'problem' we are looking forward to." There will also be a weather station on Perseverance that will help measure not only the weather on Mars but also the dust and radiation to assist astronauts with future missions to the Red Planet. Want to learn more about NASA's Mars Missions?
Check out their information page!