Wondering if the weather where you are will be "Naughty or Nice" for Christmas Eve and Christmas Day? Look no further! We have everything you need to know right here on WeatherNation. Let's first dive into if you may have a White Christmas or not. What needs to happen for it to be considered a White Christmas? The definition states that if snow is not falling on Christmas Day, having an inch or more of snow on the ground Christmas Morning is what is needed to qualify for a "White Christmas"! The snow also does not have to be new.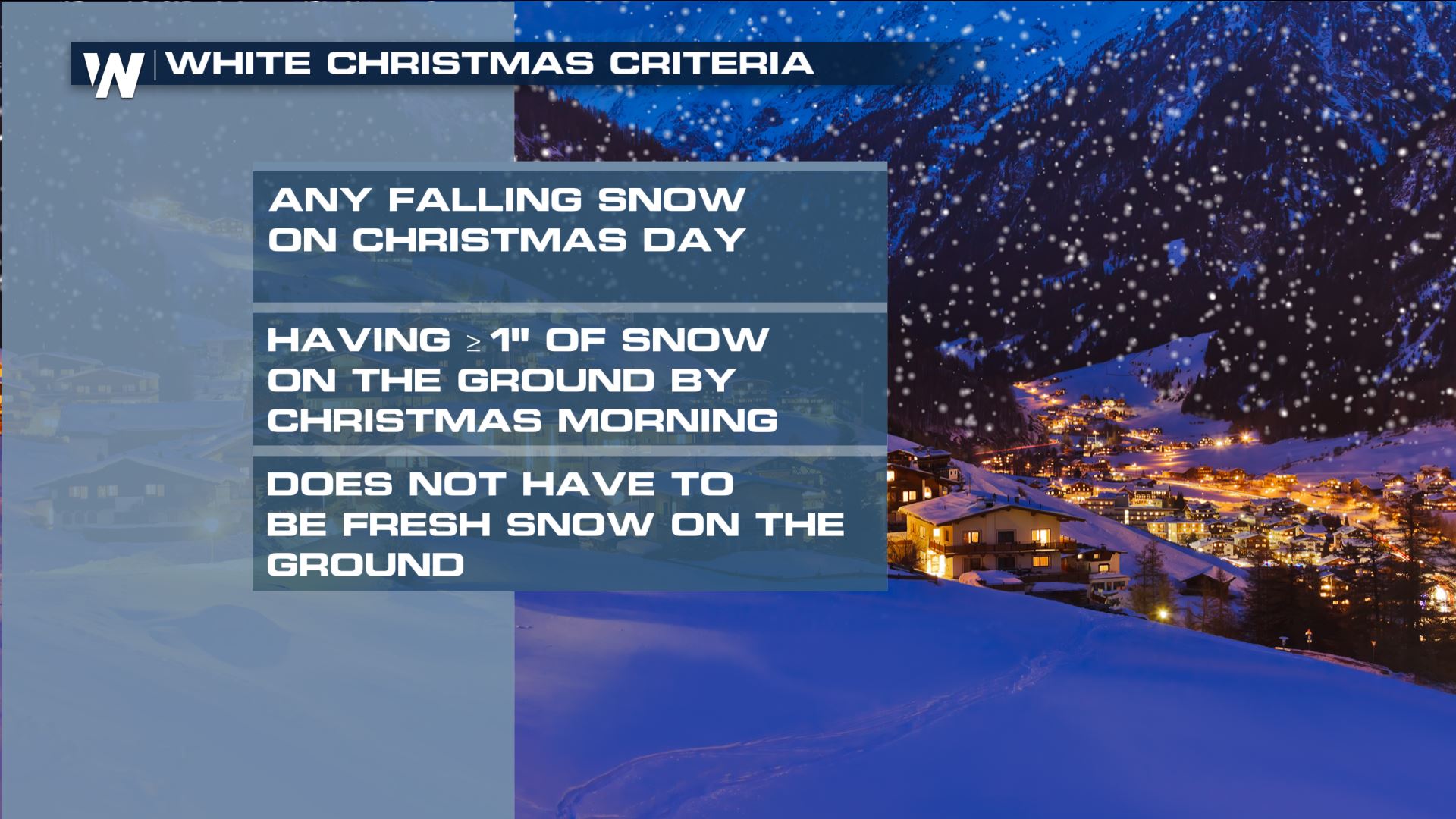 What are your odds of a White Christmas you may ask? Well of course the further north you live or the high in elevation you are, the better than chances are of a White Christmas! Sorry to say that warm weather climates have close to a zero percent chance of a White Christmas (Although if you are traveling to a warmer destination, you are probably not upset by this at all).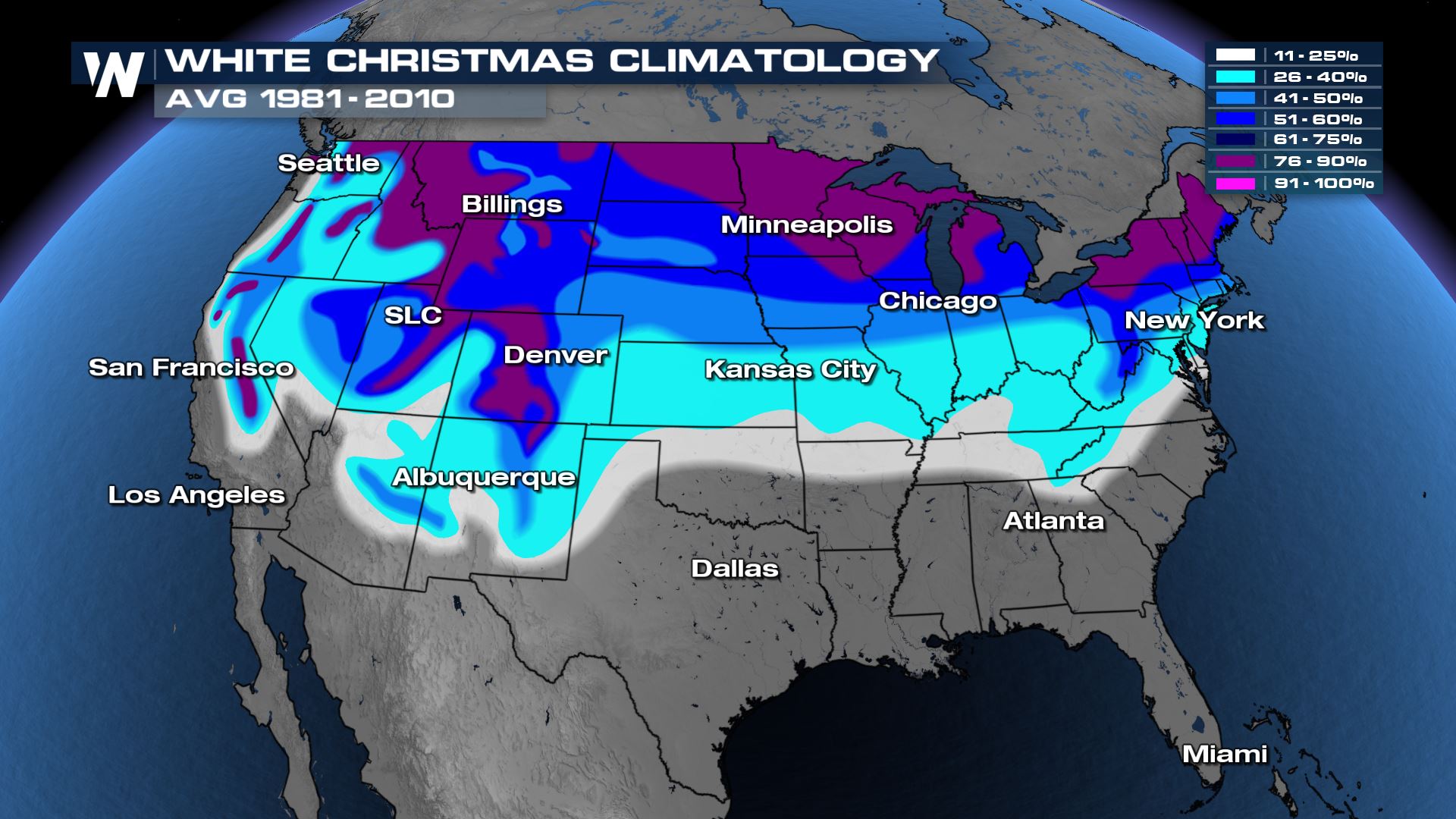 Early Travels
If you are traveling ahead of Christmas, here's a look at the forecast nationally. On Thursday, a cold front will track across the West bringing widespread rain and snow. High pressure will lead to a quiet and dry forecast for most of the East and Central U.S., meaning good travel conditions.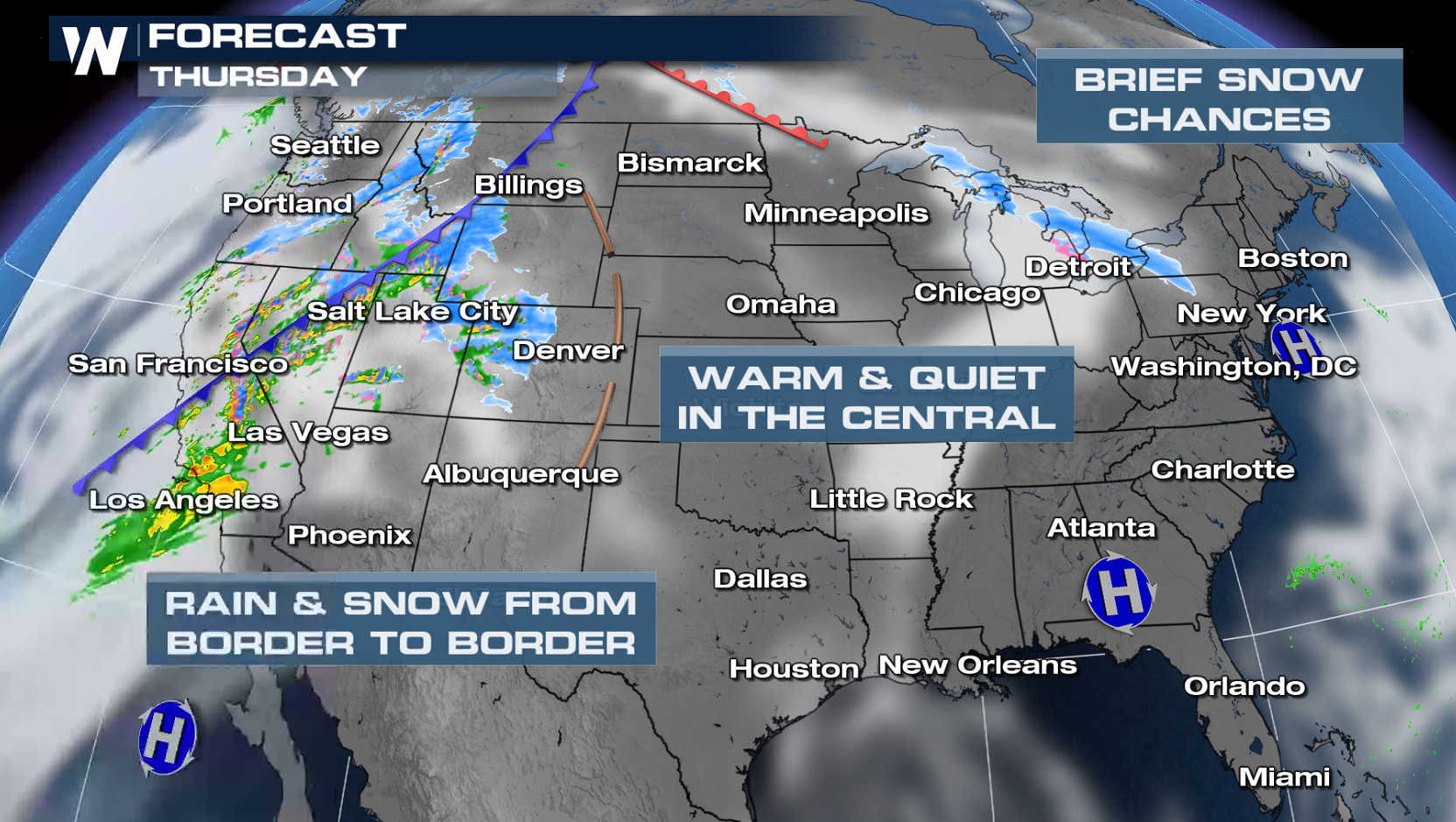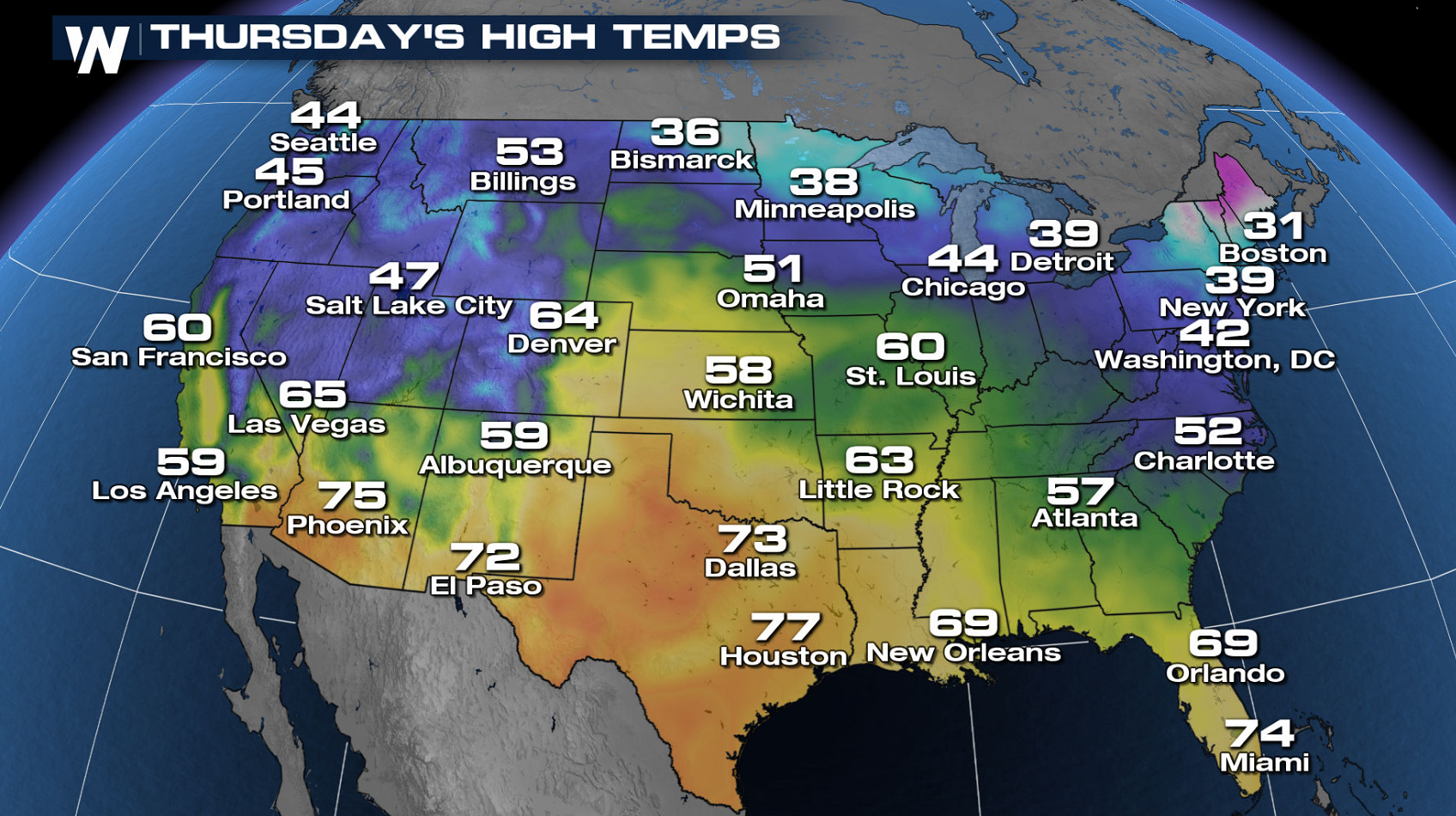 Christmas Eve Forecast
Here are the temperatures expected during the day on Christmas Eve for any last minute shopping you may have to do! Warm air will build into the Plains and Deep South, making it feel like anything but the holidays.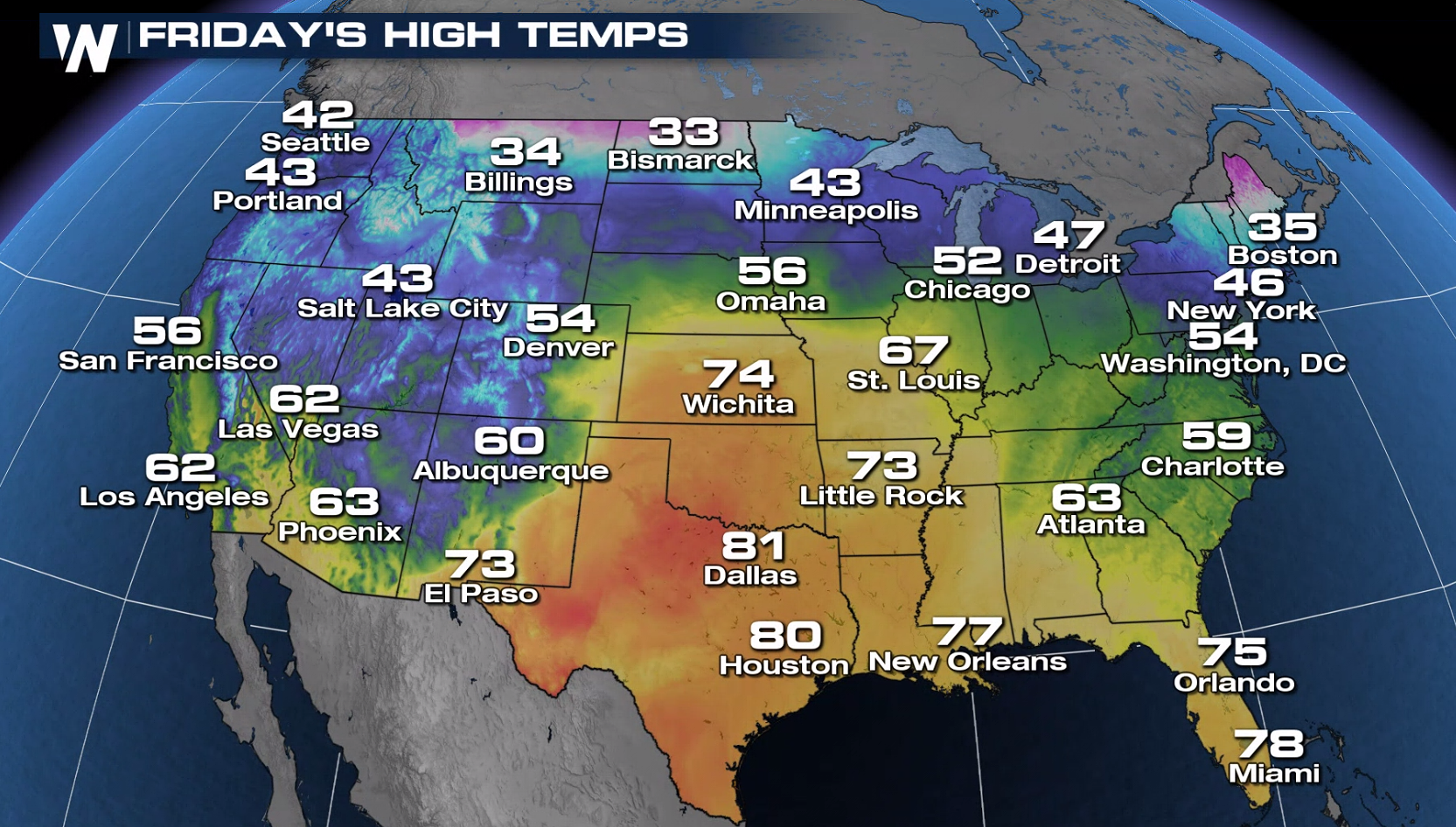 A low-pressure system will be rolling across the northern tier of the country, bringing rain and snow to the Northern Plains and Midwest. Active weather is also likely across the Pacific Coast and into the Rockies. The rest of the country is expected to be dry and sunny!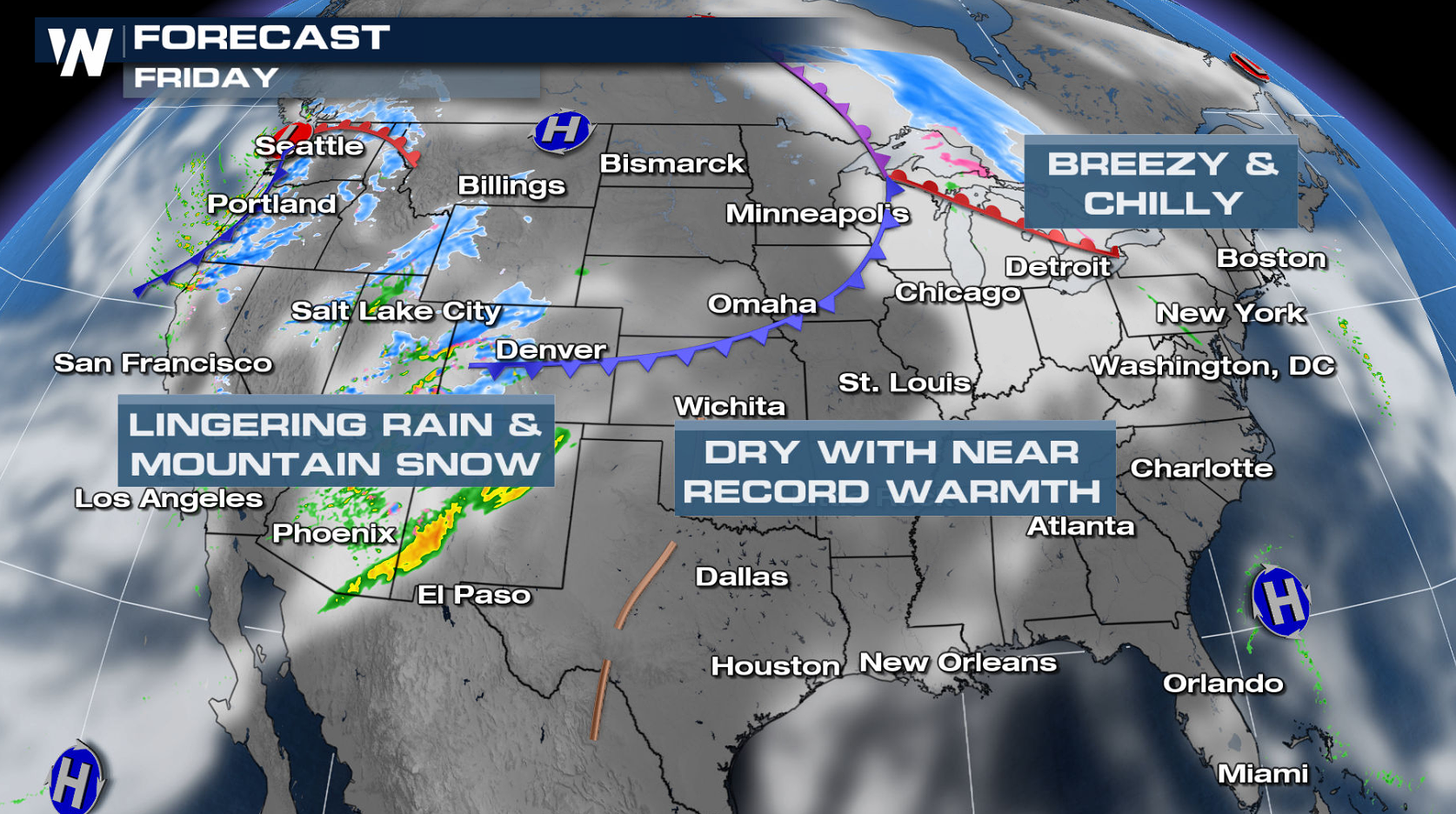 For Santa's arrival early Christmas Morning, these are the expected overnight temperatures. Mild air will situate itself from the Great Lakes into the Deep South, with the chilly air left behind it. The Northeast will also be feeling the holiday chill.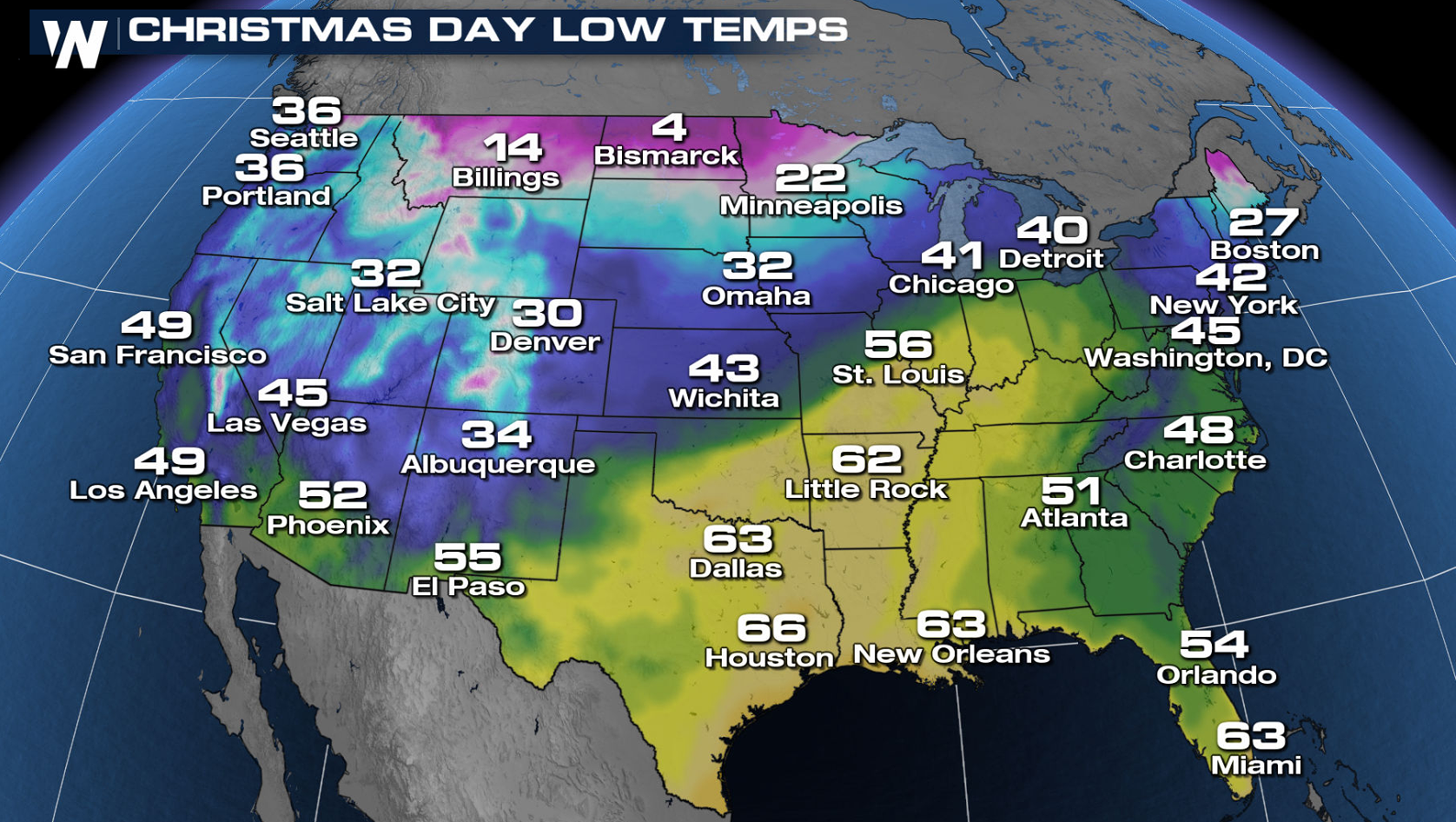 Christmas Day Forecast
Here are the forecast Christmas Day temperatures across the Lower 48! Warmer air will be in place from the Great Lakes and Northeast to the Deep South and Southwest. Several cities may set record highs in the Southern Plains. Elsewhere, the typical Christmas chill will be sticking around.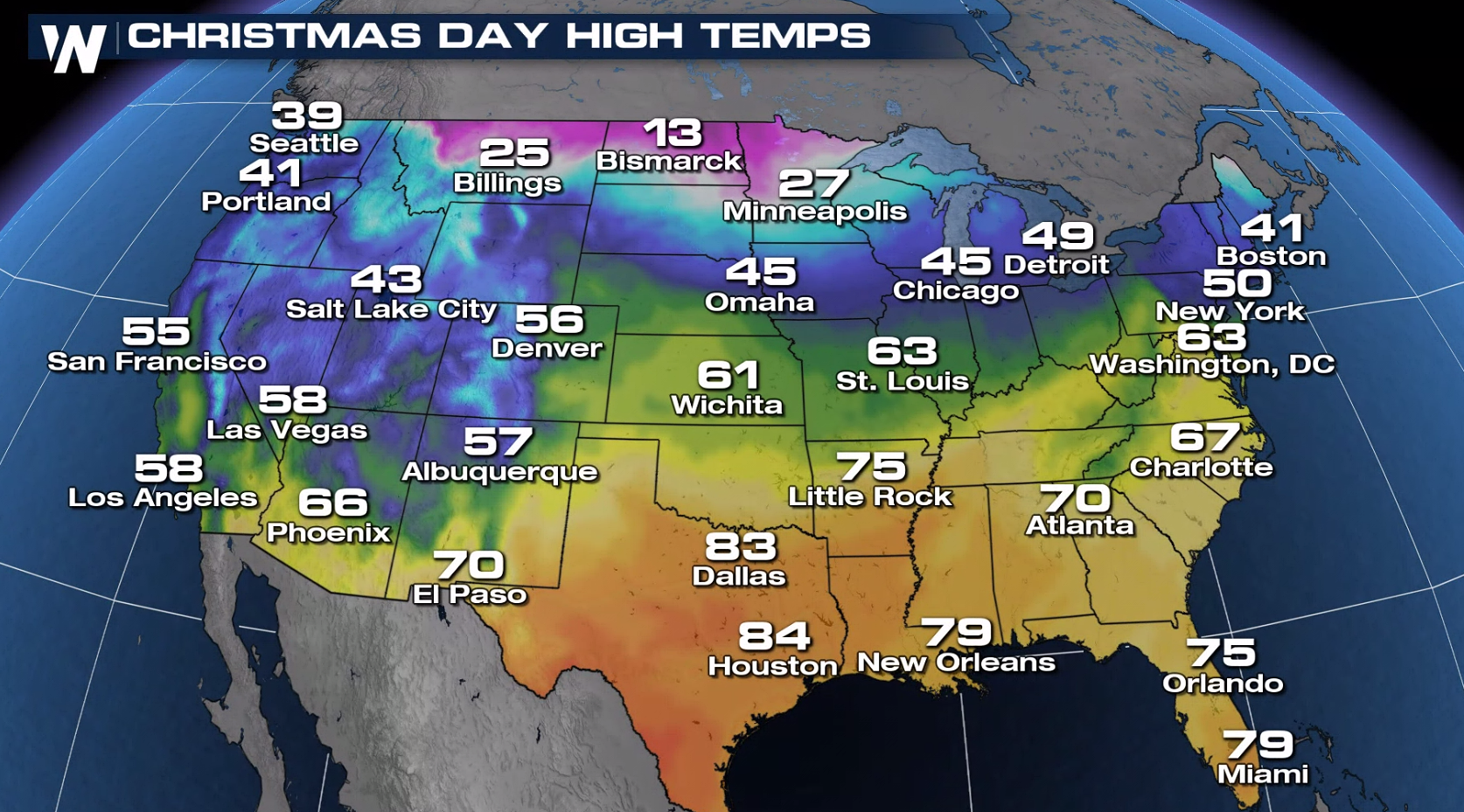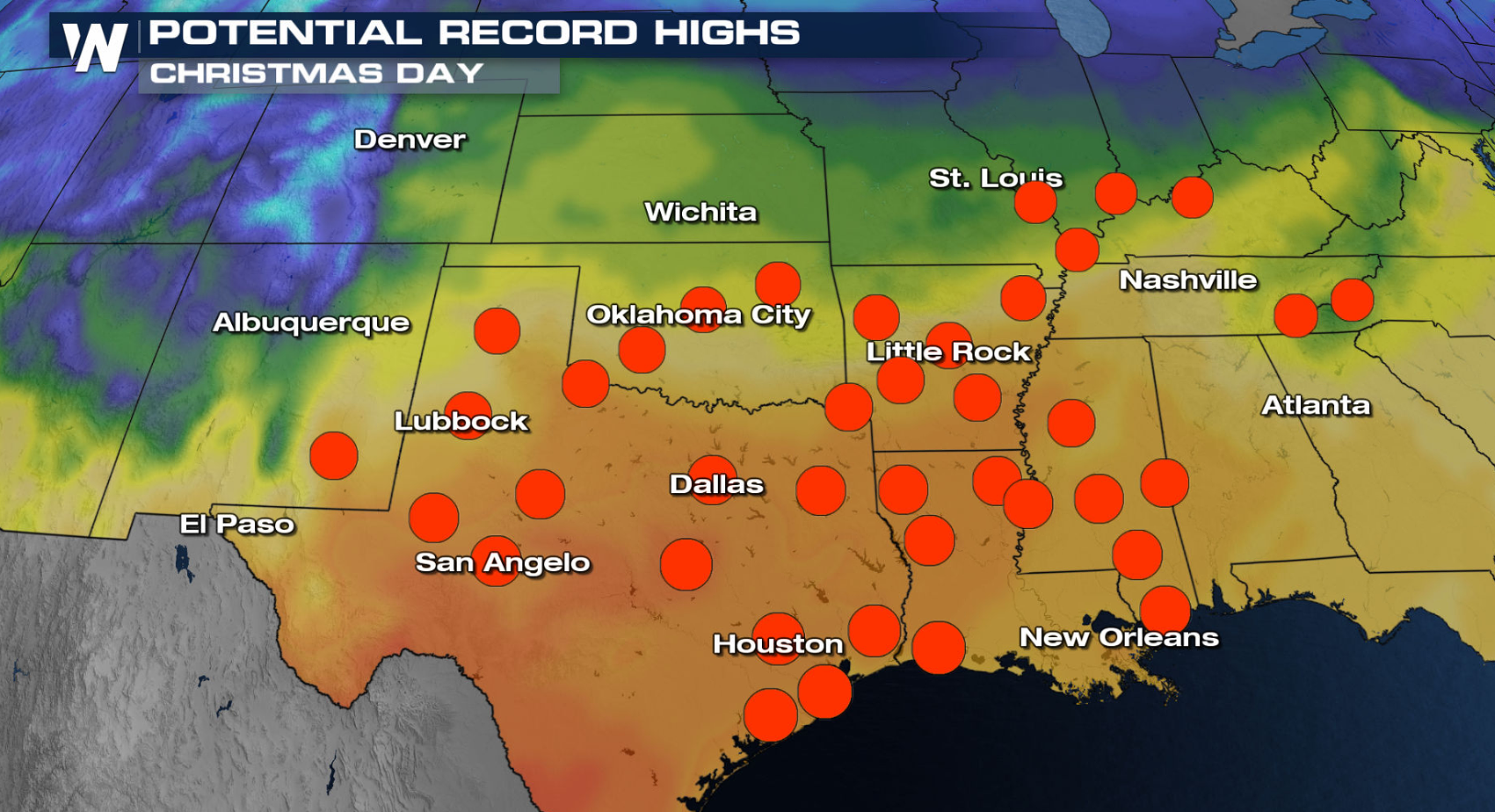 Heavy snow and rain will continue into Christmas Day across the Pacific Coast and higher elevations of the Western United States. Snow and rain will also be likely from the Northern Plains to the Northeast courtesy of our next developing system.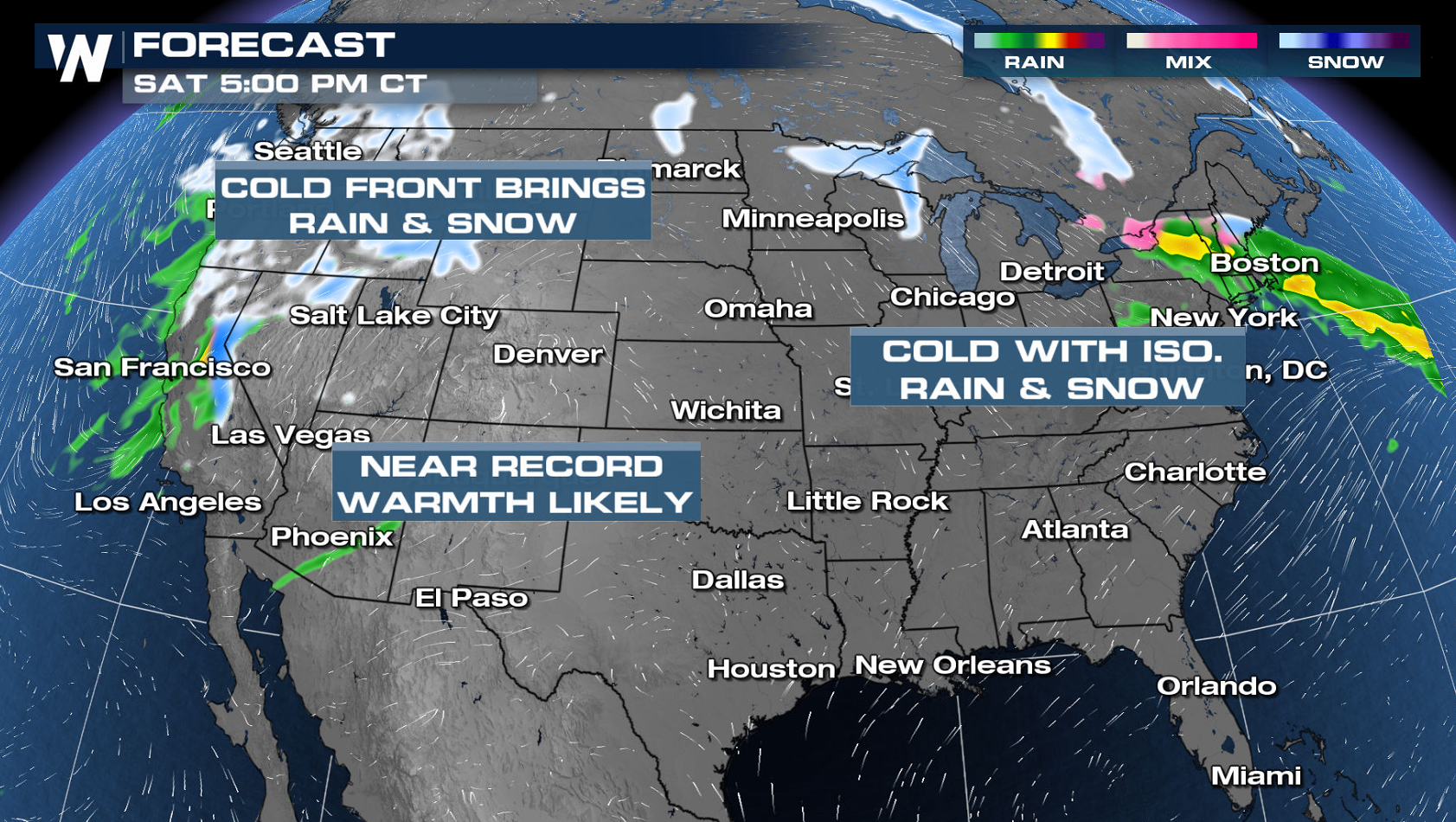 WeatherNation has you covered when it comes to the travel forecast leading up to the Holiday. Tune in at the top of each hour for more on that forecast!