MONDAY SEVERE THREAT
After an active weekend of severe weather and blizzard conditions across the country, the digging trough responsible for it all is slowly moving east. As the system continues to draw in warm moist air from the Gulf of Mexico, additional strong to severe thunderstorms are possible. Monday's risk area is very similar to Sunday's, so if you saw thunderstorms then, expect additional rain this afternoon. The Storm Prediction Center has highlighted the I-70 corridor between Kansas City and St. Louis and much of central Alabama and eastern Mississippi as areas of potentially organized severe activity. The tornado threat is minimal, but it's not zero. Gusty winds and marginally severe hail are also possible.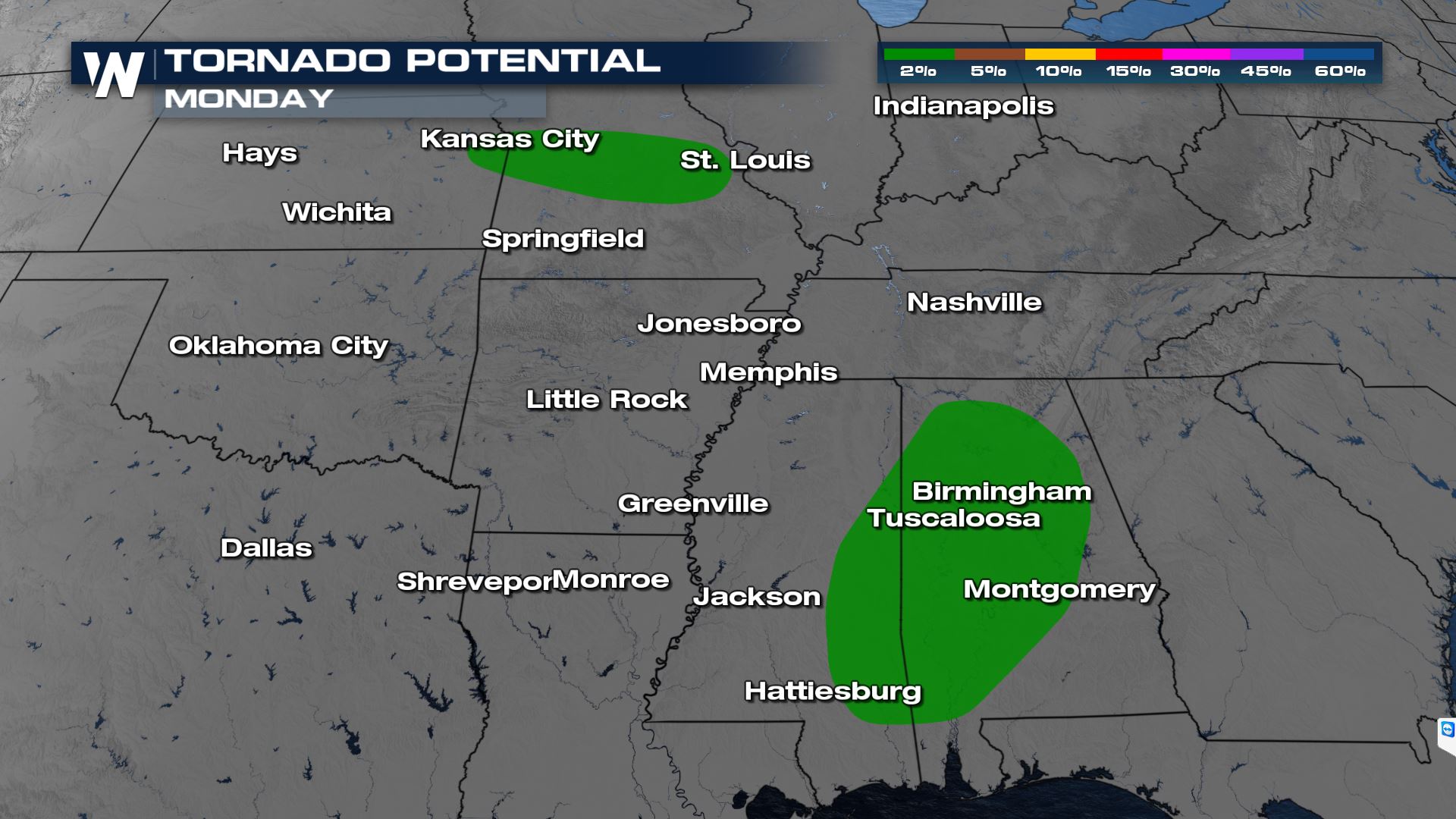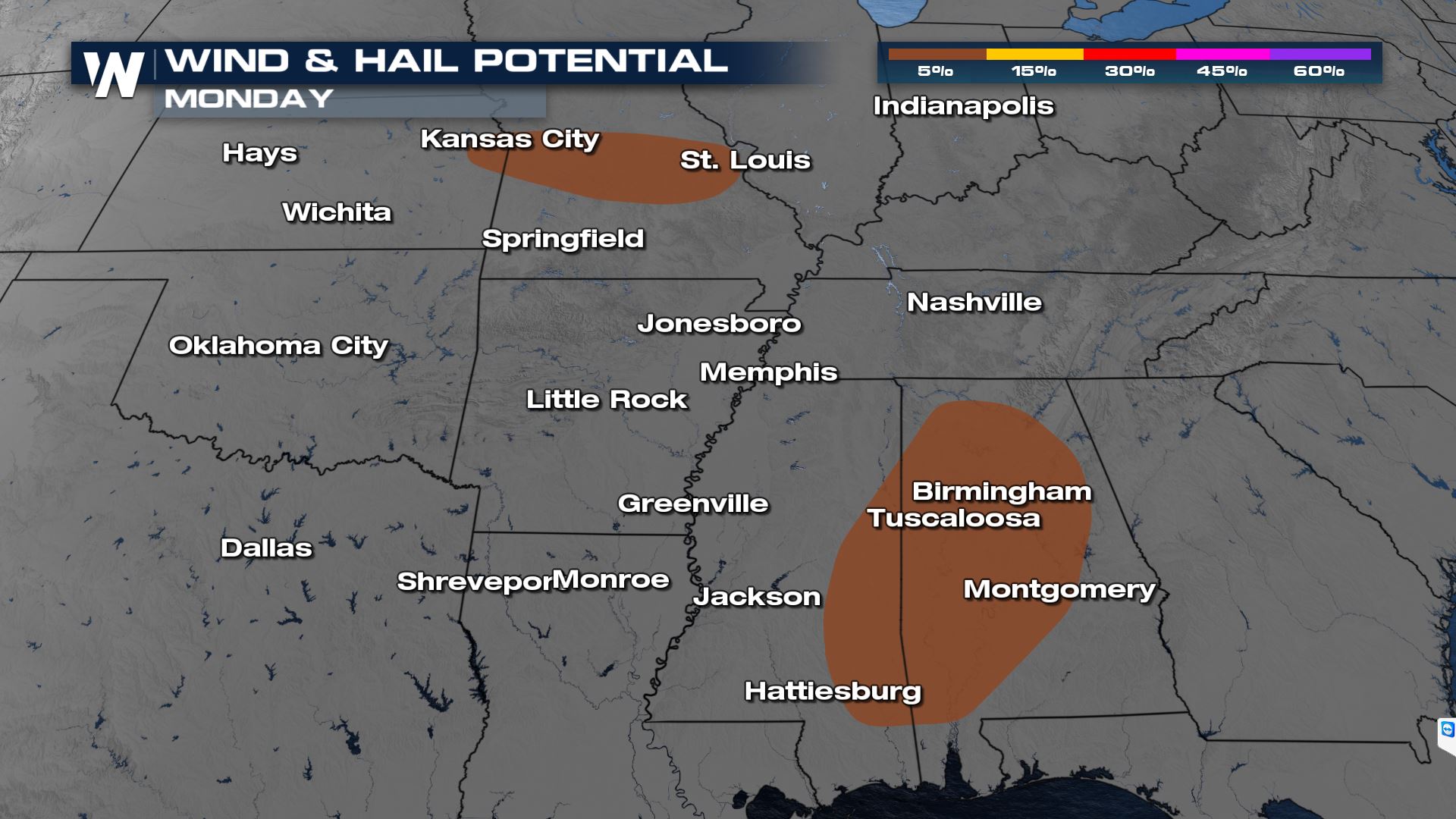 We'll be watching a stalled out front across Missouri for development of storms this afternoon. They will push north into northern Missouri as we get into the evening. Leftover morning storms along a front will push through Mississippi and Alabama through the afternoon and evening. The slow moving boundary will slide into a warm, moist environment with modest mid/upper level support. Conditions will be right for strong storm development into the early evening, but will weaken fairly quickly. Strong thunderstorms should begin dying down after dark.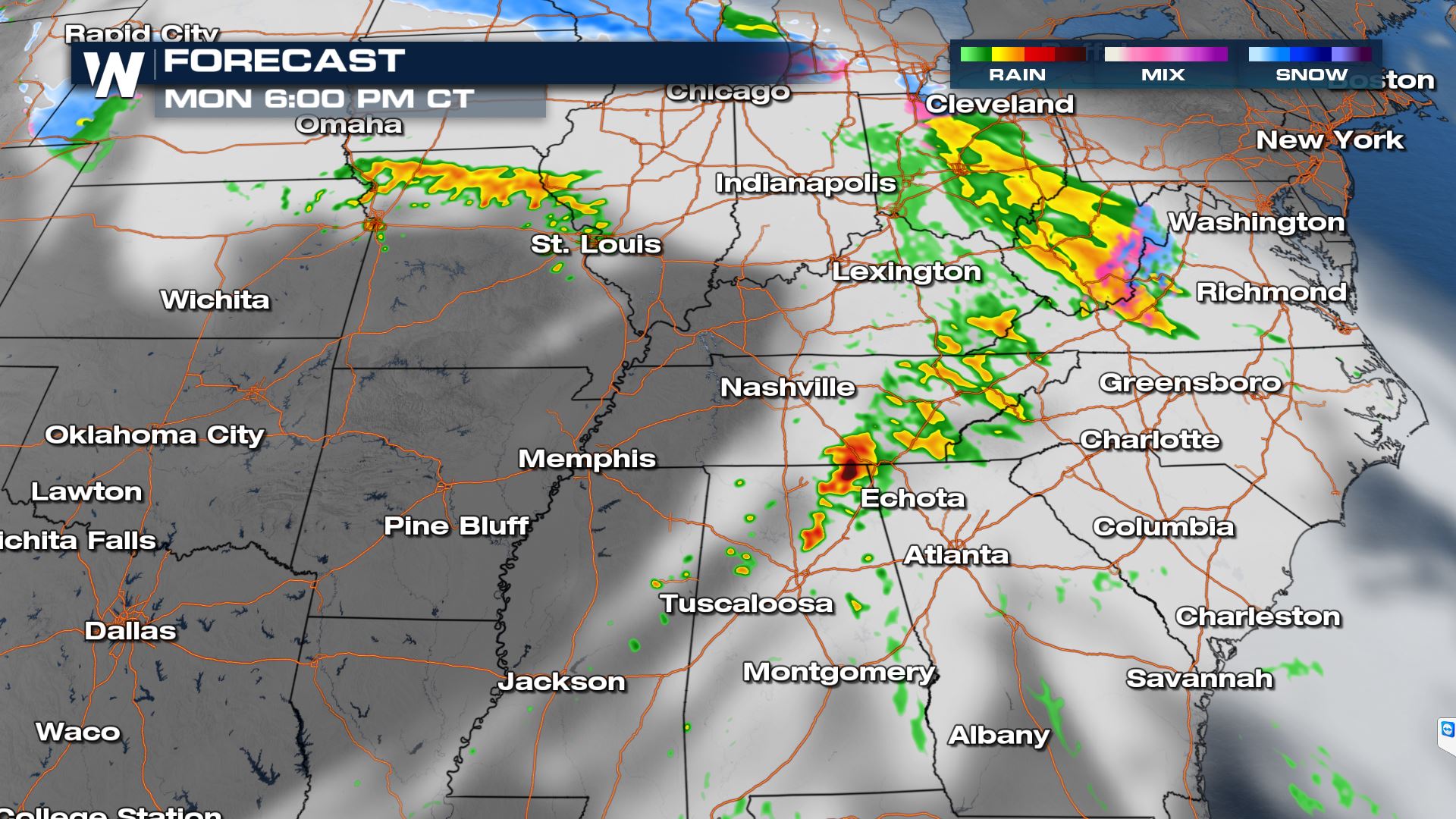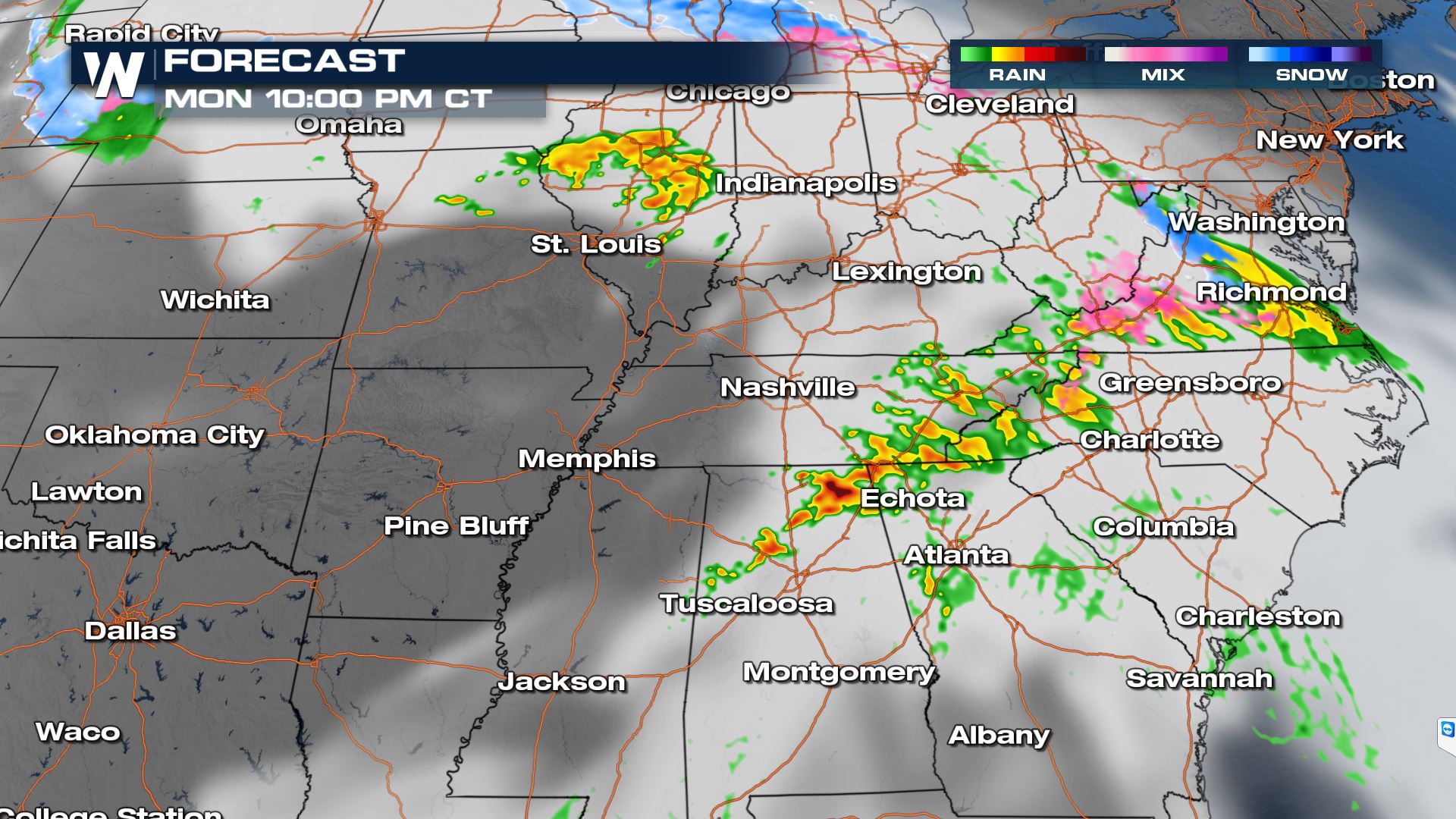 WEEKEND RECAP
Several tornadoes touched down in Northwest Texas Friday evening, beginning a busy weekend of severe weather that is forecast across Texas, Oklahoma, Kansas Saturday and eventually the Mississippi Valley Sunday. The strong jet stream in both the middle and upper levels of the atmosphere will continue to fuel severe thunderstorm development through the weekend. https://twitter.com/WeatherNation/status/1370540878478053378 Not only were there several confirmed tornadoes but there was also extremely large hail in Texas Saturday. The largest hail stone was baseball sized in Panhandle, Texas!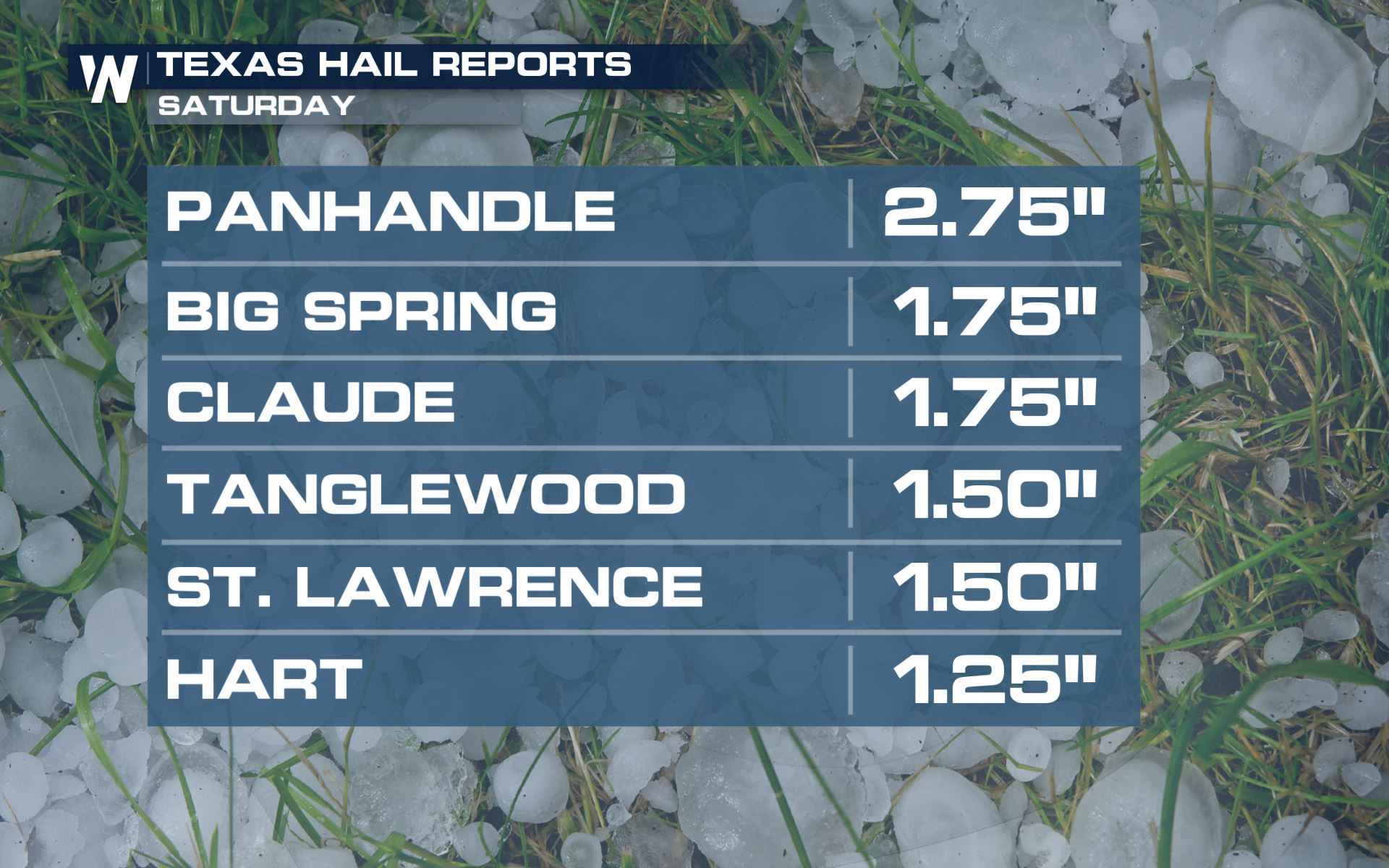 Stay with WeatherNation for all the latest on the risk for severe storms and flooding over the Central and Southern Plains this weekend.