WATCH: Live updates from Florida officials from WeatherNation affiliate, WPEC in West Palm Beach. 
On Monday Virginia Governor Ralph Northam issued a State of Emergency for Virginia as Dorian will likely  bring major impacts to the State as if moves up the East Coast this week.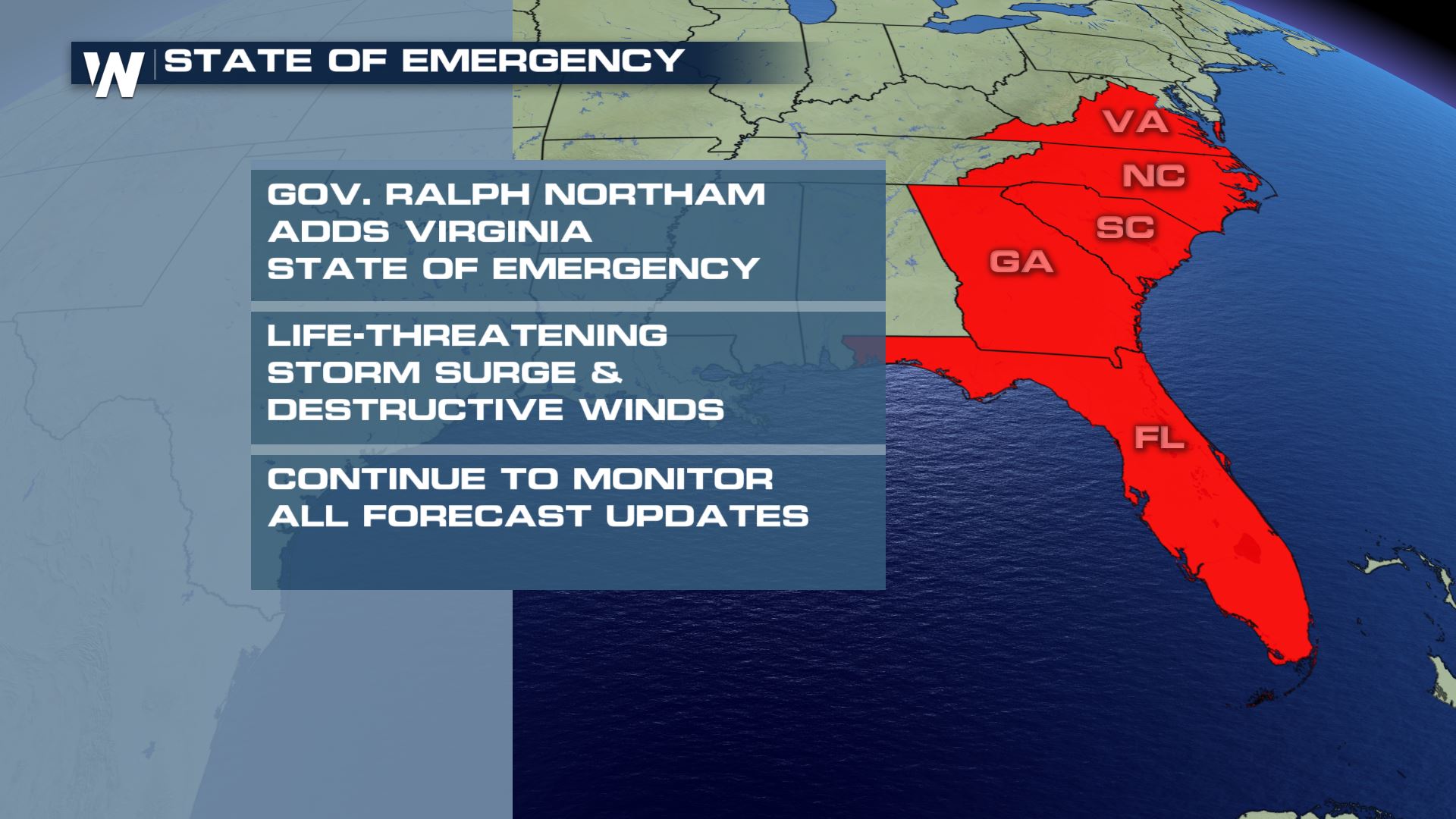 https://twitter.com/GovernorVA/status/1168628235753709570 On Friday, Governor Roy Cooper issued a State of Emergency for the entire state of North Carolina. Dorian is expected to impact Florida first but then move up the East coast. https://twitter.com/NC_Governor/status/1168606771793018881 South Carolina Governor Henry McMaster also declared a State of Emergency across the state. Evacuations have been ordered for some low-lying and coastal areas, with full lane reversals in I-26. https://twitter.com/SCEMD/status/1167829336122187776 In preparation of Hurricane Dorian, Georgia Governor Brian Kemp
declared a State of Emergency
for several counties in Southeast Georgia.  This will help with preparations ahead of the storm and assist with response & recovery after Dorian has passed. https://twitter.com/GovKemp/status/1167168418430279682 The Sunshine State is also prepared for whatever impacts Hurricane Dorian brings. On Wednesday, Governor Ron DeSantis declared a state of emergency to prepare in advance of Dorian. By declaring a
state of emergency
, Governor DeSantis is ensuring that state and local governments have ample time, resources and flexibility to prepare. "Today, I am declaring a state of emergency to ensure Florida is fully prepared for Hurricane Dorian," said Governor DeSantis
.
 "It's important for Floridians on the East Coast to monitor this storm closely. Every Florida resident should have seven days of supplies, including food, water and medicine, and should have a plan in case of disaster. I will continue to monitor Hurricane Dorian closely with emergency management officials. The state stands ready to support all counties along the coast as they prepare." https://twitter.com/GovRonDeSantis/status/1166814184325210112 The state Emergency Operations Center has already been activated, allowing collaboration and communication between necessary emergency agencies. "Because of the uncertainty in the track of this storm, every resident along the East Coast needs to be ready," said Florida Division of Emergency Management Director Jared Moskowitz
. 
"As updates come out, it's important that Floridians continue to pay attention to media and local officials as the track of this storm has been changing and can continue to change rapidly. By having an Executive Order in place and by activating the State Emergency Operations Center to a Level 2, we are fully prepared to support any community that might be impacted."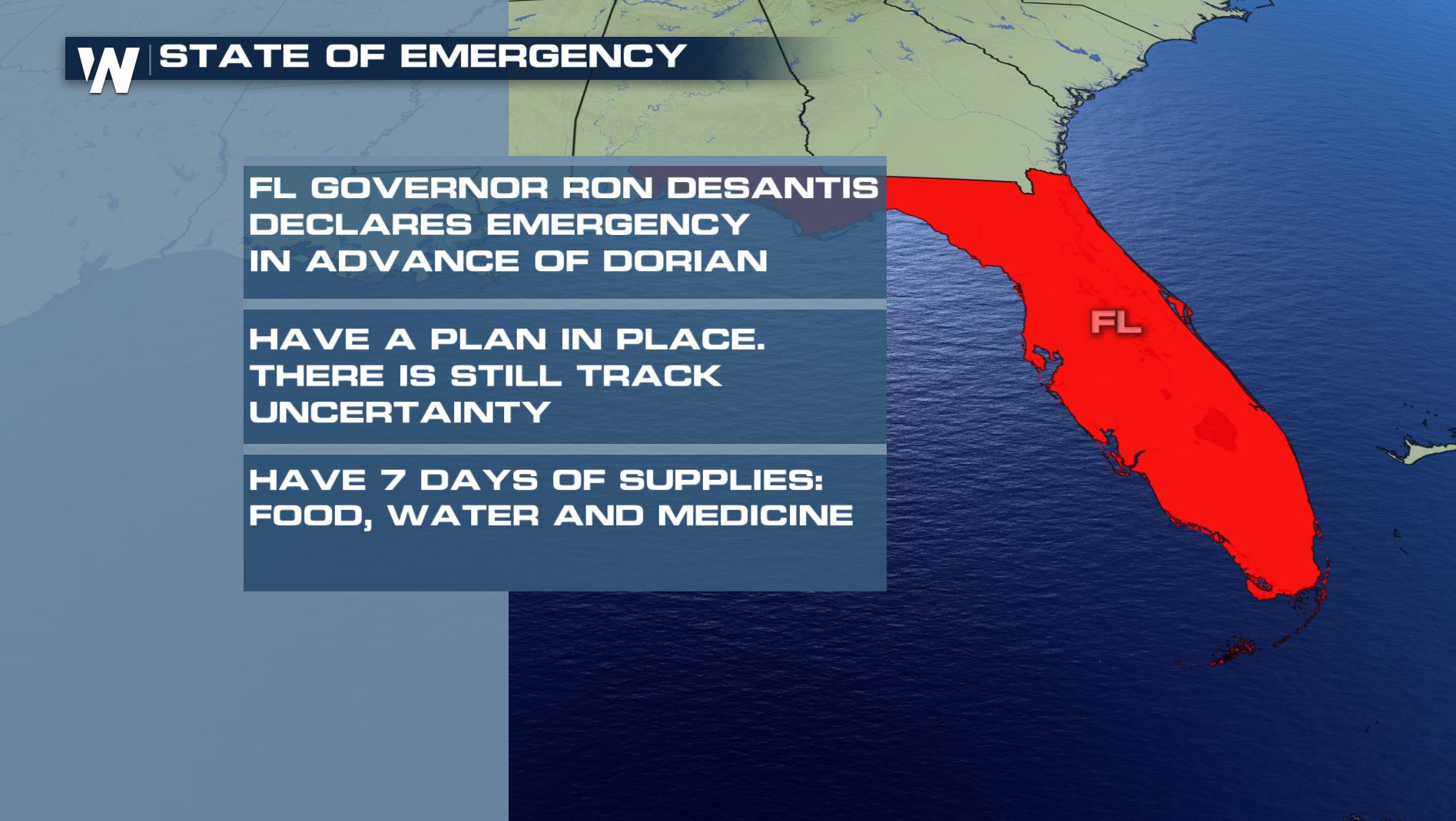 The forecast for Florida poses enough risk at this time to get preparations fully underway for the southeast U.S. Check the
latest Dorian forecast here
. Stay with WeatherNation on air and online as we follow Dorian through the  rest of the holiday weekend. The forecast path will likely change in the coming days, and forecast details will become more clear for what areas will see the greatest impacts for the Southeast U.S.