Above - Damage from Superstorm Sandy in coastal New Jersey (NJ National Guard)
October 29th marks the 10th anniversary of Superstorm Sandy, one of the most powerful and destructive storms to hit the U.S. Northeast. 159 people in the U.S. lost their lives because of the storm that brought the biggest city in the U.S. to its knees. Until 2017, Sandy was the second costliest U.S. hurricane, second only to Hurricane Katrina. In 2017, Hurricane Harvey (Houston) and Hurricane Maria (Puerto Rico) nudged Sandy back to the 4th costliest with an adjusted consumer cost of $81.9 Billion Dollars.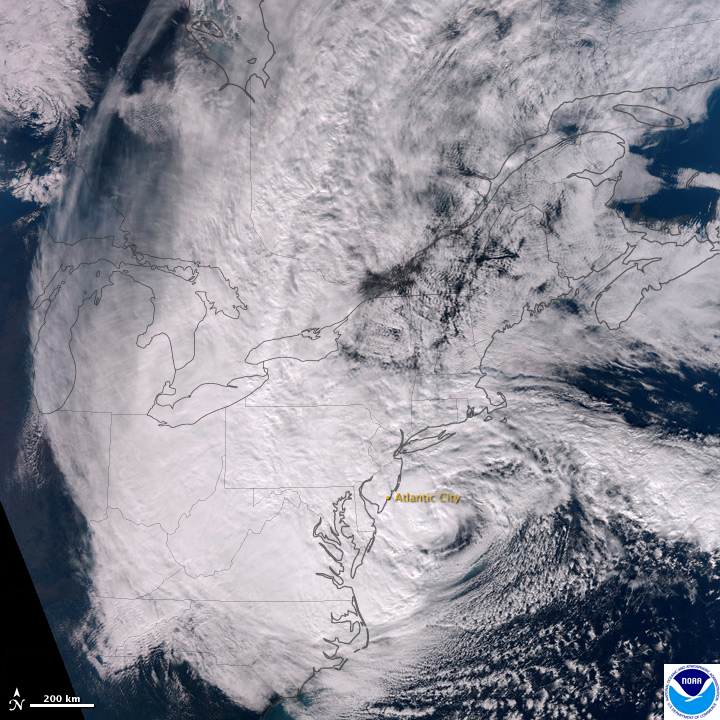 Superstorm Sandy via Satellite (NOAA)
Sandy got its start off the West Coast of Africa on October 11th, emerging as a tropical wave. As it crossed the warm waters of the tropical Atlantic, and into the Caribbean it was slow to organize, but eventually developed into a Tropical Depression on October 22nd. From there, Sandy strengthened quickly, become a CAT 1 Hurricane with the first landfall in Jamaica on October 24. A second landfall was made over Eastern Cuba, where Sandy was a powerful CAT 3 storm despite interactions with land. https://youtu.be/4yDJz0nfQd0 Sandy exited Cuba and moved northward into the Bahamas, weakening into a tropical storm. Sandy exited the Bahamas and regained strength and speed northward, becoming a CAT 2 again just 220 miles off the coast of New Jersey on October 29th. Despite the downgrade in strength Sandy as Sandy approached the U.S., the storm had grown in physical size. Sandy is the largest Atlantic Hurricane on record, by diameter, stretching 1,150 miles wide.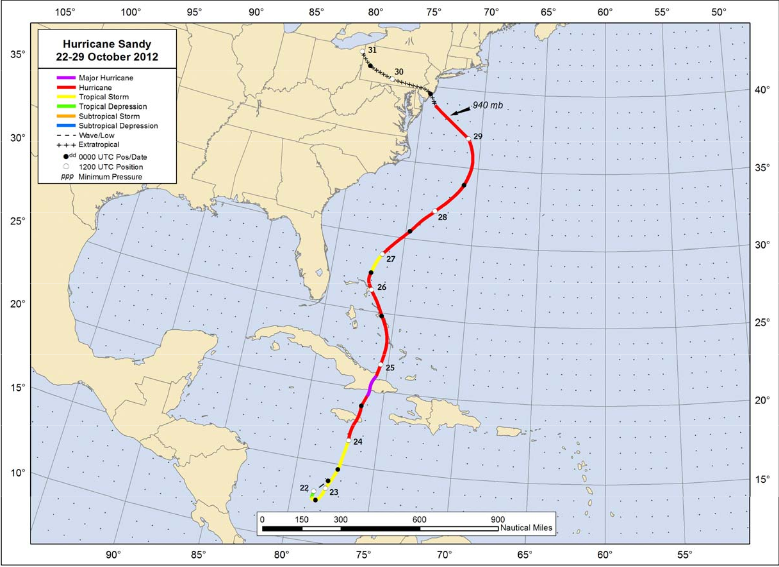 The reason Sandy is called "Superstorm Sandy" is because of the interaction with a trough of low pressure in the eastern United States on October 29th. Sandy was pushed along by the trough, over cooler waters and lost tropical characteristics quickly (no longer gaining energy from the ocean, but instead atmospheric conditions). However, despite the transition to extratropical, Sandy was still an incredibly powerful storm, with maximum winds of 80 mph that battered coastal New Jersey & New York. Sandy's center made landfall i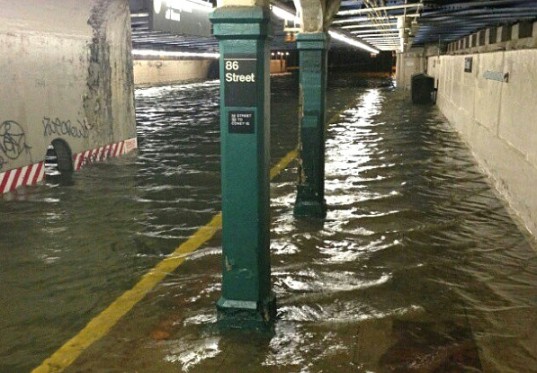 Manhattan, Lexington Avenue Station (NHC)
Sandy will be remembered for the incredible Storm Surge that pushed 4-9 feet of water into Staten Island and parts of Lower Manhattan as well as Coastal New Jersey. The force of the storm caused the Hudson River and surrounded Bays to flood coastal areas as well. Storm surge flooded 8 major tunnels of the MTA system in New York, resulting in $5B in damages at the time. In neighboring New Jersey, over 270 railroad cars were damaged because of the flood waters. Seaside Heights was just one of the communities that experienced catastrophic damage in New Jersey, where a Casino and Amusement park were completely destroyed by Sandy. On Fire Island on Long Island, NY over 200 homes were destroyed because of surge and water eroded protective sand dunes. At least 650,000 houses were destroyed or damaged because of Sandy due to storm surge and waves. People in the Northeast were without power for weeks as the storm knocked out power for over 8.5 million customers. Over 159 people lost their lives as a result of Superstorm Sandy, 41 of which were as a result of storm surge.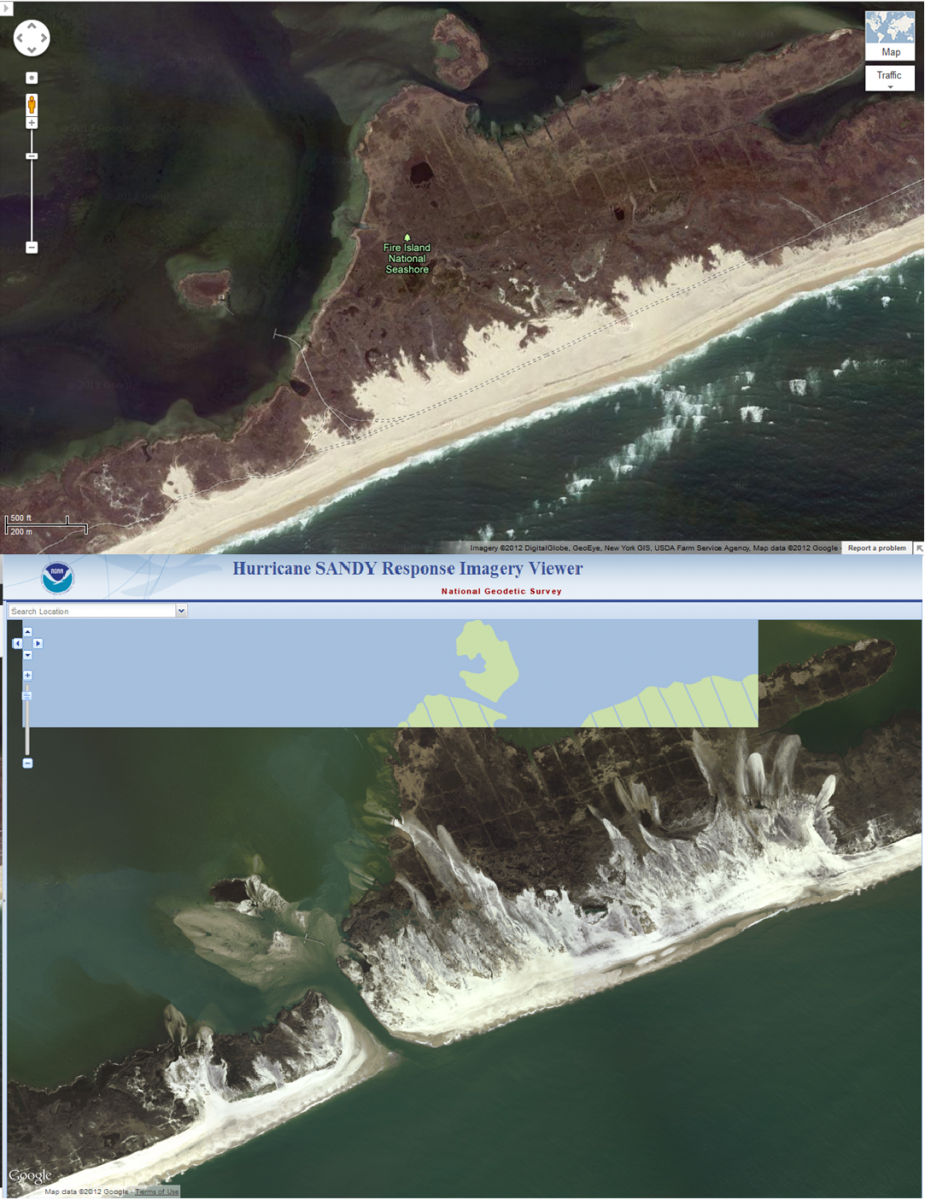 Fire Island, NY Before and After Superstorm Sandy (NOAA)
Many improvements in Hurricane and tropical forecasting have been made since and because of Sandy. Storm surge alerts are now issued for tropical systems and even if a storm is downgraded in status (extratropical) or not yet tropical (potential tropical cyclone), tropical products can be issued to better prepare and communicate the risks to people. Infrastructure improvements have been made in the Northeast to prevent water from destroying and damaging as much as it did during Sandy. We have more technology and data now via satellites and weather observation than we did with Sandy 10 years ago, and hurricane forecasts have improved drastically as a result. For many on the East Coast, Sandy is not a storm they will forget and certainly one they will learn from.