[
A daylight image composite of Earth from August 29, 2021, as seen by the NOAA-20 satellite. In this image, Hurricane Ida can be seen making landfall on the U.S. Gulf Coast while Hurricane Nora spins in the eastern Pacific Ocean.
] [
Written by NOAA NESDIS
] With their lofty view from space, NOAA satellites see the awe-inspiring beauty and the sobering destruction Mother Nature creates across our dynamic planet—and 2021 provided an eyeful. NOAA satellites caught monster hurricanes, severe thunderstorms, raging wildfires, erupting volcanoes, and even some celestial displays. Below is our Top 10 list (in no particular order) of some of the most captivating events and images from 2021.
1. Ida nearing landfall
https://www.youtube.com/watch?v=zMi6l_0CEtw&feature=emb_imp_woyt The eye of high-end Category-4 Hurricane Ida illuminated by lightning flashes as it was approaching Louisiana on August 29, 2021, courtesy NOAA's GOES-16 satellite. Ida's sustained winds were 150 mph when it made landfall around 11:55 am CDT near Port Fourchon, La.
2. Dust storm sweeps across Texas
https://www.youtube.com/watch?v=9mkS1n1AN5g&feature=emb_imp_woyt NOAA's GOES-16 tracked this massive dust storm—also known as a haboob—as it pushed across West Texas on March 22, 2021. NOAA's National Weather Service issued Dust Storm Warnings as visibilities dropped to less than ¼ mile at times.
3. Western wildfires rage
https://www.youtube.com/watch?v=8_mnVC8Y7zM&feature=emb_imp_woyt Numerous wildfires were caught burning across Northern California on August 4, 2021, by NOAA's GOES-17 satellite. Some of the active fires seen burning are the Monument Fire, Antelope Fire, North Complex and Dixie Fires.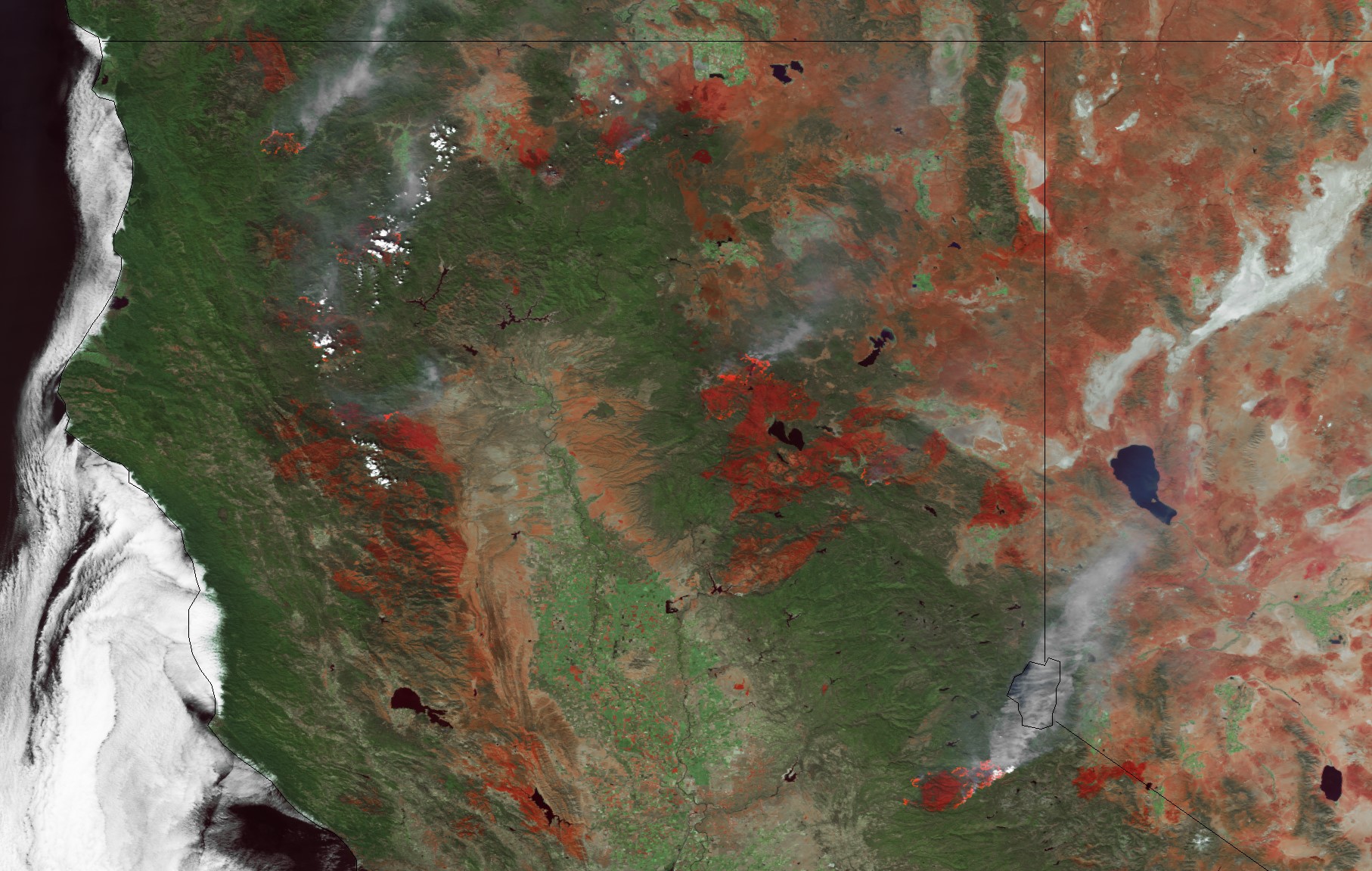 Nearly three weeks later, the NOAA-20 satellite passed over Northern California on August 24, 2021, and saw the smoke of several wildfires still burning. In this image, the rust colored spots across California are burn scars from the fires, including the Dixie, North Complex, Beckwourth Complex and Caldor fires.
4. La Soufrière erupts explosively
https://www.youtube.com/watch?v=SolRPjB-kZg&feature=emb_imp_woyt NOAA's GOES-16 saw several explosive eruptions from La Soufrière, a stratovolcano located in St. Vincent and the Grenadines, throughout the day on April 11, 2021. The ash plumes were estimated to have reached several miles high into the atmosphere.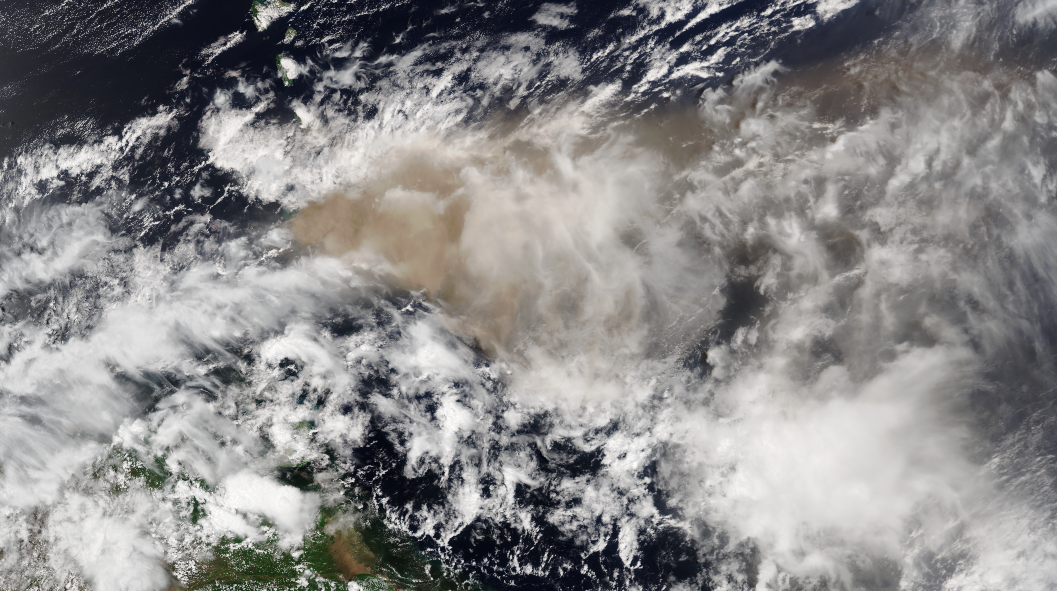 On April 10, NOAA-20 captured this image of a volcanic ash plume as it drifted eastward. Thousands of people were evacuated from St. Vincent island and ash from La Soufrière was reported to be covering the ground in Barbados, about 100 miles away to the east.
5. Arctic blast knocks out power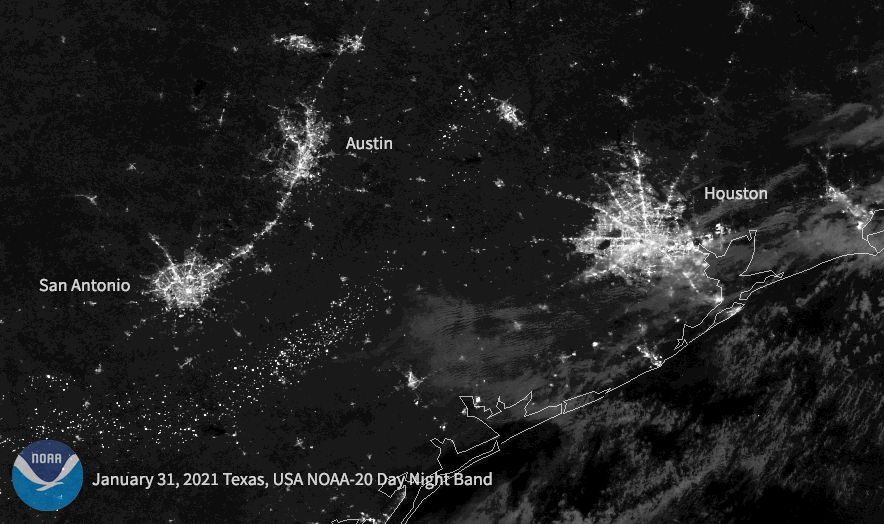 In these before and after images from the NOAA-20 satellite, you can see a dramatic drop in nighttime lights around Houston, Austin, and San Antonio, Texas, on February 16, 2021, after a record-breaking cold wave hit the central U.S. At the peak of the outage, nearly 10 million Americans were without power.
6. Iceberg breaks off Antarctica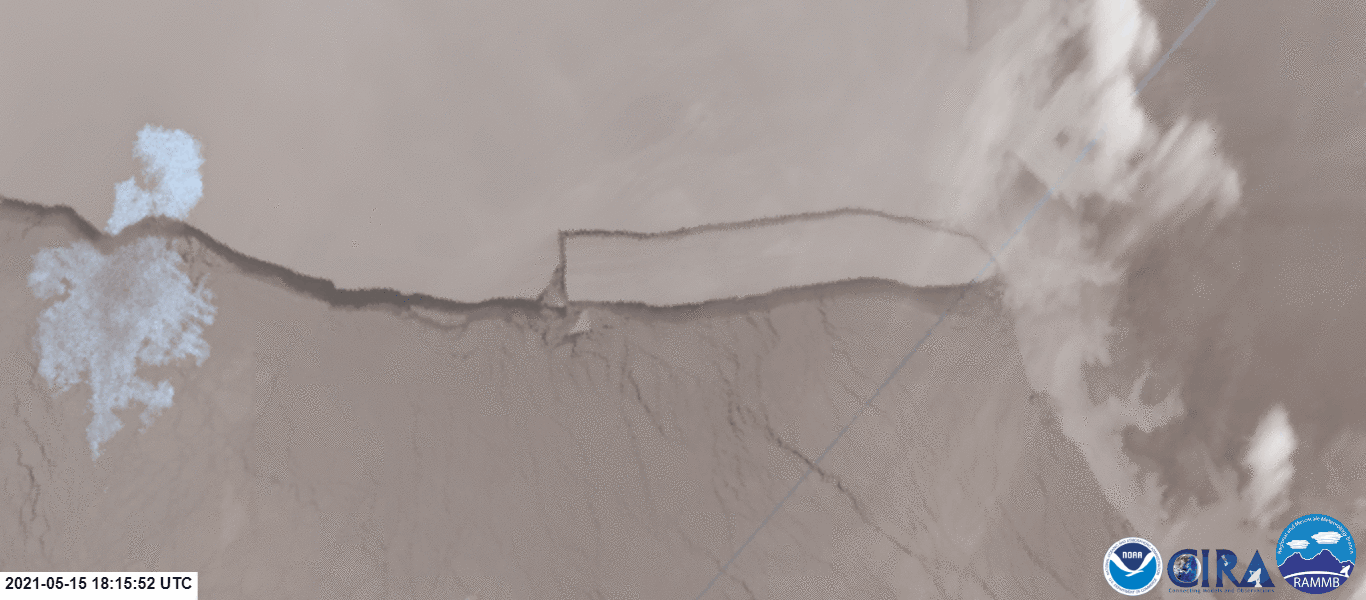 From May 15-16, 2021, NOAA's 
JPSS
 polar-orbiting satellites viewed the calving of iceberg A-76 from the Ronne Ice Shelf in Antarctica.  The iceberg measured about 1,660 square miles in size—roughly half the size of Puerto Rico—and was the world's largest iceberg at the time.
7. Wildfires spark thunderstorms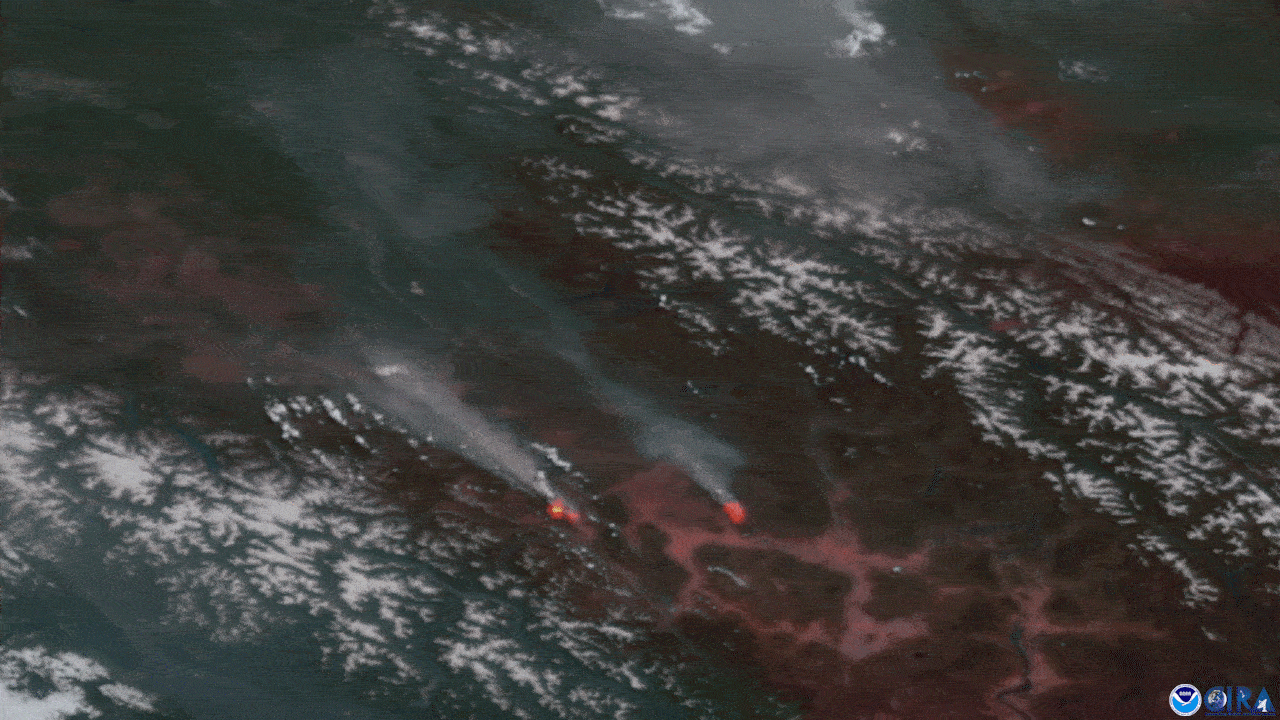 Some especially intense wildfires can create their own thunderstorms.  Called
 pyrocumulonimbus
, these storms can produce lightning that sparks new wildfires across a parched landscape. This imagery is from NOAA's GOES-17 satellite, which was watching these wildfire-induced storms over southern British Columbia, Canada, on June 30, 2021. https://www.youtube.com/watch?v=s65Evh1P0is&feature=emb_imp_woyt More pyrocumuluonimbus storms fired up over and around California's Dixie Fire, as seen from NOAA's GOES-17 satellite, on July 19, 2021. The fire burned across more than 960,000 acres and wasn't fully contained until late October 2021.
8. Texas-sized hail

A supercell thunderstorm caught bubbling over Texas by NOAA's GOES-16 infrared channel on April 28, 2021 (right) dropped incredibly large hail across parts of the state. This hailstone (left) fell from the thunderstorm near Hondo, Texas, with a weight of 1.26 pounds and a circumference of 19.73 inches—a Texas state record.
9. An atmospheric river
https://www.youtube.com/watch?v=cPSngPzftz0&feature=emb_imp_woyt NOAA's GOES-16 satellite tracked a major atmospheric river event on its water vapor channel from October 22-25, 2021. The dark green represents the deepest moisture that blasted California with heavy rain, flash flooding and some localized landslides. Several locations in California saw their wettest October day on record.
10. Astronomical shows in 2021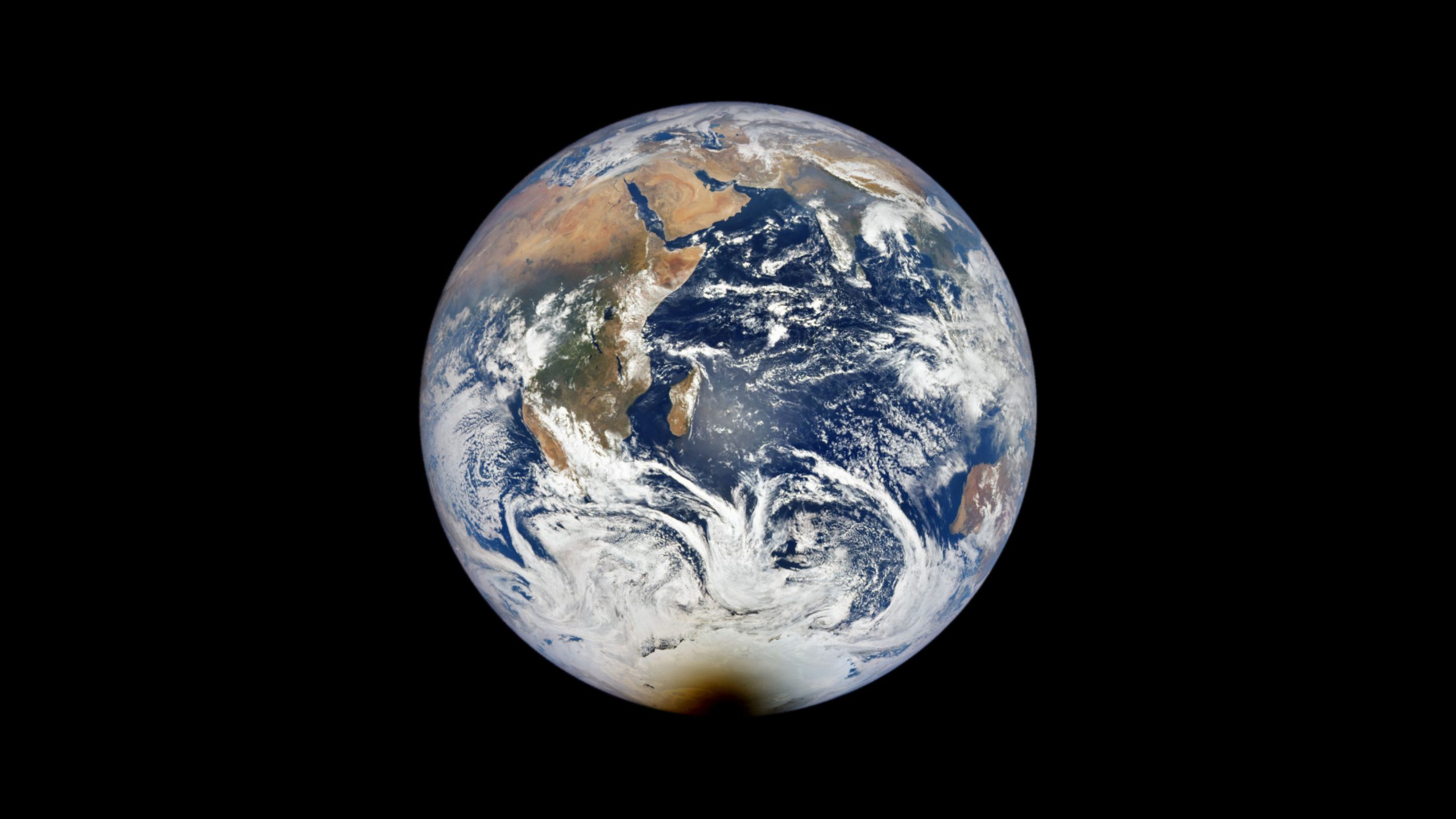 NOAA's 
Deep Space Climate Observatory (DSCOVR)
 satellite caught a total solar eclipse that passed over Antarctica on December 4, 2021.  What looks like a brown smudge at the bottom of the Earth is actually the Moon's shadow passing across the frozen continent—as seen by NASA's EPIC camera on board DSCOVR—around 07:58 UTC.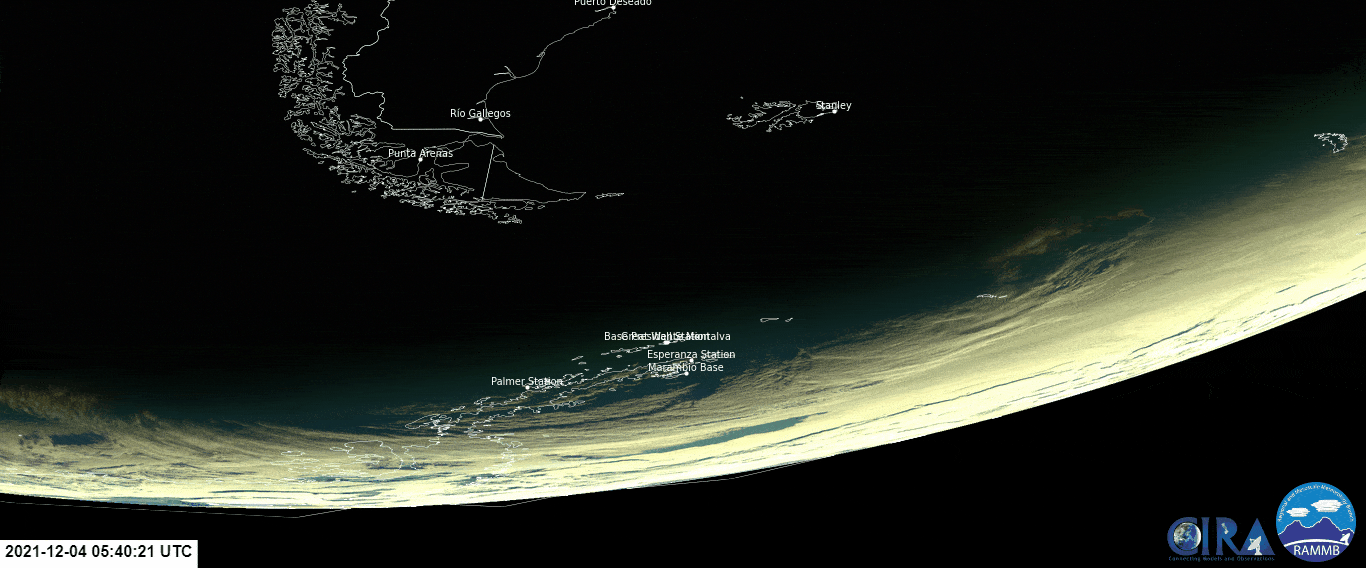 An animated view of the December 4, 2021, total solar eclipse as seen from NOAA's GOES-16 satellite. The longest totality seen anywhere from the eclipse was just under two minutes over the Southern Ocean's Weddell Sea. https://www.youtube.com/watch?v=yzjyDdMPdLY&feature=emb_imp_woyt On October 28, 2021, NOAA's GOES-16 caught a significant solar flare with its Solar Ultraviolet Imager (SUVI). The event was categorized as an X1 flare and a G3 (Strong) Geomagnetic Storm Watch was issued for October 30-31, 2021, by NOAA's 
Space Weather Prediction Center
.