The wait is finally over. After 106 straight days with no measurable rainfall in Tucson, Arizona the city has officially picked up at least a tenth of an inch. Ahhhh, refreshing!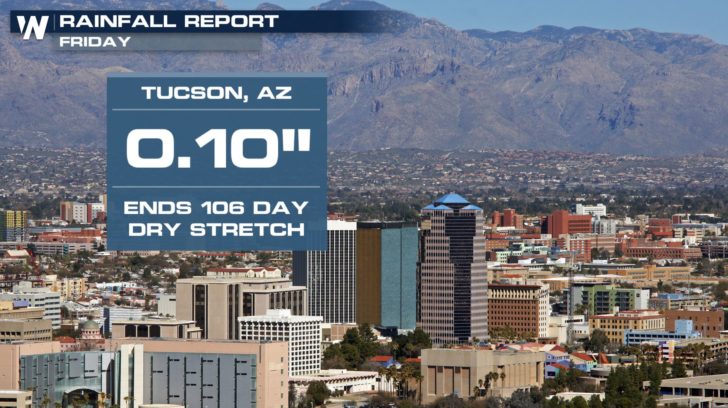 A preliminary rainfall report for Tucson showed 0.10" of rainfall as of 9 p.m. Friday. It was still raining around the city at the time of this article, so that daily rainfall report will likely be just a tad higher. Nonetheless, it's the first measurable rainfall since the city received 0.20" on February 28 this year! https://twitter.com/NWSTucson/status/1007787766271397889 While a little technical, yes; the image above shows the weather balloon launch from Friday evening in Tucson. Meteorologists noted the highest precipitable water value for June 15! Commonly referred to as Pwat, it's a measurement of the amount of moisture in the atmosphere. This specific moisture Friday was coming in from the tropical remnants of "Bud."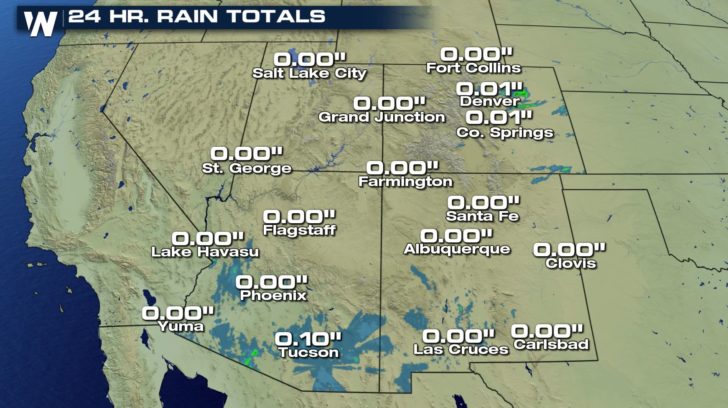 These are 24-hour rainfall reports ending Friday evening, June 15. The remnant moisture from Post-Tropical-Cyclone Bud will stir up additional rain showers and thunderstorms across the Southwest this weekend.
Related Story: Remnants of Hurricane Bud to Jumpstart Southwest Monsoon Season 
Nearby Phoenix also had a milestone Friday, reaching a dew point temperature (also a measure of moisture) of 60 degrees! https://twitter.com/SteveGlazier/status/1007753810171723776 The tropical moisture is returning at a time that usually signifies the beginning of the monsoon season in the Southwest U.S. When the Southwest heats up continuously and rises into the 100's daily, an onshore wind begins to develop from the nearby, cooler Pacific and Gulf of Mexico. This helps to draw in moisture and bring rain more often. Take a look at the monthly rainfall summary for Tucson.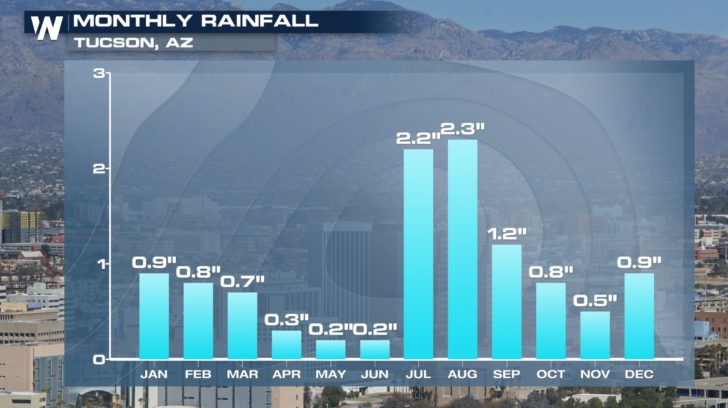 Average monthly precipitation for Tucson, AZ
Related Article: Are You Ready For Monsoon Season?
For WeatherNation, Meteorologist Steve Glazier